Word is out that Cebu Pacific may have bought and might be using Antigen COVID-19 rapid testing kits, thereby putting the health of its passengers at risk of potentially contracting the disease from personnel or fellow passengers who may register false-negative test results.
Recently, the Department of Health issued an advisory against TruLaboratories Corporation for claiming on social media that "DOH has finally approved the use of Antigen Test Kits and is now included in the Omnibus Guidelines on COVID 19 Testing".
A cursory inspection of TruLaboratories Corporation Facebook Page reveals that it is marketing SD Biosensor's Standard Q COVID-19 rapid test. Various articles online say that this brand has been banned by the USFDA and pulled from shelves in India.
SUPPORT INDEPENDENT SOCIAL COMMENTARY!
Subscribe to our Substack community GRP Insider where you can opt to receive by email our more comprehensive and in-depth free weekly newsletter GRP Mail. Consider also supporting our efforts to remain an independent channel for social commentary and insight by sponsoring us through a small donation or a monthly paid subscription.
Subscribe to our Substack newsletter, GRP Insider!
Learn more
Word is getting around that if SD Biosensor is substandard, the Antigen test kits by TruLaboratories may be even worse.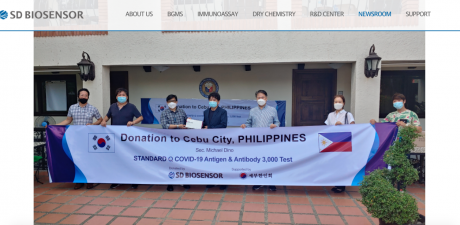 Further more, Former Pampanga lawmaker and pulmonologist Anna York Bondoc said two brands of test kits from Korea — SD Biosensor and RapiGen Inc. — have been purchased by hospitals and clinics in the country.
Bondoc said the two brands were banned in many countries, including the United States, United Arab Emirates and India because of inaccuracies in detecting Covid-positive cases.
She added that the rapid tests were "highly inaccurate," therefore many people went into quarantine because of false positives, while others who are asymptomatic were cleared.
"I believe that wrong clinical decisions made with inaccurate results from rapid tests have been fueling the rise of Covid-19 cases in Metro Manila," Bondoc said.
She cited SD Biosensor's Standard Q Covid-10 IgM/IgG (Immunoglobulin M/Immunoglobulin G) Duo tests, which were banned by the US Food and Drug Administration.
The Malaysian Institute for Medical Research said RapiGen's Biocredit Covid-19 tests have a low sensitivity rate of 43.3 percent, creating more false negatives.
Bondoc added that the rapid test requirement for return to work causes an unnecessary drain on the finances of the people.