In this time of Covid-19, aside from the poor, even middle class and rich people asked for relief goods. That was funny. While it may be necessary for a time, some will want it indefinitely. This is abuse. So the thrust after the lifting of quarantine should be getting back to work, which should be the real normal.
Sure, there are people worth helping, but there are people worth snubbing. Some people will call it cruel, saying, why snub them, have you no empathy? Wait, what is empathy? Understanding how people feel. But empathy does not always mean agreement. It means you will also understand what people need, not what they want. Emotional commiseration is not enough. You should hold people to their responsibilities.
Part of that is self-responsibility. That it's a harder world after Covid is a poor excuse. In a harder world, you have to work accordingly.
I'm pretty sure the woke "advocates" will rise to the occasion again. One of the worst things they could do is go around and see if someone is supporting themselves and not anybody else, and then try to force that person to provide for others. Even if you force someone to do good, it is not necessarily good. It is force – you disregard an individual's right to self-determine.
The wokes assume supporting forced redistribution is a way to save the world. But it isn't. They assume if they force redistribution from the rich to poor, it will work and the work will thank them for it. That's a delusion of grandeur.
The fact is, people are limited, and any form of help has a limit.
I don't mind though if people do their own efforts to distribute goods and efforts. Even Ligo Sardine's effort to provide goods is OK (taking a snipe at the government was perhaps needless). If it's a voluntary effort, it's all good. If charity is made compulsary, it no longer becomes charity. You need that voluntary element to make charity real and sincere.
People complain about tyranny and human rights because of Duterte, Marcos, inept barangay people beating up quarantine violators, and other criminal things happening around us.
But forced redistribution is also tyranny.
In a post-covid world, individual responsibility can't be more emphasized. We need to build the world again after a disaster lays waste to it. And permanent ayuda-seekers won't contribute to building. They'll increase the waste.
All these moral police wannabees who support permanent ayuda better wise up. They're only in it for the glory, and probably wouldn't care if others they claimed to help didn't receive it. They either put their money where their mouth is or lock themselves in their bedrooms and cry a river because they didn't receive ayuda. Perhaps the latter is more well-deserved.
ABS-CBN and the Ayuda attitude
And since ABS-CBN is the hot copy of the moment, let's look at the flaccid emotional appeals by their actors. Kim Chiu especially is in the hot seat, and her argument is that ABS-CBN is a hope of poor people to escape poverty. But as Benign0 said in his article about the issue, that's a huge exaggeration of what really happens. Only a select, really minute few make it to Kim's level right now, while everyone else's dreams get smashed when rejected at the auditions – so how could that make the station a hope for people in poverty?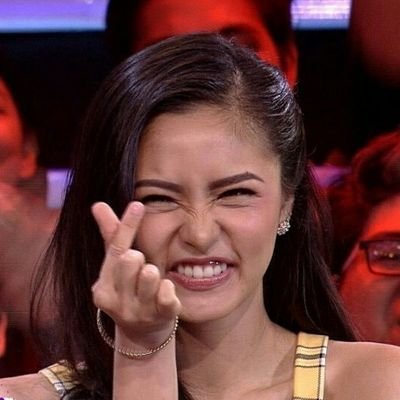 Let's look at it then from her case. She became famous because of Pinoy Big Brother – that voyeuristic program that originated from the Netherlands where people show their crass behavior for the entertainment of the world. In the foreign Big Brother, the participants were poked fun at. That was their purpose. And they became infamous, rather than famous, for it. PBB tried to sanitize this, but the basic premise remains the same.
Viewers watch bad examples, then they assume, hey, it's easy to become famous. So they attempt to just become famous by showing assholeness, or doing anything nonsensical for stupid pride's sake. One example: the Pabebe girls (where are they now?). Another, that teen in a viral video who went into a 7-11 store and bit hotdogs, then put them back. I bet if ABS-CBN hosted a hot coil challenge, people will bite (and burn themselves).
I agree employees of ABS-CBN have it hard, since I know at least one former colleague from RPN-9 who is an employee there. Ayuda for them for a while would be OK. But in the first place, they are suffering because of the greed of their employers. One of my relatives had been an employee of ABS-CBN Digital, and he left because he couldn't bear with the assholes he had to work with. By now those assholes are probably among those screaming for ayuda after their Starbucks allowances went kaput.
National artist F. Sionil Jose accused ABS-CBN of being a promoter of communist ideals. Also, some may recall the "conspiracy theory" that the network's content encourages people to stay poor so they could be voter fodder for politicians. For me, the network executives just want to see the ratings go up and don't care whether the audience is poor or not.
Some wokes (Rigoberto Tiglao said many former NPAs found work in media) in the company insert their moral policing into their work, and encourage people to seek permanent ayuda. Put that together with shows that encourage revenge and going around the law, as well as the "wanting to be famous through crassness" attitude above, it points to ABS-CBN (and other companies, even in other countries) spreading a false sense of hope. The company is profiting on false values, and it is should raise the ire of people who value public morals.
The rich of our mass media may support forced redistribution, but will not include their own wealth in it. They don't put their money where their mouth is. Hypocrisy is the name for it. But I do hope this fracas on ABS-CBN will lead to a wider discussion of those issues and perhaps lead to changes in local media that will correct these false values.
But yeah, who am I kidding?
I believe, as my cohorts here do, that what Filipinos embrace as their culture is what actually pulls the country down. And those who seem to be anti-dictators, who may also believe themselves to be "heroes," are the real dictators.