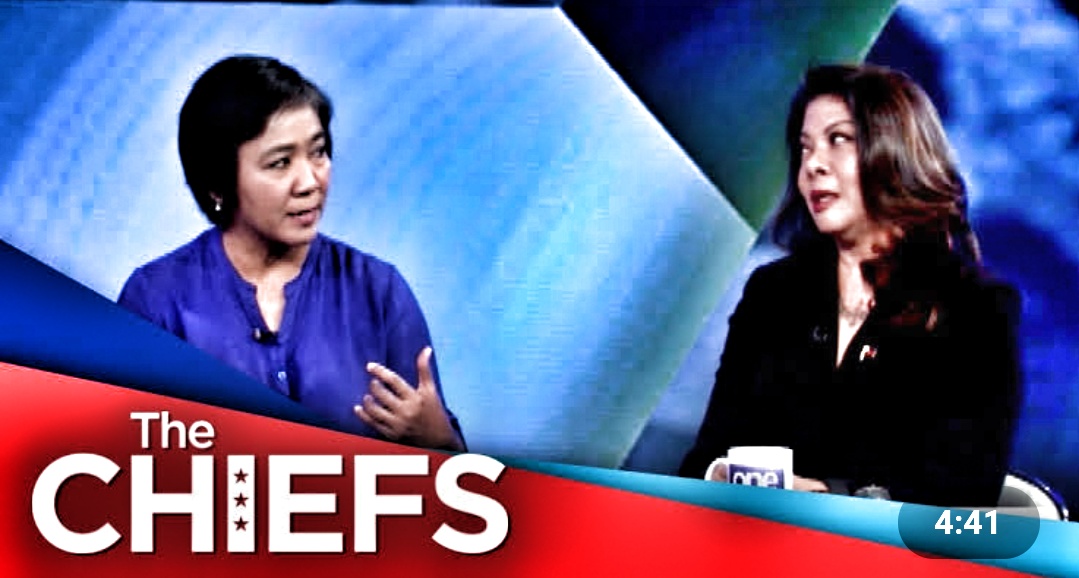 News has now gotten around that communist front IBON Foundation filed an administrative complaint against Presidential Communications Operations Office (PCOO) Undersecretary Lorraine Badoy among others. IBON Foundation reportedly claim that Badoy engaged in "red tagging". Presumably, the complaint draws partly from a video showing Badoy allegedly "hijacking" the agenda of a talk show that included IBON Research Head Rosario Guzman.
A statement released by IBON Foundation on the 30th January following the incident condemned Badoy for "linking IBON to the Communist Party of the Philippines-New People's Army-National Democratic Front of the Philippines (CPP-NPA-NDFP)" consistent to what was observed in the video. But while the statement described this so-called "red-baiting" as "disinformation", nowhere in the statement does IBON categorically deny Badoy's allegations — that they as well as other "progressive" organisations are really just "legal" fronts of the Communist Party of the Philippines and its terrorist arm, the New People's Army (NPA).
Indeed, the closest the IBON statement gets to some semblance of a counterargument against the "red-tagging" charge is this…
IBON has been explaining economic issues to the public for 41 years. The Duterte administration is attacking IBON because we advocate an economy that upholds the people's interests most of all. As with activists and other groups, we are undeterred and will continue to support the efforts of the people's movement to reclaim the economy from the elites that have taken it over.
In short, IBON not only cannot deny their alleged links to the Communist Party of the Philippines, they cannot even assert that Badoy is making a false claim about those links.
If you examine the statement closely, what IBON does suggest is that Philippine President Rodrigo Duterte is against building "an economy that upholds the people's interests" and is, as such "attacking IBON". It seems it is IBON, in this instance, that is making an unfounded assertion. They will need to prove that the Duterte administration is implementing an economic policy that runs counter to the interests of the Filipino people to clear the air around this so they could move forward with their complaint against Badoy (if said complaint holds water, that is).
It is interesting how the current Opposition, its lackeys in Big Corporate Media, and its circle of so-called "activists" dishonestly water down the nature of the CPP-NPA as terrorists and enemies of the state. They denounce "red tagging" of leftist groups as a "ploy" perpetrated by the government to endanger the lives of members of these leftist groups. However there has been no categorical denial of links between the CPP-NPA and these so-called "leftist" groups coming from any of their leaders. A Stanford University report on militant organisations, for example, describes current party-list group Bayan Muna, a key stakeholder in the IBON Foundation, as "a political party connected to the CPP and other groups in the Communist movement."
According to a recent ABS-CBN News report Bayan Muna is part of the Makaybayan bloc of left-leaning party-lists that include "Gabriela, Kabataan, Anakpawis, Migrante, and Alliance of Concerned Teachers." Like most other mainstream reports and discussion surrounding these "leftist" organisations, the report stops short of describing these groups as being linked to the CPP and the terrorist NPA.
It just takes just a little bit of research or observation over readily accessible sources like social media and even old news reports to see that familiar names, organisations, and slogans are common across all the militant groups mentioned thus far. Bayan Muna and IBON Foundation, in fact, often get mentioned in the same paragraph in many such news reports. Dig a bit deeper and you will find the personalities who lead or are, at least, involved with these groups sharing the same social networks.
The short of it is, these groups insult the intelligence of Filipinos by continuing to pretend that they are not communists. If IBON Foundation and other communist front organisation are to be taken seriously about their whining about being "red-tagged", perhaps they need to reflect on their own banal dishonesty first and, following that, get real and start making more truthful statements about themselves, their activities, and their true intentions.
benign0 is the Webmaster of GetRealPhilippines.com.