This morning Solicitor General Jose Calida filed a quo warranto petition at the Supreme Court to nullify the franchises of ABS-CBN and ABS-CBN Convergence, Inc "as they are unlawfully exercising their legislative franchises."
It would look like the final nail in the coffin of ABS-CBN's franchise renewal. That is if we consider that a number of cases lodged in the Supreme Court were decided in favor of Duterte's allies and against his enemies.
Ordinarily, ABS-CBN would have 30 days in which to respond to the quo warranto position but, according to a reporter at the Supreme Court, this period may be shortened.
This is because it may be overtaken by the recess of Congress which happens in about two weeks and without bill renewing ABS-CBN's franchise passing the Third and Final reading, this will spell the end for the broadcast network's operations.
So far,  11 bills seeking ABS-CBN's franchise renewal have yet to be calendared. Attempts to renew ABS-CBN's franchise were similarly stalled in previous sessions of congress.
A copy of Calida's quo warranto could not be obtained immediately by reporters at the scene of the filing of the petition. Attempts by reporters to interview Calida on the basis of the quo warranto petition were refused with the solicitor general saying that he was headed to another appointment. He however had time enough to rebuff one male reporter, accusing him of hitting him and told him that "you better just practice (law) so we can see each other in court."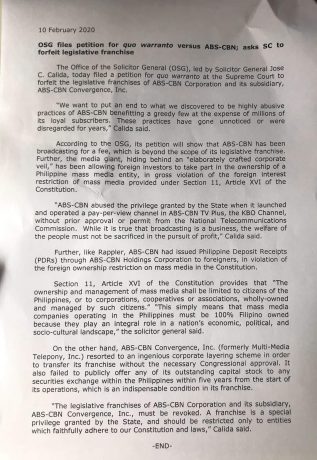 However, in what appears to be a statement issued by Solicitor General Calida published by Facebook page Bulatlat, it was said that the quo warranto petition filed sought to "…put an end to what we discovered to be highly abusive practices of ABS-CBN benefitting a greedy few at the expense of millions of loyal subscribers. These practices have gone unnoticed or were disregarded for years,"
Further on in the statement it is claimed that "…petition will show that ABS-CBN has been broadcasting for a fee, which is beyond the scope of its legislative franchise. Further, the media giant, hiding behind an 'elaborately crafted corporate veil' has been allowing foreign investors to take part in the ownership of a Philippine mass media entity, in gross violation of the foreign interest restriction of mass media provided under Section 11, Article XVI of the Constitution.
"ABS-CBN abused the privilege granted by the State when it launched and operated a pay-per-view channel in ABS-CBN TV Plus, the KBO Channel, without prior approval or permit from the National Telecommunications Commission."
"Further, like Rappler, ABS-CBN had issued Philippine Deposit Receipts (PDRs) through ABS-CBN Holdings Corporations to foreigners, in violation of the foreign ownership restriction on mass media in the Constitution."
Near the end of the statement it was said, "ABS-CBN Convergence, Inc (formerly Multi Media Telepony Inc) resorted to an ingenious corporate layering scheme in order to transfer its franchise without the necessary Congressional approval. It also failed to publicly offer any of its outstanding capital stock to any securities exchange within the Philippines within five years from the start of its operations, which is an indispensable condition in its franchise."
In an interview on ANC, Congressman Rufus Rodriguez characterized Solicitor General's petition as a direct assault to the freedom of the press and violated the equality as well as independence of the branches of government.
Rodriguez asserted that challenges to ABS-CBN's franchise should be heard in Congress because it is the only branch of government given specific charge over the granting of franchises. He said he believes that the Supreme Court will deny the Solicitor General's petition.
Rodriguez called on the leadership of the House of Representatives to start hearings on the bills filed in the Committee on Legislative Franchises and ASSERT its independence from the Executive branch of government.
All in all, it doesn't look like ABS-CBN's franchise renewal was NEVER going to be given a fair shot.