With only a couple of weeks before ABS-CBN(s legislative franchise expires, there seems to be a mad scramble.
I am not too sure whether it is to hammer the final nail in its coffin or to beat the dead horse.
Either way, there is a mob calling for its closure that seems louder and more violent than the voices of reason.
In the madness, people are bound to lose sight of facts and that seems to be the very idea driving the online cacophony.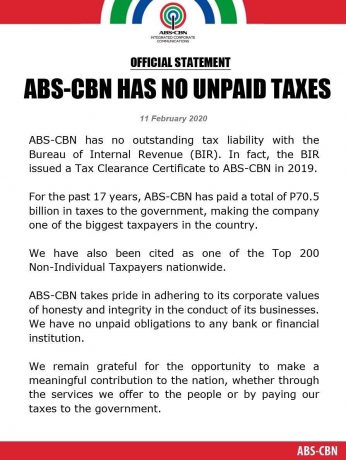 One fact is that ABS-CBN claims it does not have any outstanding tax liability.
I've been seeing this accusation against ABS-CBN all over Facebook and it doesn't make a bit of sense.
If it were true, I suppose we would have seen BIR file a case of tax evasion against ABS-CBN, but here doesn't seem to be a case.
President Rodrigo Duterte has said that he wants ABS-CBN shutdown, but I doubt he has said it is because of tax evasion.
So where is this tax evasion accusation coming from?
Any how, I guess we will never know or ever get to find out how this ever came about.
Apart from this, another strange thing I noticed was Mocha Uson Blog and MindaVote calling Senator Pimentel a traitor for asking the House of Representatives to do its job and act on bills calling for ABS-CBN's renewal.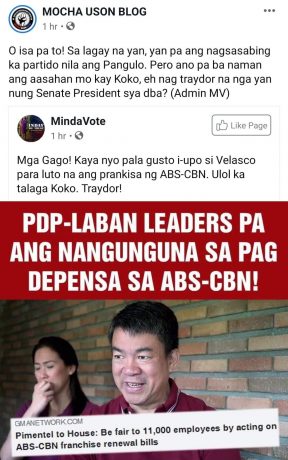 That's the sort of language and logic that betrays what kind of intellect is driving the discussion.
In the words of a political party stalwart, "Bobo!"
ABS-CBN has a right to due process which the House of Representatives is denying through its failure to act on the 11 bills filed for the renewal of ABS-CBN's franchise.
If Pimentel is a traitor for calling out the House of Representatives on its inaction, then perhaps House Speaker Alan Peter Cayetano can be regarded our country's highest patriot for not doing his job.