Kung makapagdrama si George Royeca ng Angkas pang MMK at KMJS,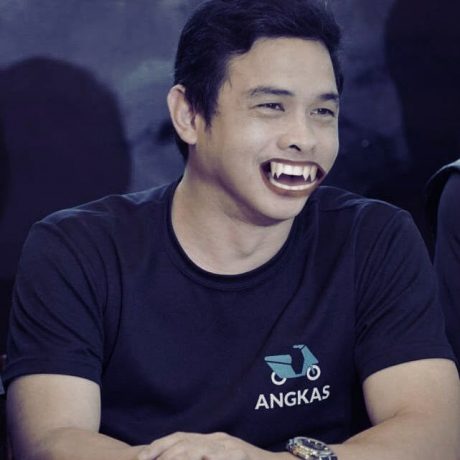 Kesyo daw mawawalan ng trabaho ang mga Angkas drivers at mananakaw ng kompetisyon ang mga staff nila. Unang-una, hindi sila malalagay sa alanganin kung hindi sinolo at ginawang monopoliya sa loob ng anim na buwan ang motorcycle taxi service. Ito ang dahilang kung kaya NAPILITAN ANG MGA RIDER na sa ANGKAS PUMASOK.
Kayo nagsubo sa kanila sa alanganin, tapos kayo ang magsasabi na kawawa.
SUPPORT INDEPENDENT SOCIAL COMMENTARY!
Subscribe to our Substack community GRP Insider to receive by email our in-depth free weekly newsletter. Opt into a paid subscription and you'll get premium insider briefs and insights from us daily.
Subscribe to our Substack newsletter, GRP Insider!
Learn more
Hala!
Baka naman masyado mong pinapelan ang mga Singaporean na Intsik mong mga diyos at nagpanggap kang kaya mong hilahin sa ilong na parang kalabaw ang Administrasyong Duterte.
Pati itong kaibigan kong si Celine Pialago na MMDA Spokesperson eh nagmukhang kinontsaba mo pa para sa paawa campaign mo.
Tapos titirahin mo si Tatay Digong na nag-appoint sa kanya?! Ten Inis!
Pinahamak mo pa kaibigan kong si Celine sa ginawa mong iyan.
Nagmukha tuloy na kinikilingan ang kumpanya mo na HINDI DAPAT MANGYARI sa pag-post ng propaganda ng Angkas.
Nagmukha tuloy na may REGULATORY CAPTURE na nagaganap.
Nangangamba din ako para sa kaibigan ko kasi mukhang hindi niya masyadong napag-aralan ang issue talaga.
Siguro bunga na rin ng pagiging palakaibigan at kagalingan sa pakikisama, hayan at nagpost sa page niya ng photo story ng Angkas. Baka nangibabaw na rin ang awa dahil sa kasinungalingan mo Royeca na mawawalan ng trabaho ang mga rider ng Angkas dahil sa desisyong buwagin ang monopoliya ninyo.
Pati itong si James Deakin na unang nagsabing tutol sa monopoliya ng Grab eh biglang namaluktot at kumampi naman sa monopoliya ng Angkas.
Malamang naka-keto pa rin ang hilaw na Pinoy na ito at nasubuan ng MALANGIS na propaganda ni Royeca. Masarap ba ang grasa ni Royeca?
Huwag mong sundan ng malamig na SanMig Zero baka bumara sa lalamunan mo ang sebo ni Royeca.
James, James, James… why you not thinking? Este… Why abrupt and convoluted turnaround?
If you are for allowing the FREE MARKET to dictate the number of motorcycle taxis, you should have been AGAINST ANGKAS' SIX MONTH MONOPOLY.
Why only now you like FREE MARKET? Why? Why? Why? Hah?
Ang tutoo nito guys, MAS MAY CHOICE NGAYON ANG MGA RIDERS KUNG KANINONG KUMPANYA SILA MAGTRA-TRABAHO. Unless IPAGDAMOT NI ANGKAS ang mga rider na pumasok sa system nila. Sana huwag nilang gawin kasi bad yun — in other words, asal kups.
James kay Royeca mo na lang painum ang SanMig Zero mo, para mahimasmasan.
Alam naman namin kung ano talaga ang nangyari sa loob ng anim na buwang naging MONOPOLIYA ang Angkas.
Tiba-tiba na ang mga amo mong Singaporean at ang taba-taba na ng mga matitigas niyong panga kakalamon sa pera ng mga taong walang choice kungdi mag-Angkas kasi binakuran niyo ang `DOTR TWG para sa Pilot Testing ng Motorcycle Taxi Service.
Sa loob ng anim na buwan, ang gross income ng Angkas at ng mga rider nito eh tinatayang umabot sa di kukulang na P9.7 BILLION.  Kumita ang Angkas mismo ng P1 Billion hanggang P2 Billion ayon sa aming mga source.
Hindi kaya sapat-sapat na ang pagpaparaya sa Angkas? Hindi ba dapat ang MANAIG NGAYON EH ANG MGA RIDER at ANG MGA NAMAMASAHE?
Kayo ang nagtanggal ng choice sa mga gustong mag motorcycle taxi, wala silang ibang mapasukan kung hindi Angkas at Angkas lamang.
O ngayon, dahil tumukod kayo at di niyo magawang kalabaw na hila-hila sa ilong ang Administrasyon Duterte, plakda ngayon ang mga PINAASA NIYO.
Yun talaga ang delikado sa isang monopoliya tulad ng Angkas.
Salamat Tatay Digong at salamat Secretary Art Tugade sa pagbabaklas ng Angkas monopoly. Mas maraming magiging masaya ngayong pasko dahil mas marami kaming mapapagpilian na serbisyo at pati ang mga rider, HINDI NAKATALI SA ANGKAS LANG.
Communications consultant.