May mga kaibigan akong minasama ang desisyon ng Department of Transportation (DOTr) dahil sa decision nitong magpapasok ng dalawa pang motorcycle taxi services upang kumpetensyahin ang Angkas.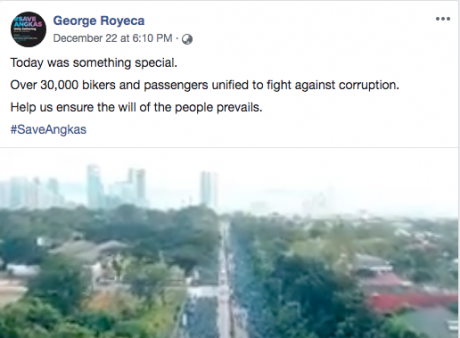 Tingin ko, dahil ito sa kagagawan ni Angkas Regulatory and Public Affairs Head George Royeca at ng kasinungalingang pinakalat nito tungkol sa desisyon ng DOTr.
Ang sabi niya sa isang Facebook post tungkol sa Unity Ride, "Today was something special. Over 30,000 bikers and passengers unified to fight against corruption. Help us ensure the will of the people prevails."
Bumenta sa mga kontra sa administrasyong Duterte ang sabi ni George na laban sa korapsyon ang Unity Ride ng Angkas.
Tignan niyo naman ang Tweet ni Chel Diokno, kaparehas na kaparehas ng mga pinagsasabi ni George na mawawalan daw ng trabaho na mga riders nila — na isang malaking kasinungalingan.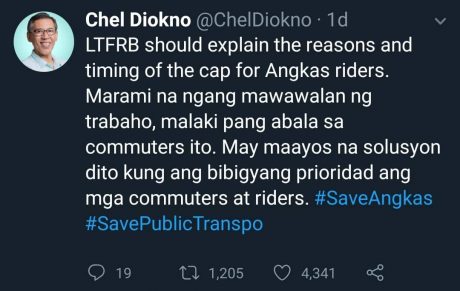 Ang galing rin ni George ano?
Nuong nagpapasasa bilang MONOPOLIYA ang Angkas at sinosolo ang milyon-milyong kita nito araw-araw sa loob ng anim na buwan, wala itong imik sa diumanong korapsyon sa administrasyon.
Nang pinapasok na ang mga kakompetensya nitong motorcycle taxi services, bigla biglang nagsisigaw na may korapsyon sa administrasyon.
Siguro, ang ibig nitong sabihin, alam ni George na may korapsyon sa administrasyon pero tahimik lang siya kasi nakikinabang ang mga amo niyang Singaporean.
Sa madaling sabi, hindi talaga korapsyon ang issue ni George kungdi ang pagbaba ng kita ng kumpanya niyang buwakaw.
Natulad na rin siguro si George sa mga amo niyang Singaporean na pera lang ang sinasamba.
Nakakatawa ano?
Napagsabihan tuloy ng DOTr si George at sa tingin ko, time na para mag-resign siya dahil ubod ng palpak ang move niya bilang isang head ng government relations ng Angkas.
Sa dinami-dami nang nag-astang siga-siga laban sa Administrasyong Duterte, halos lahat sila tumumba. Baka gusto ni George eh bumutata ang Angkas.
Ang sabi sa open letter ng DOTr:
Dear Mr. George Royeca,

This is with reference to the recent statements, actuations and public relations efforts being made by Angkas on the issue of the Motorcycle Ride-Hailing Service, WHICH IS STILL UNDER GOVERNMENT STUDY as to its feasibility and propriety as a public transportation option.

It is quite unfortunate that ANGKAS has made a public spectacle, and has resorted to emotional blackmail in its attempt to cement its foothold on this transport service.

It is one thing to make an assiduous representation to state your case and your points on the matter, but it is another thing to use the issue as a forum to protect your vested interest at the expense of the government, which has nothing but the overall public interest in mind.

In the interest of true transparency, allow us to address the issues you have brought out in the court of public opinion.

On the matter of job displacement and loss of livelihood of your riders, it is not true that your 17,000 ride partners will be displaced. On the contrary, they actually have the option to choose the best employment/partnership terms either from you, or the two other participants in the program, JoyRide and Move It.

In fact, there is a need to hire more as the Technical Working Group (TWG) has recommended to increase the pilot run participants to 39,000 from the current 27,000 now in place.

Your argument that 17,000 out of your 27,000 riders will be deprived of their livelihood does not hold water, as they are the prospects of JoyRide and Move It. For Angkas to claim the 17,000 as their own is in itself curtailment and infringement of the right of the rider to seek the best employment opportunity.

The fact remains that you want exclusivity with these riders to establish a monopoly. That, Sir, is unacceptable, and that is precisely what the government is trying to avoid at all cost. This is our 2nd and most anthemic point – THERE CAN BE NO MONOPOLY in the Motorcycle Taxi Service as this goes against public interest. What the government wants to promote is healthy competition among service providers, to ensure that the commuter can avail of the best choice.

Thirdly, we wish to reiterate that the Motorcyle Taxi Service program is still on PILOT RUN basis, and that you still do not have an official transport franchise. We are extending the Pilot Run as we deem it necessary to give us the opportunity to fully assess the program and how best it will serve the commuter.

Your participation is a privilege that the government has extended, and it should not be construed as a right to impose or demand monopolistic provisions that will be detrimental to the program in the long run.

The TWG would like to reiterate and remind everyone that the Motorcycle Taxi Program is still a transportation concept being thoroughly tested and assessed for its long term viability and adaptability in our public transportation sphere.

We are extending the Pilot Run and introducing tweaks and system changes, including the addition of new service providers, to better equip us with a full understanding of the impact of the program to all stakeholders, most especially to the commuter, and how it will be a better and SAFE public transportation alternative.

An integral part of the Pilot Run extension will be the development of a registration and feedback mechanism to establish commuter buy-in and acceptability of the program, as well gauging the overall ride experience. There is also a need to adopt an audit system which will institute performance and regulatory compliance metrics for the service providers.

All these considerations are on the table because we reiterate that the issue involves PUBLIC INTEREST, and not simply a business enterprise.

We therefore wish to call out Angkas and its improper and self serving disposition and position. We are so disappointed and aghast at the temerity of Angkas to hostage the Pilot Run, as if it is an exclusive business endeavor that cannot be altered without its assent.

We deplore these underhanded tactics by Angkas, which have now severely strained the credibility not only of the program, but also of government. But, what Angkas fails to mention is that it is not even fully compliant with the directive to submit its actual listing of riders to the TWG as required early in the initial phase of the pilot run, as it can only provide an excel sheet submission of rides per day from June to December sans any analysis or executive summary.

In fact, despite the guidelines set by the TWG for the registration of authorized riders, Angkas has only submitted 2,204 authorized riders as of today, a far cry from its claim of 27,000 rider partners.

Perhaps, it is also a fair assumption to state that Mr. Royeca, who remained silent in consultative meetings and sessions, and who expressed amenability to the entry of Joy Ride and Move it, as well the cap provided, is really more concerned with losing at least P170,000 per day (pegged at a very conservative one ride per day only) in potential income if the 17,000 riders will move out of Angkas (based on 27,000 x P50/ride a day), which is why now he is drumming up the imagined suppression and unfair treatment of Angkas.

At this point, what is becoming clear is that Angkas is not really concerned with the pilot study and the livelihood of its riders. It is only concerned with the livelihood of its owners.

With only the best interest of the riding public in mind,

Motorcycle Taxi TWG

#DOTrPH ??
#LTFRB
#PartnersForChange
#ComfortableLifeForAll
#DuterteLegacy