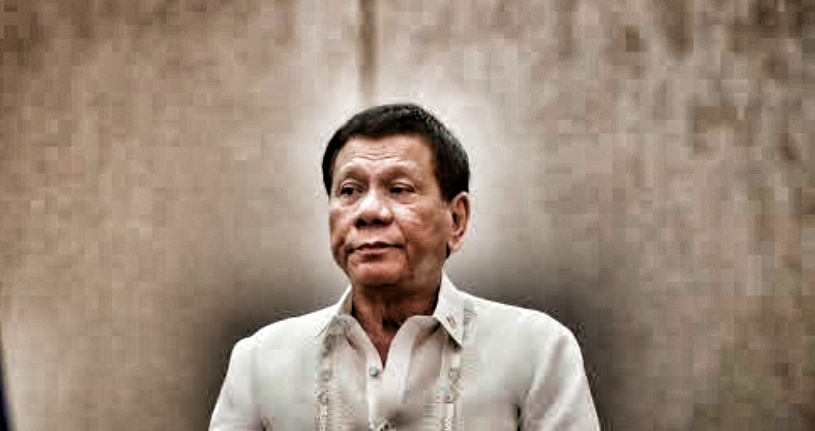 If there's any gray matter left with neurons still firing among members of the Yellow Opposition Camp currently led by widely perceived 'all-talk no-walk' 'too fake to be true' future-ex-"VP" Leni "Lugaw Queen" Robredo, they would by now recognize the large bold letters written in the sky spelling out "POLITICAL SUICIDE!"
No less than the Philippine Daily Inquirer, supplier of your daily dose of unsolicited Yellow-leaning propaganda, appears to have conceded defeat (if not feigning "unbiased reporting") by publishing a major news article entitled:
Duterte approval rating of 87 percent in December attributed to poverty reduction, SEA Games 'high'
President Rodrigo Duterte's approval rating climbed nine notches to 87 percent in December, the latest Pulse Asia Research Inc. survey showed and which his economic team attributed to lower poverty rate and a festive mood following the country's hosting of the Southeast Asian Games (SEA Games).
If there's anything newsworthy beyond sensationalized Ampatuan amputation-inspired violence porn, it's got to be data-driven pogi points like the astounding drop in poverty rate to 16.6 percent in 2018 from 23.3 percent in 2015. This achievement under Duterte's leadership is as significant as a Filipino finally winning a "Nobel Prize in Common Sense" for solving Metro Manila's hellish "myocardial infraction"-like traffic gridlock conditions.
Any Filipino, pro-administration or otherwise, will appreciate year-end news like this that impacts delivering pan de sal on the table. It's that solid positive outlook backed by sound economic gains that eventually propels a political camp towards securing a strong following for years to come and a promising political path for their next generation of anointed leaders.
And what else can anyone say about that outstanding 149 gold medal haul in the recent SEA Games, outclassing the rest of the 11-nation pack? Pinoys were just too drunk with victory, they ended up cheering for Timor Leste as the games drew to the end! The air of jubilation that greeted our winding down towards the Christmas break and receiving much-awaited 13th month pay has drowned out all the initial media-led bad publicity at the Games' onset (visiting athletes "deprived of Halal food" or the Imeldific giant kaldero).
A Sinking Yellow Sub
The Yellow Submarine now riddled with holes is fast sinking to the bottom of the political sea, amidst high-flying jumbo jets and stealth fighters roaring above them brandishing the clenched-fist logo.
Any seasoned political analyst will advise these haplessly lost political souls that there is simply no way to go head-to-head against a popular populist president with a touch of unpredictable crass authoritarianism who is loved by close to 90% of his people and survive. Not even super-power American backing in those shrill "stop the killings" shouting matches can make a dent on Duterte's hold on power, popularity and high-flying approval ratings.
With the Duterte Camp cementing its lead ahead of the rest of the political pack including independents and big political brands such as Poe and Estrada, the only option for the Yellow opposition is to continue the decline to oblivion and irrelevance or bailing out while there's still a chance and rebrand oneself as reformed former opposition (similar to reintegrated former rebels) who have now realigned with the current administration, while shouting "We win as one!"
Death by Yellow Noose
While turncoatism may not really be as appealing for many of these opposition figures who are imprisoned within their shrinking echo chambers, there really isn't much of a choice but to accept their doomed political careers with grace. And once they finally take the jump into the wormhole portal of nothingness, that will probably be the time the whole nation will be clapping for them again.
It's time the remaining helplessly deluded "anti-authoritarian freedom fighters" untie the Yellow ribbon round the old oak tree and turn it into a Yellow noose to do us all the favor of giving our world one less useless clanging cymbal in our already deafening climate of fake/shallow political debates that scratch those perpetually itching themes of "pro-poor palibre naman" demands, "human rights" melodrama, "anti-evil-tyrant" propaganda and empty "pro-victim motherhood statements".
Raising the Bar from Mediocrity to Meritocracy
If there's one legacy the Duterte Administration will be remembered for, it will be its trailblazing record of abruptly setting the bar so high for the next round of politicians. Filipinos keep commenting in Social Media with every Duterte achievement (like those sleek modern looking Bicol-bound trains): Kaya naman pala e! (It can be done after all!)
The opposition can't really blame anyone else more than their last major Yellow figurehead, Noynoy/PNoy – who was recognized to be a lame-dick president (having left SAF44 like lame sitting ducks till their ammo ran out), and was typically condemned either way by the general public as a leader who was "damned if he did anything, and damned if did nothing at all."
There generally is no climbing out of a political pit hole as deep as what PNoy dug for his camp.
Simply listing down PNoy's vs Duterte's achievements (even full term vs half term, respectively) is all it takes to bring Filipino eyes wide open to the truth that it's Game Over for any remaining adherent of the defunct good-vs-evil Yellow political ideology, as well as that of its obsolete CPP-NPA sister. Even the necropolitical strategy which the Yellows have played on us is DEAD; it will take some time till we see the likes of a Robredo widow being catapulted to power again with "because my cute little dog died" logic.
It's high time we ride on the momentum of the SEA Games euphoria wave and do our part to propel this country to real Singapore-class NIC-hood. 2019 was not bad, NOT BAD at all – unless you're on the suicidal side of the political fence.
Zealous revolutionary advocate of bringing back common sense for the common good in a land of dysfunctional and delusional zombies.