In the aftermath of yet another devastating "natural" disaster — this time an earthquake hitting southern Mindanao — Filipinos are again exhibiting the lack of decisive and deliberate fast action required to deliver timely relief to its victims. Much of the action being instigated by local governments are the usual appeal for aid from the national government and what relief is coming is being dripfed in fragmented form through charity organisations and private efforts.
Virtue signalling framed by a partisan agenda is rife — a testament to the primitive nature of the Philippines' political discourse. Various "thought leaders" of the Philippines' Opposition camp, for example, go as far as conscripting their god to the cause of "educating" supporters of Philippine President Rodrigo Duterte on the cause-and-effect chain of earthquakes…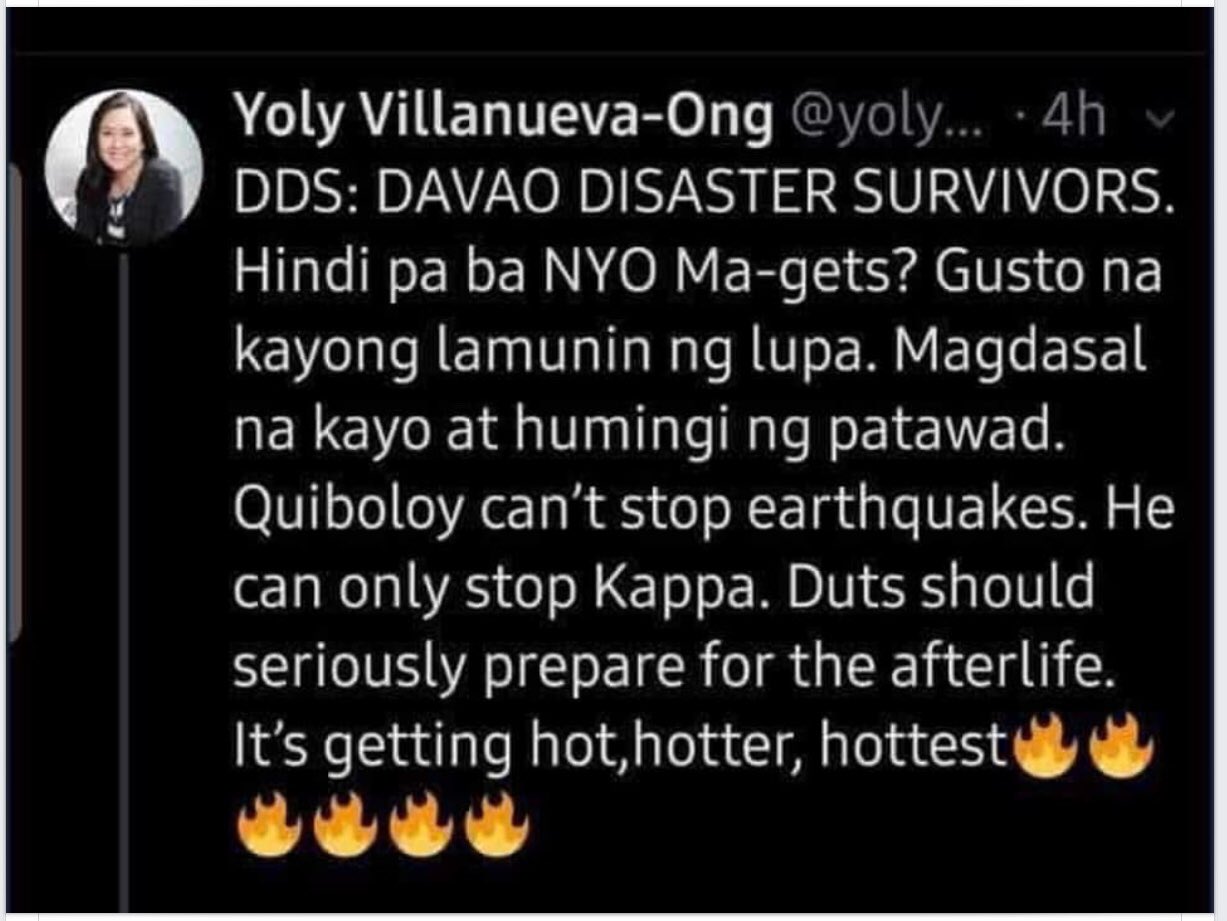 SUPPORT INDEPENDENT SOCIAL COMMENTARY!
Subscribe to our Substack community GRP Insider to receive by email our in-depth free weekly newsletter. Opt into a paid subscription and you'll get premium insider briefs and insights from us daily.
Subscribe to our Substack newsletter, GRP Insider!
Learn more
Attesting to the lack of conviction with which Opposition personalities like self-described "truth detector" Yoly Ong deliver their thoughts via social media is a quickness to withdraw their statements when the response they had hoped for does not materialise.
I deleted my Davao disaster tweet even if the intention was clearly to jolt the DDS into an awakening. My Davao friends did not feel alluded to at all. Anyway, to avoid anymore sensitivity…

— Yoly Villanueva-Ong (@yolyong) November 1, 2019
Evidently Ong sees herself as a modern-day prophet of some sort galloping in to "jolt" sinners into an "awakening". Clearly the intent is to insult people's intelligence and not to awaken their senses in this instance. Even a relatively educated and supposedly more intellectual guy like Theodore Te, faculty member of chi chi Ateneo Law School makes underhanded insinuations whilst Tweeting loaded questions such as this.
True enough, the intended payload of this "question" did not escape the stunted sensibilities of Yellowtard celebrity Leah Navarro who (in a tweet later deleted) quipped "Retribution?" in a response that mirrors Te's up-the-Hill form.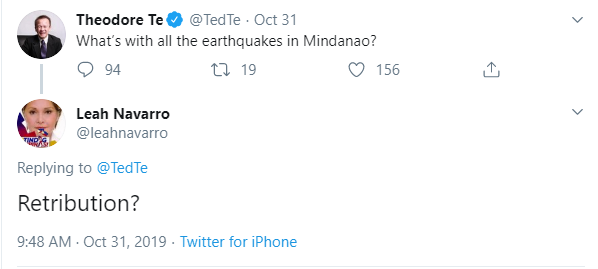 Fortunately there are small communities of modern-minded Filipinos ready with more sensible answers to Opposition thought leaders' stupid questions.
Earthquakes are due to movements in the Earth's crust. They have nothing to do with divine retribution to the people in Mindanao because PRRD lives there. Let's be fair to God and the innocent in Mindanao.

— Perfecto Junjun N. Bragais III (@atty_don) November 1, 2019
If only real leaders who apply enlightened thinking to natural problems can step up and rescue the Philippine Opposition from the scourge of the Medieval thinking their current leadership indoctrinates their lot with.
Back in 2016 I wrote about "The mystery of why otherwise intelligent people support Leni Robredo". Indeed, the Ateneo de Manila University seems to be an increasingly evident common denominator in the dysfunctional thinking that infests the Philippine Opposition.
One would think that the intellectual horsepower churned out by the Jesuits and the awesome media mafia under the control of the Yellowtards would be channeled to the cause of developing or at least lobbying for a more modern and sustained level of disaster preparedness in the Philippines. Reyes, for example, equipped with the mathematics acumen needed to apply the quantitative predictive modelling that is essential to support a credible national disaster response infrastructure, chooses, instead, to lend her mind to the "cause" of the Ayala Corporation today. Fair enough, of course. But this is but an example of the vast options for intelligent leadership the Opposition seems to be missing out on in their baffling deference to their tradition of voodoo politics.
It is high time the Opposition ditch the old thinking — and the Yellowtard personalities who are behind it — and step up to becoming the real Opposition Filipinos deserve.
benign0 is the Webmaster of GetRealPhilippines.com.