Being an avid reader, I couldn't help but jump for joy when an independent, inexpensive bookshop opens up nearby. That was my feeling upon finding Bookay-Ukay at Maginhawa street in Teacher's Village, Quezon City some years ago. It has inexpensive books, mostly older, outdated pieces, but still nice to read. I especially go for the art and general issues books.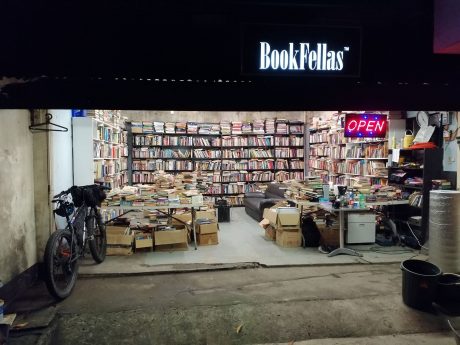 Then the owner Dan Gaffud opened another bookshop some years after, with the catchy name Bookfellas (after the movie Goodfellas). After K-J Kamias, Bookfellas moved to Cubao Shoe Expo, then to Project 4. The latest move was to Malingap street in Teacher's Village, right in the garage of Tomatokick. More reason to jump for joy because that was the nearest it ever been, walkable from home.
SUPPORT INDEPENDENT SOCIAL COMMENTARY!
Subscribe to our Substack community GRP Insider to receive by email our in-depth free weekly newsletter. Opt into a paid subscription and you'll get premium insider briefs and insights from us daily.
Subscribe to our Substack newsletter, GRP Insider!
Learn more
I thought I would have trouble finding something more to say about it, but the owner Dan had a controversial post. He noticed that so many people were just having pictures of themselves taken in the premises without them buying anything. They were just getting a book, making as if they're reading, getting snapped and then that's it. Dan decided to ban that.
Some people reacted, how rude, what an overreaction. But I find the measure reasonable. I never understood the point of having pictures of yourself reading to post on social media if you are not a reader yourself. Dan told me that people did it without even asking his permission. Using someone's store for your photo op without asking permission, much less buy anything, is gross disrespect. Dan also saw the culture of fakeness in it, and it relates to articles on this blog about Filipino selfie and souvenir photo culture.
I'd also say Dan's still more level-headed compared to certain stores of old. Perhaps some art students and scale modelers would recall how at these stores, if you just browsed, the owner would rage and scream something like, "how dare you come into my store without buying anything!" I'm sure some who read this blog know what I'm talking about.
Too bad Dan took down the post soon after. But I hope people got the message. Real people go to Bookfellas, or any other independent bookshop, to buy something to take home and read, not to get photo ops. You have to admire bookshop owners like Dan for continuing with this business despite its apparent risks. So I just support him because he's the dealer of my kind of crack, paper crack. If you're into it too, go there and take a look, you might find something you want.
I believe, as my cohorts here do, that what Filipinos embrace as their culture is what actually pulls the country down. And those who seem to be anti-dictators, who may also believe themselves to be "heroes," are the real dictators.