Angkas dupes Tugade
Building up the country's transport infrastructures is a challenge that will test the limits of even a titan technocrat.
Transport secretary Art Tugade is taking on this Herculean task at the age of 73 and while I believe stories of his abundance of energy at a late age, it seems that Singaporean Angkas' barkada of bureaucrats managed to pull a fast on at his expense.
I feel sorry for Secretary Tugade
My friends observing various government project bids say it seems Undersecretary Mark Richmund De Leon, the DOTR Technical Working Group and Singaporean Angkas head of regulatory and public affairs George I. Royeca sneakily bestowed Singaporean company Angkas a six month motorcycle taxi monopoly that is possibly worth P2 billion in gross earnings.
Who is George Royeca?
Before I get into just how Angkas managed to pull wool over the eyes of Tugade, let me just share a little information about who George Royeca is beyond being Angkas' Head of Regulatory and Public Affairs.
Well, long and short of it, he appears to a political supporter of former QC Congressman Winnie Castelo — the congressman who has used every opportunity to disparage the government's efforts to solve the traffic mess.
On the surface, it would appear that Castelo was merely batting for the millions of commuters who suffer going through heavy traffic everyday.
But friends who've known Castelo say that he was probably pressuring the government to allow the operation of motorcycle taxis at the behest of Angkas.
As to why he'd do such a thing, please remember that Angkas stands to earn BILLIONS as a monopoly and Castelo was , back then, raising money to finance his and his wife's political campaign in the 2019 elections.
As far as I know, IT IS ILLEGAL for FOREIGN COMPANIES such as ANGKAS to meddle in the political affairs of the country. 
Please see this screenshot of Royeca publicly campaigning for Castelo.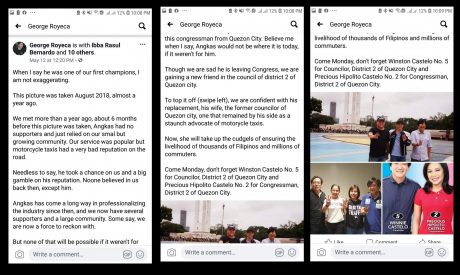 Tugade Blindsided by Royeca's Buddies at DOTr TWG?
How could people far below Tugade's stature as a technocrat sneak such huge deal past his powers of scrutiny?
My friends speculated Royeca's cronies in the DOTR TWG found Tugade's blindspot and unscrupulously exploited it. They further wagered that the blindspot could have been created by having spread himself too thin or that he had placed too much trust in his subordinates or that he may have lacked the patience to grasp the "new" ride hailing service. 
Even if Secretary Tugade isn't at all conversant with ride hailing technologies and services, it shouldn't have escaped his attention that his boy Usec. De Leon did not allow other motorcycle taxi services to join the motorcycle taxi pilot testing program.
"For crying out loud! Laws defining what a monopoly is and restricting it have been around since the latter part of the 1800s. Kinawawa naman nila si Tugade at ginawang tanga," said one of my friends.
My friend further pointed out, "Gagawa lang ng magic ang mga bata ng Angkas sa DOTr TWG, yung laos na laos pa ang napiling gawin. One of the oldest illegal rackets in the book for crooked bureaucrats is to tailor the requirements of a program or bid in such a way that only their favored contractor would be qualified. Yan g sa Angkas, self evident  na corruption yan kasi Angkas lang ang tumatakbong motorcycle taxi kahit maraming pang iba!"
With his voice pitch rising even higher, my friend said, "Even supposing that there is some legal technicality that allows Angkas' monopoly, it would be detrimental to public interest and welfare supposing that Angkas fails to pass muster during its pilot test.
"On one hand, paano kung ma ban ang lahat ng motorcyle taxi dahil kamote sa mga kamoteng Angkas drivers? Eh di sorry na lang ang mga commuters kasi wala na silang dagdag na choice para makapunta sa trabaho o sa mga business meeting.
"On the other hand, paano kung pumasa ang Angkas at ito lang ang pinayagan mag operate? The DOTr would have given it a HUGE UNFAIR advantage over other motorcycle taxi services and bar them from entering the market for YEARS.
"Mas kamote pa sa kamoteng rider ng Angkas ang magikerong DOTr TWG na yan!
"All this reminds me about how we ended up with just Smartmatic as our Automated Elections System provider. Even if the AES law allows for each region to have its own AES, ginawa ng Comelec eh dinoktor ang requirements para ang Smartmatic lang ang pumasa at manalo sa bidding. Kaya ngayon may hocus PCOS tayo." said my friend.
Even if I wanted to come to the defense of Transport Usec. De Leon when my friend began his harshly worded tirade against what he called the "DOTr's Angkas Gang", I couldn't seem to find any article online that would explain why the DOTR allowed the operation of a monopoly to the detriment of public interest and fair trade practices in the Philippines.