Another SJW moment made the latest buzz as a young Swedish girl, Greta Thunberg, made a "stunning speech" where she called world leaders "evil" for ignoring environmental concerns. Fellow SJWs and left-leaners or "let's force the world to embrace our kind of good" types are all aflutter about it. Add to that U.S. president Donald Trump's statements making fun of Thunberg that provide some ammunition for them to personally attack him.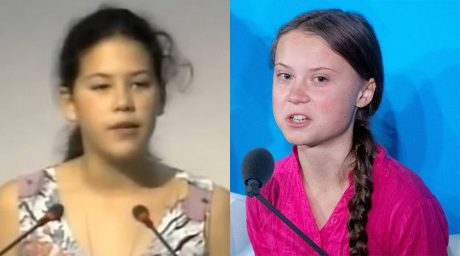 Fat lot of good all that is going to do. Thunberg read a pre-written speech which does nothing more than appeal to the emotions, and tries to guilt-trip politicians (already the Australian prime minister responded by saying Thunberg's speech is full of disinformation). Some are saying that the girl was merely used for the agenda of interest groups. Not to mention her parents were known Antifa supporters. It's the same SJW idiocy as the St. Scholastica nuns using children in their rallies.
So Thunberg, along with a few other activists, filed a climate lawsuit against five countries, namely Argentina, Brazil, France, Germany, and Turkey. But I'm pretty sure no effective sanction will be given the five nations. It could turn out to be like the UNCLOS decision about the West Philippine/South China Sea. Whatever the sanction, can it be enforced? It can only done so if the parties named in the case agree to do something. But if one doesn't cooperate, nothing happens. Thus, these lawsuits won't lead to anything, but more dismayed and disappointed angry young souls.
And let me mention that Thunberg's speech isn't ground-breaking, or a first, if anyone believes that. Back in 1992, a then-12 year old Severn Cullis-Suzuki "stunned the world" with a similar speech, blaming world leaders for environmental damage using the guilt-trip method. After that, not much happened. People still throw plastic into the ocean, still consume more than activists think they should, and it's not just the politicians and companies who are to blame.
The truth is, human living will result in damage to the environment, whether by just getting firewood, hunting or foraging, or throwing food packaging in the sewers. Attack on Titan creator Isayama Hajime said one of his inspirations for his work was the fact that food is only composed of other living beings, whether plants or animals. Non-living things cannot be food. The best we can do is minimize our damage to the environment, and try to regenerate what we can. But don't expect miracles.
Also, the jury is still out on whether climate change is man-made or natural, but no findings justify lawsuits as a way to deal with it. Instead, efforts for environmental awareness are best done locally, such as making people aware how their trash clogs the esteros (canals) of Metro Manila. We can inform people about less wasteful lifestyles, but it won't "save the world" unless more people agree to the suggested steps, as with the international agreements mentioned above. And you can't force them to agree.
In the end, let's be realistic and know that such "shocking speeches" are just bluster and show, and a display of the flaccidity of "activists." At least Suzuki, now 39 years old, does some ground-level activist work educating and informing people, even authoring some books. I doubt Thunberg may be able to do the same. I still believe that corruption and other problems with society start at the grassroots, so if you don't address the grassroots level, might as well stop insulting and guilt-tripping "world leaders." Or, as I said, stop guilt-tripping at all, as it achieves the opposite effect.
I believe, as my cohorts here do, that what Filipinos embrace as their culture is what actually pulls the country down. And those who seem to be anti-dictators, who may also believe themselves to be "heroes," are the real dictators.