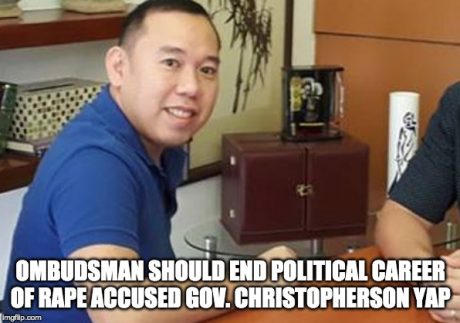 The Office of the Ombudsman for the VIsayas is set to hold the preliminary hearing of the alleged rape and administrative charges filed against Southern Leyte vice governor Christopherson Yap.
Christopherson Yap has been summoned to appear before the OMV on Aug. 28 in connection with their investigation of an alleged rape of a 17-year-old girl and for an administrative case for Grave Misconduct.
The uproar over the possible freeing of convicted rapist and murderer former Calauan Mayor Antonio Sanchez should be a warning to the Office of the Ombudsman for the Visayas  (OMV).
In a news report, it was said:
In her complaint filed before provincial prosecutor Efren Mendoza, the victim alleged that she was raped by Yap the first time they got acquainted in November 2016, when Yap was still vice governor.She said together with a friend, she was invited to a drinking session with Yap by his driver/assistant Romeo Gonzales. She said was invited by Yap to get inside his sports utility vehicle where he allegedly raped her.

"I could not shout and be heard because the music was loud and the Montero's doors were locked. I was also afraid of him because he was the vice governor of Southern Leyte back then," the victim said in her affidavit.

The victim said Yap attempted to rape her again two weeks after the first incident when Yap's assistant asked to join another drinking session.

Together with a friend and a male cousin, the victim was brought to a gasoline station owned by the former vice governor.

In her affidavit, the victim said Yap followed her to the comfort room and attempted to rape her again.

Her male cousin heard her screaming and started shouting outside the toilet, prompting Yap to let her go.
Although Yap was merely accused of rape with some reports saying that the case  was dismissed by a Leyte provincial prosecutor, people livid over the possibility of former mayor Sanchez release may view a favorable finding for Yap negatively.
Even in the face of arguments that Sanchez had served his time, people are saying that the convicted rapist and murderer Sanchez should rot in jail.
Even Senator Bong Go voiced his opposition to the possible freeing of Sanchez, "Mister Sanchez, 'wag ka nang mangarap na makalaya pa. Ipagpatuloy mo na lang pagbayaran ang mga kasalanan mo dyan sa loob, kaysa lumabas ka, baka umikli pa ang iyong buhay," (English translation, "Mr. Sanchez, don't hope that you can ever be free. Continue to pay for your sins in jail because if you go out of jail, you life might get cut short.")
To me, Senator Go's words signify that we should not tolerate much less reward politicians who have committed one crime or another.
Haven't we already learned our lessons from the likes of former President Joseph Estrada who after being convicted of plunder and granted amnesty was still able to become Manila mayor?
If the Office of the Ombudsman for the Visayas in any way says that it finds nothing wrong with vice governor Christopherson Yap having been slapped with a rape case and clears the way for any future political career, it would go against the spirit of the times when people are demanding that public officials be held to a higher moral and ethical standard.
President Rodrigo Roa Duterte himself envisions a government which does not tolerate even a "whiff of corruption", what more for public officials who is accused of raping an underaged lady and proceeded to try to rape her again!
Looking over news items saying that the rape case against vice governor Yap was dismissed, I couldn't find any document showing the provincial prosecutor's decision.
This could make some people suspect that some manner of influence might have been brought to bear on the prosecutor not to charge vice governor Yap.
What was the basis for dismissing the rape case?
Perhaps Crusade Against Violence Visayas led by Thelma Chiong, the one who assisted the rape victim to file a case, should speak up about this.