A Southern Leyte Vice Governor accused of raping a 16 year old girl remains free.
The name of this elected official is Southern Leyte Vice Governor Christopherson "Coco" Yap, a member of the Liberal Party who later switched to former Vice President Jojo Binay's UNA party.
The tearful telling of the rape victim's suffering under the hands of Yap is similar to that of Eileen Sarmenta who was raped and murdered by Mayor Antonio Sanchez.
SUPPORT INDEPENDENT SOCIAL COMMENTARY!
Subscribe to our Substack community GRP Insider to receive by email our in-depth free weekly newsletter. Opt into a paid subscription and you'll get premium insider briefs and insights from us daily.
Subscribe to our Substack newsletter, GRP Insider!
Learn more
In news reports published last year, the rape victim says that she had been brought to Yap as a gift by his political supporters.
Below is an excerpt from GMA7 News report by Marisol Abdurahman's report aired in February 2018: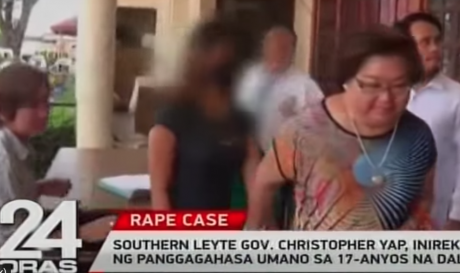 Abdurahman: November 2016 pa nang mangyari ang panghahalay sa biktima, bise gobernador pa lamang nuon si Yap. Ayon sa biktima na nakausap namin sa pahintulot ng kanyang mga magulang, inaya siya ng kanyang mga kaibigan na makipag inuman. Hindi niya alam na sinet up na pala siya ng mga kaibigan na mga taga suporta pala raw ng gubernador. Nang malasing na pala ang biktima, isinakay umano siya ni governor yap sa pulang SUV at hinalay.
Victim: Pagkatapos niya akong halayin, 16 years old pa ako nuon, binantaan niya ako, sinabi niya sa akin na hindi ko ipagsasabi, kasi alam ko daw ang kinatatayuan niya. At nitong Nobyembre lang, tinangka uma siyang halayin uli ng gobernador sa loob ng banyo ng parehong gasolinahan. Ibibigay daw niya sa akin ang lahat lahat, basta huwag daw akong mag ingay. huwag daw akong magsumbong
English translation:
Abdurahman: The alleged rape happened in 2016, Yap was still a vice governor back then. According to the victim whom we were able to talk to with the permission of her parents, she was invited by her friends to go out drinking. What she didn't know was that she was already set up by her friends who were also supporters of the vice governor. When she got drunk, vice governor Yap got her into his SUV and raped her.
Rape victim: When he raped me, I was 16 years old back then. He threatened me and told me not to tell anyone because I knew of his position. Then in November, he tried to rape me again inside the comfort room of the same gasoline station. He said he would give me everything I asked for if I didn't make any noise and didn't tell anyone.
Somehow, vice governor Yap managed to get the rape case dismissed at the prosecutorial level.
"The prosecutions office of Southern Leyte has dismissed the controversial rape and attempted rape charges against Governor Christopherson Yap.
"The resolution — signed by associate provincial prosecutor Efren Mendoza, and approved by OIC provincial prosecutor Raymundo Clavejo — declared that the complainant "failed to establish probable cause" to bring this case before the court"
Vice governor Yap is now trying to clear his name with the Office of the Ombudsman for the Visayas. Given the prosecutor's' decision to clear Yap, it is very likely that the Office of the Ombudsman will clear the vice governor of administrative charges
The Crusade Against Violence, the organization that helped the rape victim file her case, apparently is no match for Yap whose family holds considerable power and influence in Southern Leyte.