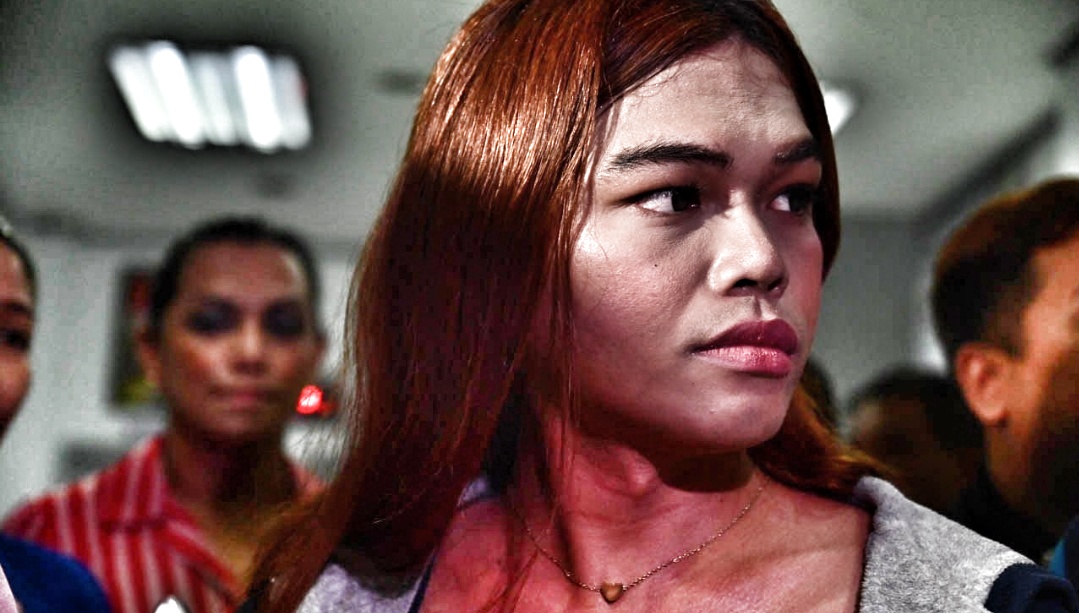 Whereas it took the better part of 30 years for the once-fashionable Yellow "cause" of the Aquino-Cojuangco clan to turn uncool, it has taken just a matter of months for the "cause" of the Lesbian Gay Bisexual, Trans, and Queer (LGBTQ) — plus any new manufactured notions of "gender identification" (LGBTQ+x) — to run aground. It seems the camel that broke the straw's back is the circus that erupted around the case of trans-(we don't know if he still has a penis or not and that's none of our business nor do we want to know) person Gretchen Diez. At this point, it is becoming evident that Diez is not the real "victim" in this circus because she now enjoys the backing of very influential and very powerful lobbies and business interests — the so-called "feminist" movement, Big Corporate Media, and a cadre of legislators led by House Representative Geraldine Roman keen to hitch a ride on the SOGIE bandwagon to get some media mileage.
Finding herself in the business-end of the newly-weaponised Diez Flag is humble contractual employee Chayra Ganal who happened to be doing her job at the wrong place and at the wrong time. Now thrown under the bus by her employers, the pregnant Ganal is fighting for her life and dignity — a David facing the Goliath Gay Lobby.
Like all else, "activism" seeks to make issues emotional rather than factual and driven by sentiment rather than logic. At the heart of the matter is gender. It is now pitched as a vibe, a preference, a personal choice, and a lifestyle option — a layer of incoherent thinking that now blankets the hard inconvenient science that underlies it. This is what Google — a bastion of Silicon Valley liberalism — defines it:
…either of the two sexes (male and female), especially when considered with reference to social and cultural differences rather than biological ones. The term is also used more broadly to denote a range of identities that do not correspond to established ideas of male and female.
Makes no sense, right? Either of two sexes — male or female; but then hopelessly muddled by "social and cultural differences" that trump the notion's biological underpinnings. It almost sounds like a religious nut trying to backward-engineer Darwinian evolution theory from Creationism.
There has long been strong evidence that gender roles are hardwired by nature into practically every specie of plant and animal that inhabits the face of the earth. Sexual reproduction is a costly and risky business when regarded from the hard economics of biology and Darwinian evolution. It requires highly-taxing and resource-intensive endeavours on both sexes — most conspicuous of which are the elaborate, almost nonsensical mating rituals that give much of the colour to all animal and plant life. Indeed, the very reason we perceive pleasure in the colour and variety of plant and animal life today is because these varieties and colour are by-products of sexual reproduction.
All of that comes at a cost. And that cost is evident in how humans behave today — why we engage in risky nonsensical behaviour, spend billions on cosmetics, sports cars and ridiculous SUVs, signal virtue on social media, and spend hours in search of the perfect selfie pose. Why are our minds programmed to do all that costly non-essential stuff? It is because the cost of sexual reproduction to a specie is justified by an important property it sustains in a gene pool — diversity.
Sexual reproduction ensures that there is a constant exchange and dilution of DNA and introduces competition in the propagation of its copies. The costly stuff we do to get someone in bed ensures that the most fit candidate gets to fuck. Today, we are all offspring of ancestors who successfully got some. They all went through the motions of jumping hoops to get someone in the sack with them. And this is why we — and all animals and plants that roam and take root in the earth today — continue to sustain our populations. The diversity of the gene pool makes us resilient to disease and the competition sexual reproduction demands ensures the fittest get to reproduce.
In a truly competitive and cruel world, only the men who can afford Ferraris get to mate with the supermodels and only the women who look like supermodels get to marry the football stars, founder-CEOs, virtuouso violinsts, and rocket scientists of the lot.
That is why we are all willing to lock horns, race cars, swim upstream rapids, put life and limb at risk walking on stilettos, make beautiful music, grow great looking hair, and walk through cemeteries in the middle of the night to make dalaw our sintas — because (1) only those predisposed by their DNA to do all those things to score points with the guys and gals get laid, and (2) those who manage to do so are those who survive those challenges and are the fittest of the lot.
This is why our species — and the other species we share our planet with — are robust enough to survive plagues, run away from predators, run fast enough to catch prey, and live long enough to reproduce. Sexual reproduction allows species to experiment with different combinations of DNA in a competitive landscape.
What I described above is the whole point of sexual reproduction from an evolutionary biology perspective.
In that context, we gain a bit more perspective when regarding all the quaint "gender debate" all these snowflakes are subjecting us to these days.
The fact is, the perverted gender definition that appears when we Google the word is a mere social construct crafted by idiots and there is no scientific basis for the gender "preference" or "personal identification" drivel going around nowadays. While we can accept the established scientific foundation for homosexuality (which forms the true foundation of real gay rights), to go beyond that sensible domain risks making the LGBTQ movement a ridiculous quack perversion of the noble princples the movement once stood for. And we know that familiar story, right? It happened to the Yellowtards. Let's not allow it to happen to the Gay Community — specifically to its sensible members.
benign0 is the Webmaster of GetRealPhilippines.com.