In my best Rod Serling voice. Imagine if you will waking up like every day before in your life. With a few exceptions. 1) you awake   in a hospital bed missing two teeth and your beard. A result of being hit by a bus while on your bike.  2) waking up still nowhere closer to your dream of bring a professional singer/ songwriter 3) you suddenly realize the biggest band of all time seems to be wiped from the memory of the human race . Such is the premise of the latest movie by director Danny Boyle ( Trainspotting, Slumdog Millionaire)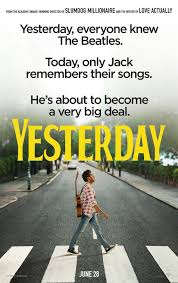 Just so you know the promise of a lot of Beatles is not enough to get to me to watch a video let alone watch a movie in the theater. I did not watch I Am Sam or Across The Universe. I will admit to watching  Robert Stigwood's Sgt Pepper's Lonely Hearts Club Band  in Quad (Makati) when it came out. Yes the same one featuring The Bee Gees and Peter Frampton as the Henderson Brothers and Billy Shears.  Somehow I was able to recover from hearing A Day In Life , Carry That Weight and I Want You ( She's So Heavy) first done by people other than the Beatles and with visuals.
If Danny Boyle can get me to enjoy a movie where the second Obi-Wan Kenobi plays a heroin addict then I am sure he can take the aforementioned premise and make it worth my 270 pesos. Bottom line I saw it twice in one weekend. The second time was because I knew someone who I thought should see it and I was not wrong about that either. So the short answer to the question to is it worth seeing is "yes". I will give you some reasons.  I will avoid spoilers , any surprise appearances  and  any revelation of whatever "plot " can be found in this movie.
First of all don't expect something like La La Land  or The Greatest Showman where people break out into song in lieu of dialogue. Just about every Beatles song is performed as an actual performance in a movie with an audience whether on stage , a recording studio or in front of friends and family.  This is the world without the Beatles so our protagonist played by Himesh Patel ( from that BBC institution EastEnders) has no access to Google the lyrics or even his record collection. All the Beatles songs live only in his mind so he has to "work them out" on his piano and guitar almost like he has to recompose them. Yes the words  to  Eleanor Rigby are quite tricky .
Patel does all the singing , guitar playing and piano playing himself and it is truly up to the viewer if he is treating these classics with love. When we meet Jack Malik, he plays every gig no matter how small using all his original material. He is managed by his best friend.  Like all of these road to fame stories he meets up with a big time California agent who offers him the "chalice " of fame and fortune. Not really unlike the devil tempting Christ to turn stones into bread.
There is no way this movie is made without a love story. Just warning you that my idea of a great cinematic love story is True Lies.  I did enjoy the love story in Yesterday as it complimented the overall movie. Of course I admit to being charmed by Lily James. Once again let me remind you that even though there are about 17 Beatles songs scattered throughout the movie it's not like they become part of the love story like you have seen in Mamma Mia!  or Noting Hill . None of the characters soliloquy to And I Love Her for example.  There is a bit of that fantasy element that leads to the premise of the story and it affects everything you see after. Its like the Help album  meets Groundhog Day. 
Some interesting notes about the movie as found on IMDB:
The surviving Beatles and the estates of the deceased Beatles gave their approval but did not try to influence the production.
Ana de Armas ( Blade Runner 2049) was cast but every scene she was in ended up on the cutting room floor.
The band Coldplay is mentioned in passing. Their singer was selected to be in the movie but his schedule would not allow him to participate.
I enjoyed Yesterday as a movie. I watched it as a Beatles fan and as a Danny Boyle fan. It works as a date movie. I enjoyed the cast, production and the music. One of the most played Beatles songs is All You Need Is Love. That is a bit how I felt about this movie. Made with love, care  and talent. It did not feel it was exploitative of the Beatles great catalog.   "… and with a love like that you know you should be glad." 
Putting a very sharp needle into the balloon known as Pinoy Pride since 2012.