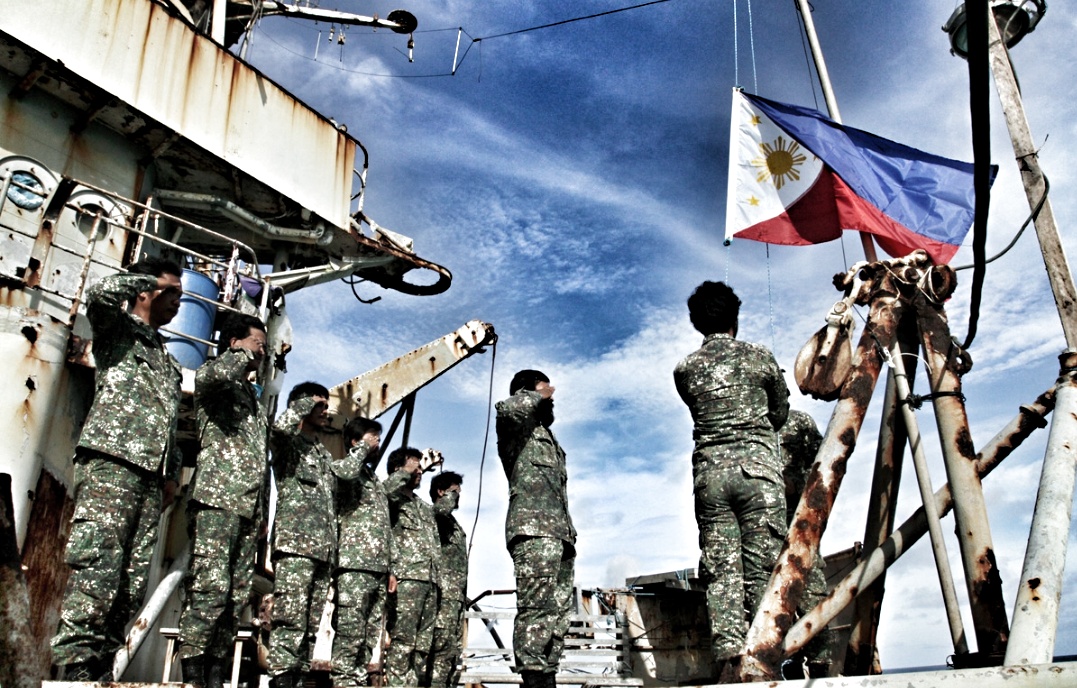 While our senators will soon be out in the public square basking in free-media-mileage limelight debating over whether China is friend or foe after that (in Mar's terminology) unfortunate "mis-encounter" in the sea that left a hapless Penoy-powered Pinoy boat sinking after getting rammed by a Chinese vessel, right under their noses is Mainland China yet again cooking up the next hoodwinking strategic move in their ever evolving "Game of Seas" battle plan that will leave Pinoys cluelessly ending up with that "hawd jay juu jat?" expression on their drooling gaping-mouth faces.
Unfortunate for China though is one soul on the opposite side of the court that has at least half a brain still working to second-guess what they'll do next and laying it out in the open without them even having to ask Huawei to eavesdrop on discussions happening behind Pinoy closed doors, because like Malaysia, there really isn't anything worth spying on in the Philippines, which even publishes everything in non-cryptic lingua franca English for all the world to liberally peruse (thanks to freedom-of-speech rights-centric democracy right?).
Can't you see where China is going with all this activity in the South China Sea? Why the massive build-up and island building complete with runways? Why have an aircraft carrier if not to project power way beyond the mainland? What exactly is the endgame? Well to tell you frankly, this is how China thinks: "South China Sea is China's because Google's Map labels it so; better leave China's sea alone the same way they lay hands off of the Philippine Sea flanking our right."
If you saw a sign "Zaxxun Robot Cafe" on a foggy uphill highway somewhere – you would probably think Zaxxun owns the establishment right? That's how simple the logic goes, and no third party tribunal (no matter how much jurisdiction they may think they have) will convince China otherwise.
All you have to do is open Google Maps and draw 4 lines from Macao/Hong Kong to Taiwan, to Palawan, to Singapore and back – and you have pretty much the entire SCS closed in. If China suddenly grabbed Palawan the way Russia annexed Crimea, all China will get is a slap on the wrist for such an invasion, like a US-led trade embargo. But cutting trade with the World's Factory these days is like shooting oneself on the foot.
And for Singapore – just a rehash of Taiwan's One-China story is all it takes to claim this already-Chinese-populated stronghold of an island without even firing a single shot. Singapore for one is supportive of the Chinese stance on SCS. What can we expect? Blood is always thicker than water. Singapore also lies at a bottle-neck point linking East and West – what a tremendous amount of income just to exact toll fees from ships passing that route (the Asian version of Panama and Suez canals).
Now if invading Palawan may seem a bit too far-fetched to the imagination of Pinoys, China has an "army" of multi-millionaire/billionaire (Crazy-Rich) Chinoys with maroon-covered Philippine passports already just a single Mainland-directive away from buying up the entire Palawan Island with no 60-40 ownership rule to ward them off.
If you don't believe just how cunning the Chinese have been all these decades, here's one of forum-host Benign0's articles that could remind us all:
To talk to China, Filipinos must first recall how the Chinese were once balut vendors
with some stern advice…
Negotiation 101 dictates that you need to get into the head of the party on the other side of the table to effectively frame what you plan to bring to the discussion.
To outwit the Chinese, you need to think like the Chinese, get in business partnership with the Chinese, or even marry a Chinese; the only problem though is you just might wake up one day with a passport labeled Philippines, Province of China on its front cover.
Yet who cares right? If the Filipino dream is to simply have a "more comfortable life"? Why not let
those with the Midas touch simply make it happen for you right on your own Lupang Hinirang?
The signs are all around us. China is ambitious and will soon get tired of being just Number Two. One seems to be their favorite number these days – One-China policy, One Belt One Road (BRI), and probably coming soon… Pala-One, satellite "beach paradise" province of China. And who in the world has an answer to America's GAFA (Google-Apple-Facebook-Amazon) domination but the Chinese, with their Alibaba, Baidu, Tencent and Xiaomi/Huawei? Trump wouldn't be acting the way he is if the US didn't feel threatened.
If there's one Pearl in the Orient Seas, it's got to be Palawan: consistently ranking way up on the world's best beaches (El Nido), among the largest provinces in the country (so big it had to be divided into 3 lately), and flanked by two great bodies of water. Gaining Palawan gives access rights to large offshore gas deposits like Malampaya which supplies power for 40% of Luzon and vast fishing grounds to feed a huge population.
It's amazing how Filipinos are just too naive and hopelessly infatuated with their Mutual Defense Treaty (MDT) with Captain America (who happens to be too busy earning big bucks within Marvel's cinematic universe to give a damn these days) to leave this gem out in the open sea for any Behemoth to just grab without a modicum of resistance (recall how easily ill-equipped ASG kidnapped tourists from Dos Palmas Resort).
Let's see how Congress and Malacanang will react after reading this article. Likely all just fancy "pity-me" rhetoric that leaves the international community utterly stupefied at how good Filipinos are at begging. For a country that can't even evict lowly unarmed squatters who freely grab all the prime land they want, what can we expect?
Zealous revolutionary advocate of bringing back common sense for the common good in a land of dysfunctional and delusional zombies.