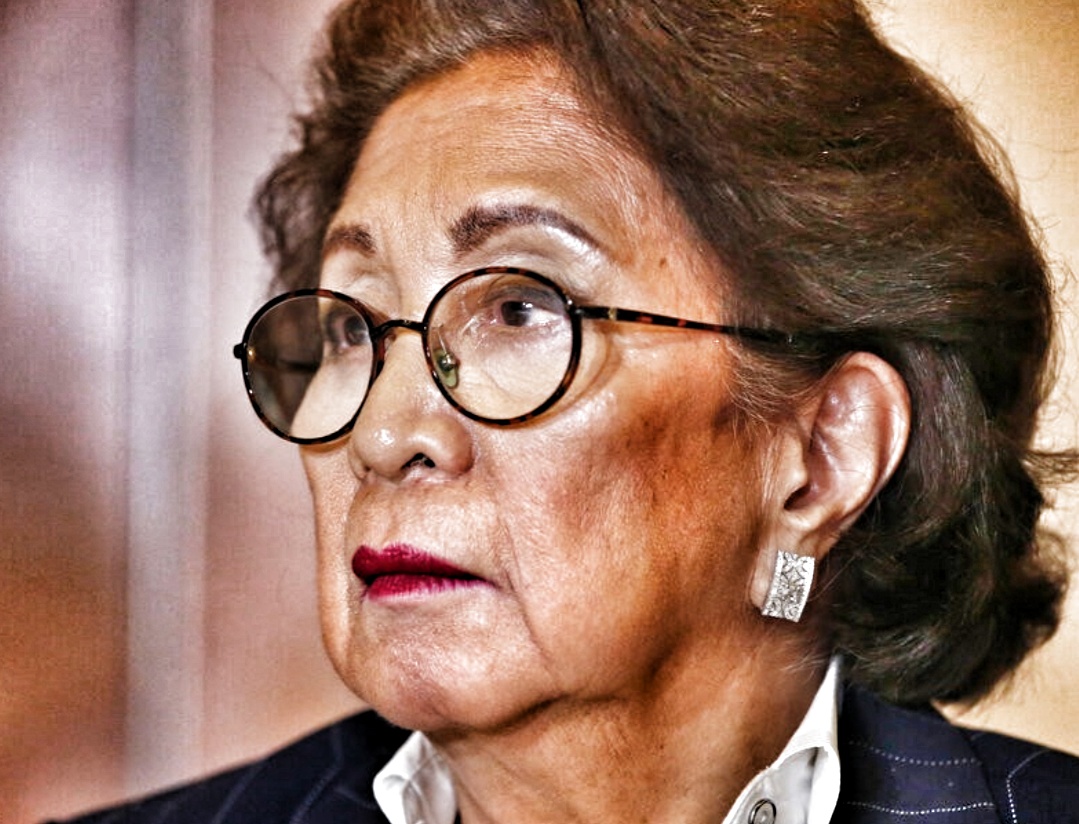 Perhaps Filipinos, specially the so-called "influencers" of today's Opposition camp, need to step back and appreciate the bigger scheme of things surrounding the treatment former Ombudsman Conchita Carpio-Morales recently copped in Hong Kong. There are only two foundation principles at work here: (1) Morales acted as a private citizen when she, together with former Foreign Secretary Albert del Rosario, decided to accuse Chinese President Xi Jinping of "crimes against humanity" before the International Criminal Court and (2) she was travelling to Hong Kong — a territory of China — as a private citizen.
Even if those two simple facts fly above the pointed heads of the Philippines' foremost "thought leaders" there's an even bigger planetary context to this that they need to comprehend.
China is neither a democracy nor a signatory to the "Rome Statute" that established the ICC. Neither does China care about the well-being of the Philippines beyond its own national interests. The latter is the most important thing Filipinos need to appreciate. China will only act in its national interests (as the Philippines, too, should). Beyond that, it will only back the interests of other countries if they align with its own. Because China has vast economic, political, and military clout, it can effectively apply that simple premise to its foreign policy.
That Filipinos would rely on a Mickey Mouse "criminal court" such as the ICC is pathetic. The pathetic nature of the position taken by Morales and Del Rosario is readily-evident in the statement they reportedly issued when they filed their complaint with the ICC back in March 2019 where they asserted, "it is only the ICC that can exact accountability on behalf of Filipinos". Exceedingly pathetic. Filipinos should be ashamed that it has come to this — a dependence on a "court" with no teeth set up by former colonial masters.
For that matter, the Philippines is in no position to negotiate with China. It is dependent on its Hong Kong territory for the livelihood of more than 100,000 of its citizens that its domestic economy is unable to employ. China is also a major destination for Philippine exports and a supplier of vast quantities of imported capital and consumer goods even as the Philippines, for its part, hardly ranks a blip on China's overall foreign trade radar. Most important of all, the Philippines lacks any significant naval capability to project power over the maritime territory it presumes to claim.
Perhaps, one can argue, China then is acting like a "bully" by mobilising all these tangible advantages to further its strategic objectives. Well now, isn't that the way the world and life in general works, child?
Even democracy and the world of "fairness" supposedly embodied by Western civilisation was won by swords wielded by brutish grizzled men. No amount of appeal to "fairness" will win Filipinos a prestigious place in the world order. It will certainly not win Filipinos any advantage when going up against China or, for that matter, any country with the national chops to stake a claim of influence over global affairs.
Unfortunately for former Ombudsman Conchita Carpio-Morales, she has been made an illustration of the reality surrounding the Philippines' place in the world. China does things because it can. So can the Philippines. The only difference is that what the Philippines can do is utterly dwarfed by what China could do in retaliation without breaking a sweat. This is not because of any fault of China — it is because the Philippines, throughout most of its history since being granted "independence" in 1946, focused on all the unimportant things and neglected the truly important stuff — building capability to take care of itself.
Morales's and Del Rosario's quaint ICC "project" punctuates that national failure. Filipinos should not expect their government to back Morales in this debacle. Instead, they should leave her to lick her wounds and learn the important lesson in all this. It is high time Filipinos distance themselves from losers and the legacies of this loser mentality that continue to hobble the Philippines' march to progress.
benign0 is the Webmaster of GetRealPhilippines.com.