In my previous post I mulled over the possibility of Marinduque Lone District Representative Lord Allan Velasco taking over the reins of the House Speakership from former president and Pampanga 2nd District Representative Gloria Macapagal Arroyo.
It would seem that Velasco might be a shoo in after his possible rival for House Speakership Taguig Representative Alan Peter Cayetano probably sabotaged his own chances of getting the coveted post.
According to reports, Davao City Mayor Inday Sara Duterte said that she had received a veiled threat from Cayetano saying that the latter would bolt the administration should she endorse Velasco.
"Cong-elect Alan Peter Cayetano was correct when he said that he did not seek for my endorsement when he came to Davao to talk to me sometime last year. He, however, came with a veiled threat, that if I endorse Rep. Velasco for Speaker, I would break up the "group." And this, he said, will affect the presidential elections of 2022." said Mayor Duterte.

Source: https://philnews.ph/2019/05/22/sara-duterte-reveals-alan-peter-cayetano-veiled-threat/
As if that weren't bad enough, people say that Congressman Cayetano's sister Senator Pia Cayetano sniped at Senator Imee Marcos on the issue of the latter's college degree.
"Because here we are, talking to the youth about the importance of education and we do have issues pa rin yung ano yun, yung nabibili sa Recto."

"So I do feel that that issue should be resolved and dealt with candidly and not brush aside,"

Source: https://newsinfo.inquirer.net/1121475/pia-cayetano-dishonesty-claims-vs-imee-marcos-must-be-resolved#ixzz5ojZHAEBw
I don't want to read too much into what Senator Cayetano said, but some of Senator Marcos' supporters on my Facebook timeline seemed pissed. Some recalled that her tactlessness was one of the reasons why not so long ago Senator Jamby Madrigal, in a fit of frustration, called Cayetano her "kabayo" in referring to  all too frequent absences to join one marathon or another.
These Cayetanos seem like some piece of work, eh?
Not only does  House Speaker aspirant Congressman Cayetano's wife Lani hold the second district of Taguig, his brother director Lino is also the Mayor of Taguig.
A political analyst quipped, "If that ain't greed for power, I wouldn't know what else to call it."
Anyway, as I said at the start of this piece, with the Cayetanos waging war in the South (against Mayor Duterte) and in the North (against Senator Marcos), I was about to conclude that Velasco could win the House Speakership by default.
But I was wrong because I forgot to factor in Leyte Representative Martin Romualdez!
How could I forget Congressman Romualdez!
I remember meeting him and  Babes Romualdez at a meeting on the possible redesign of an internationally recognized newspaper brand.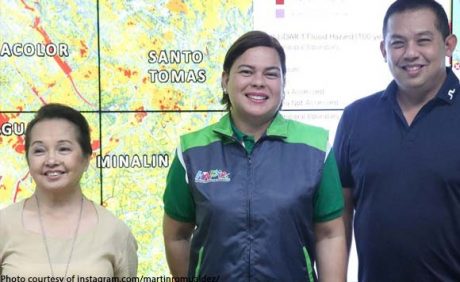 For a member of a prominent political clan, he came across as gentle and unassuming. Although he probably knew more about the newspaper business than I did, we talked quite a bit about my ideas not only for rebranding the newspaper but also for remodeling the entire business.
Frankly, I knew I was bullshitting 70 percent of the time, but he seemed to enjoy the conversation and I came away feeling like an absolute genius.
Now that I think about it, I guess we shared laughter for completely different reasons. LOL!
In sharp contrast to Congressman Cayetano, Congressman Romualdez' statement regarding the race for House Speakership seems cool and detached.
Leyte Representative-elect Martin Romualdez on Wednesday said he respects Davao City Mayor Sara Duterte's denial that she has recommended him for the speakership of the House of Representatives.

Romualdez, who confirmed he will run for the House speaker's post, said he has sought permission ("nagpaalam") from his party, Lakas-CMD, and President Rodrigo Duterte and spoken with incumbent Speaker Gloria Macapagal Arroyo of his intention.

—

Asked if he saw a disconnect between the apparent endorsement last March and the recent statement, Romualdez told a news forum in Manila: "I'd rather [have] no more comment. I respect whatever statement she's made. I think we should do that."

When asked, he said "all" the contenders for the post are formidable opponents. Apart from Romualdez and Veloso, newly-elected Taguig Rep. Alan Peter Cayetano and former speaker Pantaleon Alvarez are reportedly seeking or being persuaded to take the role of House speaker.

Source: https://www.msn.com/en-ph/news/national/martin-romualdez-respects-sara-duterte-non-endorsement-for-house-speaker/ar-AABJ6q2
If that ain't class, I don't know what is.
So, if it were between Romualdez and Velasco, who'd be the better choice for House Speaker? How do the two lawmakers stack up?