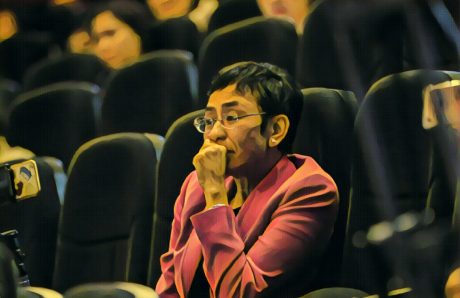 Rappler CEO Maria Ressa is in bad need of a healthy dose of humility. Of late, she's been busy screeching about an imagined "attack on press freedom" supposedly being perpetrated by the government of Philippine President Rodrigo Duterte. This is, interestingly enough, after she was slapped with charges of tax evasion by the Department of Justice and a warrant issued by a Philippine court for her arrest. But the big assumption she is making — one that needs to be properly fact checked — is that all this actually constitutes that "attack" on "press freedom" she insists is transpiring.
Indeed, no such "attack" is being reported by other news media organisations in the Philippines. In fact, the publication and exchange of ideas critical of the Duterte administration goes on pretty much unabated. It seems Rappler is alone in this bizarre feeling that its entitlement to free expression is under threat. Worse, Ressa seems to be suffering from an acute delusion of grandeur seeing that she believes an attack on her constitutes an attack on the entire news media industry.
SUPPORT INDEPENDENT SOCIAL COMMENTARY!
Subscribe to our Substack community GRP Insider to receive by email our in-depth free weekly newsletter. Opt into a paid subscription and you'll get premium insider briefs and insights from us daily.
Subscribe to our Substack newsletter, GRP Insider!
Learn more
How can that be when Rappler is but a blip in the overall landscape that is the 21st Century's killer app — social media. And even then, social media is exactly just that — but one of the millions of apps running on the Internet.
On that, it is worth revisiting what the Internet originally was.
Paul Baran was one of the key researchers at RAND (Research and Development Corporation). In 1964 he published a paper titled On Distributed Communications in which he outlined a communication system resilient enough to survive a nuclear attack. Though it was impossible to build a system of communication that could guarantee the endurance of all single points, Baran posited that it was reasonable to imagine a system which would force the enemy to destroy "n of n stations". So "if n is made sufficiently large", Baran wrote, "it can be shown that highly survivable system structures can be built even in the thermonuclear era".
The Internet was around long before the World Wide Web came into being and certainly longer before social media was invented. It can and will continue to exist even without the World Wide Web, without social media, and certainly without Rappler. It will be around to serve as a platform for people who have access to it to share information, ideas, and points of view. If it really was designed, as rumour has it, to "survive a nuclear attack", the Net will certainly survive Duterte's "attack on press freedom" and whatever else Ressa imagines Duterte might throw at her.
In upholding the dubious narrative that Rappler is being persecuted for being a critic of the Duterte administration, Maria Ressa styles herself in the same way shamans of antiquity made their followers believe that they are the centres of the universe. In reality, Rappler is but a blip in an ecosystem of Netizens competing for attention. Competition is good because it keeps this ecosystem honest in a natural and organic way. Ressa should apply a bit more humility to her thinking and let go of her unfounded belief that she is God's Gift to Philippine Journalism. Rather, she should focus on competing for attention. To sustain that attention, she will need to rebuild the foundation of trust upon which deep engagement in the relationship between Rappler and its audience could be rebuilt.
benign0 is the Webmaster of GetRealPhilippines.com.