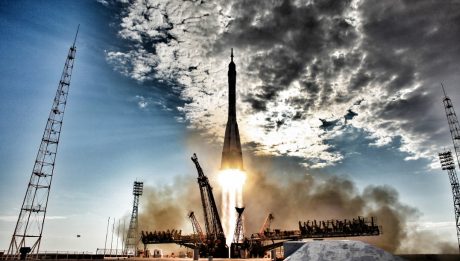 It's not a question of ability. The Philippines produces a staggering figure in terms of brain power for engineering, science, IT, and mathematics. It's really a question of why: why aren't Filipinos building their own rockets? Well the simple answer is also the lazy rhetorical one: "Why make when you can buy?"
And there again goes Pinoy national pride whirling down the drain as our ever-cheering kababayans would rather ride on the back of national treasure and sports hero Manny Pacquiao to keep  the nation's "Feenoy Fried" way up high on the world stage.
Just to give you a taste of Pinoy capacity and appetite for tech, according to a 2016 report
Recent data from the Commission on Higher Education (CHED) show that the number of graduates with engineering degrees rose by 10 percent to 72,000.
There really is no excuse for Filipinos not developing indigenous technological know-how.
Besides rocket science is not that difficult, when "it's just a matter of lighting up the small open end of a combustible-gas tank to make it go shooting off into the sky like a cannonball." Well that could be a bit too simplistic, since you have to do it in a precise controlled manner too. But if hunger-stricken North Korea can do it, why can't Filipinos?
Getting back to basics, rocket science isn't as daunting as most Filipinos think:
The rocket engine is a relatively simple device in which propellants are burned and the resulting high pressure gases are expanded through a specially shaped nozzle to produce thrust.
If rocket science was really that out-of-reach for Pinoy brains, why are some kids in Palawan fiddling around with it?
Imagine the benefits of developing home-grown rocket build and launch capabilities…
Military Applications
Just recently, the Philippine military congratulated itself for finally buying its own missiles from Israel (at 10M PHP a piece). And bravo – the Philippine navy got to test fire them and hit/sink the target too. According to Navy spokesman Zata…
A Spike-ER missile was fired and accurately hit the designated target at approximately six kilometers away from the firing platform. The target was hit dead center even if the sea condition was moderately rough with waves at least one meter high but within the normal firing conditions of the missile.
We really deserve a pat on our backs for "shopping expertise" – yes?
In retrospect, weren't Filipinos already making their own rockets back in the Marcos days? What happened to that? When we should already be exporting missiles and jets by now, here we are begging to buy helicopters. According to archives…
Bongbong1 was a Philippine liquid-propellant rocket developed under Project Santa Barbara. The rocket is an experimental system developed by the Philippine Navy and a group of scientists that could range up to 25–50 km.
Philippine Aerospace Industry
The Philippines can be home to a thriving aerospace industry. We just had Japan help us put next-generation Diwata-2 (our very own Pinoy-developed microsatellite) up in orbit recently. Why not take the next step to launch satellites ourselves?
According to one local article, the Philippines is one of the best rocket launch sites in the world. And in yet another article, Filipinos are getting more enlightened on the coolest side-benefits of space exploration.
Getting Rid of "Pronouncements of Incompetence"
I recall entering a provincial UP campus seeing the sign "This is a nuclear-free zone", as if it was something to be proud of to have ZERO technological ability in a field of science/engineering that is in the realm of technological giants.
When will Filipinos grow up? You are a potentially powerful country, you just don't know it.
 *  *  *
Silver-lining footnote: Well if the following report isn't fake news of simply wishful thinking, maybe Pinoys are indeed starting to grow up…Philippine Indigenous Rocket Program Back on Track
Zealous revolutionary advocate of bringing back common sense for the common good in a land of dysfunctional and delusional zombies.