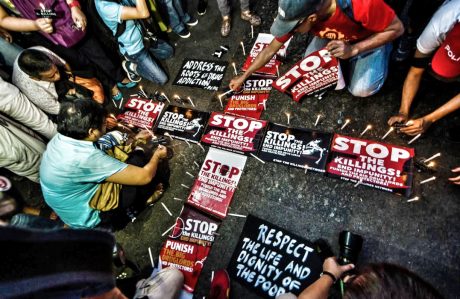 By now, most Filipinos will have been familiar with the Philippine Opposition led by the Liberal Party (a.k.a. the Yellowtards) slogan "Stop the Killings". However, what would be interesting to get to the bottom of is how much Filipinos really understand what it means to "stop the killings".
But to get to that understanding there are several questions that demand clear answers:
(1) Who or what is the cause of these alleged "killings"?
(2) Who are the "victims" of these alleged killings and what are the circumstances surrounding their involvement in these alleged crimes?
(3) What were the motives of these alleged "killings"?
And most important of all…
(4) What is the precise definition of a "killing"?
Most so-called "human rights experts" and the cliques of "activists" they schmooze with would have ready off-the-hip answers to these questions. But the more interesting responses would be the ones they give when the right follow-up questions are asked of them, like "What do you mean by that term?", "How exactly did you arrive at that conclusion?", and "What proof do you have?"
The goal, of course, once the problem of "killings" is properly-framed is to formulate and implement a solution. In other words, the next and most important question to answer is this…
What next now that we've clarified the problem
Thing is, no clear and well-defined problem statement that defines what the whole problem Filipinos have with these alleged "killings" has been tabled around which an intelligent discussion could ensure. This means that this slogan "stop the killings" is essentially meaningless.
benign0 is the Webmaster of GetRealPhilippines.com.