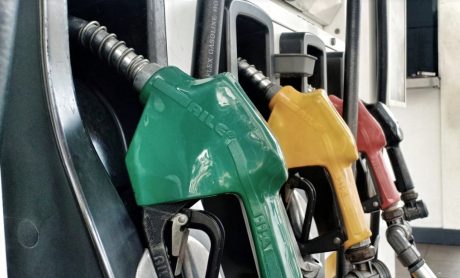 In the midst of big time oil price increases in the country, you can hear every Juan and Pedro complaining about how harder it will be to make ends meet. Some will go to the extent of politicizing the price increase just to be able to throw some cheap shots at the Duterte admin. Yes, I get it, it's more than a peso increase per liter, so what? I get so irritated when these people complain about the price increase but still get their premium coffee at a popular coffee shop (yes, that is the one with the crowned lady logo) and spend their time tapping away on their expensive smartphones.
Let us put their complaints in proper perspective, shall we? So the price increase for unleaded gasoline is about 1 Peso. To simplify my point, let us assume the following scenario at 1 Peso price increase. For a normal city dweller working his ass in a 9 to 5 job, he will need to fill up his 45 Liter tank 2 times in a month. With the price increase he needs to shell out additional 45 pesos for each full tank which translates to 90 pesos increase in a month. So am I correct in saying, he has a car, a decent job (I am assuming decent since he does have a car), his budget is heavily impacted by 90 pesos enough to post hatred on social media using his expensive smartphone?
SUPPORT INDEPENDENT SOCIAL COMMENTARY!
Subscribe to our Substack community GRP Insider to receive by email our in-depth free weekly newsletter. Opt into a paid subscription and you'll get premium insider briefs and insights from us daily.
Subscribe to our Substack newsletter, GRP Insider!
Learn more
On another scenario, another bloke, working a blue collar job, commuting to his work daily, his fare will soon increase by few centavos if ever, due to the increase in oil price. Let as assume 25 centavo increase, that is 0.25 times 26 workdays a month is equal to 13 pesos increase in jeepney fare expenses in a month. That is worth a few sticks of cigarette or few pieces of candy from the takatak boys. How about daily necessities price increases, you ask? Well didn't you just have your annual salary increase as well as corrections due to salary standardization? That should lessen the impact of the price increase. Also consider that one has been incurring cost by way of "investment" in that 800M Lotto Jackpot. Grabeng mahal ng bilihin ngayon!
It's simple, really. Oil prices are just one of those things which we are hardly in control of. And speaking of variables, oil prices are just one of the considerations when buying a car. The Philippines does have a very active car culture. Despite this, the typical Pinoy would rather think only about the initial cost of owning a car. It is a clear case of "we need to take out that car loan or else our kumpare / kumare / kapitbahay / kaibigan / etc. will take out their car loan ahead of us, and that is bad". They consider how maporma and hightech / late model the car is, how fast the top speed is, etc etc. — things which really do not have any substance at all with regard to the car's intended purpose. Another desired quality of the car is if it is matipid sa gas. Come on, if you drive an 800 cc car and try to drive it at its maximum limit kasi mabilis,do not expect matipid. And by the way, if your major concern when buying a car is fuel economy then I think you are better off commuting.
Gasoline, together with proper maintenance, insurance, proper driving documents, proper driving etiquette are all major items which needs to be looked up and have cost impacts to be considered. Surely, you knew this before and so, stop complaining when any one of the items needed increases in price. Otherwise, mag commute ka na lang. As a side note, the Philippines did have the oil price control  and the OPSF (Oil Price Stabilization Fund), so that there was minimal impact to pump prices during the late 70's and early 80s. The Pinoy idiots back then were all shouting, "diktador" and "kurap", so the OPSF was junked. Now Pinoys are asking the government to control oil prices… ano ba talaga?
And before I forget, LTO will increase vehicle registration fees in the near future, so what will the pinoys shout about again that time? Si Duterte nanaman?
Hard hat, coveralls and safety shoes….. that's my life.