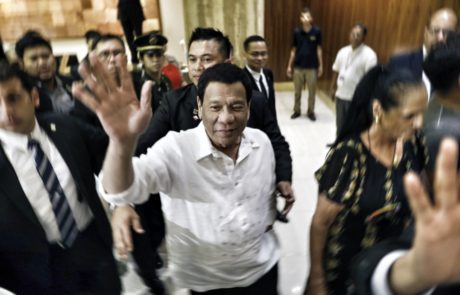 According to a reliable source who was on the ground and directly involved in Philippine President Rodrigo Duterte's official visit to Israel early September this year, the trip was, hands down, an absolute success.
The interest in the trip coming from the business community was particularly overwhelming. Many requests from Israeli businessmen on top of the number already invited to attend the business forum organised by the Philippine embassy there had to be turned down. Of the more than 150 guests only one, NUFilteration Ltd, "boycotted" the event. This one "boycott" was the one chosen as a focus by Philippine news media reporting on the event.
SUPPORT INDEPENDENT SOCIAL COMMENTARY!
Subscribe to our Substack community GRP Insider to receive by email our in-depth free weekly newsletter. Opt into a paid subscription and you'll get premium insider briefs and insights from us daily.
Subscribe to our Substack newsletter, GRP Insider!
Learn more
The dishonest way this forum was covered is most evident in the Rappler report Israeli company boycotts Duterte meeting with businessmen. The photo accompanying this "report" is captioned, "UNWANTED? President Rodrigo Duterte's visit to Israel has stirred controversy." The author of the report, Pia Ranada then writes…
An Israeli company decided to turn down an invitation to attend a business forum with Philippine President Rodrigo Duterte to protest his visit to Israel.

Mino Negrin, founder and Chief Executive Officer of Israeli water filter technology company NUFilteration Ltd, said in a letter to the Philippine embassy that accepting the invitation would only give "legitimacy" to the "offense" Duterte caused the Jewish people.

Negrin, in am [sic] email to Rappler on Tuesday, confirmed the veracity of the letter.
This is not surprising considering that the before-the-fact bias Rappler applies to its unique brand of "journalism" is well known.
The other day, Rappler "multimedia producer" Marga Deona expressed dismay over her job because it "requires me to watch duterte (at least) thrice. first, the live broadcast. second, to scrub for soundbites for relevant/related stories. third, the final preview before publishing."
This disturbingly unprofessional behaviour brings to question the quality and reliability of the editorial oversight the employer of these young "reporters" applies to managing production of news content. Filipinos should remain vigilant and critical of what their big news media organisations report. Rappler in particular is highly suspect.
benign0 is the Webmaster of GetRealPhilippines.com.