I am not sure if CamSur's smart looking governor Migz Villafuerte understands the implications of Section 8, Article V of the Bayanihan Federalism constitution, but he seems quite enthusiastic about supporting it.
Infact, in October, Villafuerte is expected to lead "new recruits" to the PDP Laban as they take their oath of allegiance to the party that has been pushing for federalism perhaps longer than the Villafuertes have had Camsur in a choke-hold.
The supposed gathering of thousands of government officials of all levels in CamSur happens conveniently after the filing of certificates of candidacy.
SUPPORT INDEPENDENT SOCIAL COMMENTARY!
Subscribe to our Substack community GRP Insider to receive by email our in-depth free weekly newsletter. Opt into a paid subscription and you'll get premium insider briefs and insights from us daily.
Subscribe to our Substack newsletter, GRP Insider!
Learn more
Section 8, Article V of the proposed constitution is the self executing anti-dynasty provision which bans members of the same family (up to the second degree) from succeeding one another or holding multiple elective positions.
In short, this will end the reign of the Villafuertes and possibly allow for other political leaders to emerge in CamSur.
The Villafuertes have been the ruling political clan since 1986 when Luis Villafuerte Sr. became governor and held the post till 1992.  His reign was briefly interrupted by Jose Bulaong, who served as governor from 1992 to 1995. Villafuerte Sr. then took back the governorship from 1995 to 2004.
The Villafuerte patriarch was then succeeded by his son, Luis Ray or Lray Villafuerte, as governor. His son served as governor from 2004 to 2013 and thereafter, was succeeded by his son Migz Villafuerte, who is gunning for this third term as governor in 2019.
What has a succession of Villafuertes given Camarines Sur? Poverty, for one.
An article published in Manila Times says a report from the Department of Social Welfare and Development in 2016 said that CamSur is the poorest province within the Bicol region.
The province of Camarines Sur has the highest percentage of poor households with 34 percent or 126,476 identified poor households; Masbate – 77,227 or 20 percent; Albay – 69,681 or 18.8 percent; Sorsogon – 48,555 or 13 percent; Camarines Norte –32,190 or 8.7 percent; and Catanduanes –15, 266 or 4.1 percent.
In the sea of poverty in CamSur, the Villafuerte's standout with former governor now congressman Lray being the richest among his fellow Bikolano legislators in the House of Representatives with a networth of nearly P250 million and his son Migz being the third richest governor in the Bicol region with a networth of nearly P22 million.
What explains the Villafuerte's wealth? Can anyone guess?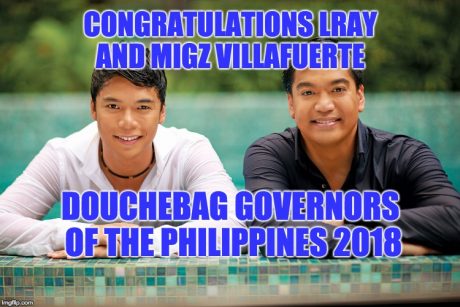 Almost any search of Lray's name on Google turns up stories accusing him of billions of pesos worth of graft and corruption. Which makes it unbelievable that his net worth is only a quarter of a billion pesos.