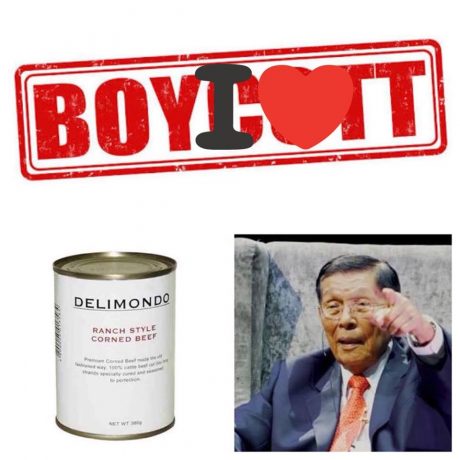 Yellows and commies have been bombarding social media in the Philippines lately with calls for a boycott on the popular corned beef Delimondo. This call for a boycott on the product arose in the aftermath of the Bongbong Marcos – Juan Ponce Enrile (JPE) tête-à-tête discussing what happened during the Martial Law period in the 1970s, including the reasons why former president Ferdinand E. Marcos made the declaration. Enrile, of course, spoke about his own personal accounts of what transpired as he was in the middle of the action back then and was even credited as the "architect" of the 1972 martial law. Enrile openly challenged anyone for a public debate on the matter but instead of a civilized discussion and debate a lot of yellows, who bewailed what they deemed as Enrile's attempt at historical revisionism, responded with their vitriolic rants like a pack of hyenas with hemorrhoids and called for a boycott on Enrile's daughter's corned beef product. As usual, we see the "brilliance" of the jaundiced and commie pack who become perpetually offended with anything that threatens their dogma. It is as if a 95 year old multi-millionaire, who probably only has 1 fly refusing to sign his croaking papers going for him, would really care and get affected.
Thing is, boycotts rarely (if ever) succeed in factually correcting anything. In 2003, the administration of then-president Gloria Macapagal-Arroyo (GMA) punished the investment bank UBS Warburg for issuing an unflattering assessment on Philippine government bonds with a boycott. As people may remember, UBS Warburg issued a report highlighting questions about the Philippine government's economic statistics. In turn, the Philippine government banned the bank from raising or managing government funds and from various trading activities in the Philippines. The problem with the whole boycott was that it wasn't because of the Philippine government's objection to the actual assessment. The Philippine government's beef against UBS Warburg was the timing of the bank's report as it was released at a time when the country was trying sell overseas investors government bonds to finance it's budget deficit. So did the Philippine government back then successfully correct the reasons for the bank's sour note such as the country's inability to stop corruption, tax evasion and other issues with it's fiscal discipline? No. It only showed how the Philippines sour-graped on an independent assessment. One Singaporean investment banker rightly put it:
"It's funny… They want the big brokerage houses to have independent research, and then they do this."
In 2000, during then-president Joseph "Erap" Estrada's time, critics of Erap called for a boycott on banks owned by figures known to be associated with Erap such as PCI-Equitable Bank's George Go, Philippine National Bank's and Allied Bank's Lucio Tan, and the United Coconut Planters Bank's Eduardo "Danding" Cojuanco. The aim of the boycott was to punish the mentioned individuals in supporting Erap. Did these individuals go to the poor house because of the boycott? No. In fact, the boycott hardly (if any) put a dent on the 3 tycoons' bottom-line.
So really, in a lot of cases, boycotts are really nothing more than about bringing attention to a person or a group calling for the boycott. Most boycotts really have a selfish motive behind them. In GMA's time, it was about trying to pressure a bank (and other banks) into giving the Philippines a favorable assessment. In Erap's time, it was about anti-Erap partisans trying to pressure tycoons sympathetic to Erap to withdraw their support on the president at that time. So it is really about an attempt to display power so that they can be viewed as a force to be feared and to kowtow to.
Even if, for the sake of argument, that a boycott does become successful in putting financial damage on a business to punish someone or a corporation whose beliefs or practices we do not agree with, who do we think will likely suffer the most in the boycott? It would be the employees of the businesses who will suffer the most! For instance, Katrina Ponce Enrile's (JPE's daughter who owns Delimondo) employees are just trying to earn an honest living and in some cases, are just lucky to have a job at all. A drop in sales could also mean the necessity to layoff employees to compensate for the loss in profit. Even if, by the power of some yellow god, JPE quits talking about his "sacrilege" on the yellow martial law dogma, does this mean that what JPE revealed is now factually wrong and the truth about the yellow narrative on martial law holds? No! This is settled through a thorough discussion and study of various available historical evidence and facts. A group of insecure people who feel that their long held belief is threatened, imposing their will on another person, is nothing but a form of childish punishment and perception of correcting a perceived wrong.
You see, all the noise about calling to boycott Delimondo is really just an idiotic attempt to defend a partisan position that really does nothing in the assessment of historical facts and evidence. History, much like scientific beliefs and positions, is open for change with the advent of new data. We do not need to be afraid of historical revisionism because it actually happens a lot. What we need to be afraid of is historical stagnation which means that we are looking at it not under an objective lens but as dogma. What difference would these so-called "anti-revisionists" have with a bunch of Damasos who placed Galileo Galilei in prison for his "heresy" by promoting heliocentrism over the Catholic Church's strongly held belief of geocentrism? Sure, Galileo eventually caved in and was forced to recant but did that really establish the truth of the Church's belief that the universe revolved around the Earth, as interpreted through the Holy Scriptures at the time? Let's not even go to Europe to demonstrate the folly of looking at things through a dogmatic lens. Even our very own pre-colonial history has changed what many people long believed. For instance, given new facts and evidence, we are no longer expected to just accept that Lapu-Lapu himself killed Magellan during the Battle of Mactan.
Defending a position does not need emo-feel-good boycotts and washed-up Twitter hashtags like #NeverAgain. What is needed is a careful and objective comparative analysis of evidence and facts. What we need to do is to assess historical claims like how things are approached in science. Rather than riling up a mob to ensure that the yellow narrative holds the yellows need to up their game by confronting their perceived adversaries with sound arguments supported by objective facts. The old washed-up anti-Marcosian playbook that is riddled with poisoning the well and appeal-to-pity arguments under either a yellow or red lens won't work anymore in the Duterte era where people have become sick of the brand of the petty-jaundiced-commie-politics-loving morons who are so out of touch with the people on the ground today.
So to those who were enraged by Enrile's words, if you do not agree with Enrile's accounts and your solution to right the wrong that you think Enrile has said is through a boycott of this juicy, chunky, delicious and amazing corned beef, then congratulations! You're an idiot!
Calling a spade, a spade…