It's great to see Trixie Cruz Angeles walking in the sun these days and mixing it up like a beast in the social media jungle.
Her Facebook page's stats are at full gallop because last time I checked, it had more followers than "likes" and it seems the engagement in each one of her posts could choke Caligula's horse.
Which is why, it is kind of sad that either Trixie or some else with access to her page shared a post from Metro Manila Daily News which contains a barnload of false innuendos with some outright lies.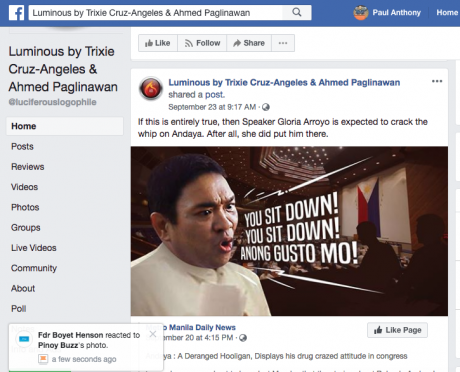 I am not sure of the terms of her three year suspension as a lawyer include instructions steering clear of violating other laws, but I guess it should.
I am not a lawyer but I am sure that libel is a criminal offense and it is best to keep thousands of strides away from such things, lest it complicate her suspension.
The post from Facebook page Metro Manila Daily News calls Majority Floor Leader Rolando Andaya a deranged hooligan and accuses the congressman of being drug crazed.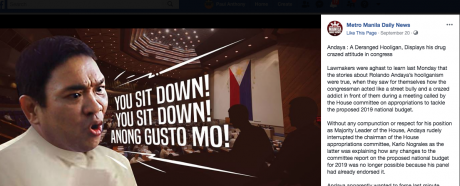 Being familiar with her writing style as far back as her Dona Victorina Council days, I don't think Trixie herself wrote this particular post in Metro Manila Daily News.
Another post on Metro Manila Daily News titled "13 billion reasons for retaining a graft-riddled agency" seems to suggest that Andaya has reasons other than legislation with regard to the abolition of the Road Board.
Metro Manila Daily News writes:
Anything with a peso sign and a number with a lot of zeros following it-in this case, P13 billion in annual funds for 2019-never escapes the sharp eye of Andaya, the guy you should never trust with the taxpayers' hard-earned money.
The post claims that Andaya's move to derail the abolition of the agency had gone against pissed off senators but only mentioned Senator Franklin Drilon — who was described as a "topnotch lawyer", as if being a senator wasn't enough.
A topnotch lawyer, Drilon, argued that there was a legal obstacle in the House move because it was already due for discussion by a bicameral conference committee, which, under congressional procedures, is the joint panel mandated to come up with the consolidated version or enrolled bill for final legislative approval and submission to Malacañang for the President's enactment into law.

…

"The Senate has accepted the House version that will abolish the Road Board. When they heard that the Senate adopted their version, they rescinded their approval," said Drilon.

Drilon had also questioned the Road Board's release of funds worth P13 billion while the Congress was still deliberating on the bill that sought to abolish it. "They know they would be abolished and yet they still released such a huge amount," he said.

Drilon and no less than Senate President Vicente Sotto III said it was up to the President to fix this issue, more so because Mr. Duterte had expressed support for the abolition of the agency.
NOW THAT IS ODD on a number of counts, but chiefly because it is Drilon who is speaking for Duterte.
After gilding Drilon's legal lily, the writer of the post then accuses subverting President Duterte's "agenda" to favor the interests of the dilawans.
If I were to guess, the only reason why Drilon's huge jowls are quivering is because the P13 billion allocated to the road board may have taken away funds for his own pet project.