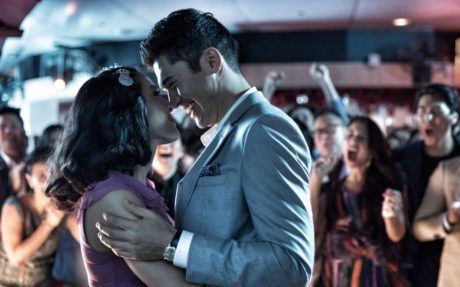 I'm gonna see Crazy Rich Asians as soon as I can. How can I not? It's been promoted 'til Kindgom come! There's also all that hype surrounding Queen of Philippine Media Kris Aquino's millisecond appearance. Lol! If I were her I wouldn't make such a big deal of it. When you are The Queen and all you get is an uncredited appearance, that simply highlights the smallness of the Pinoy showbiz landscape when placed side-by-side with the international scene. And let's not go about calling this millisecond appearance a "cameo". Cameos are done by A-List celebrities who, despite an uncredited small appearnce in a movie, are quickly recognized and often become the bigger subject of talk about said movie than the actual top-billed stars themselves. That is simply not the thing going for Kris in this one. Not by a mile.
Seriously, I'm no victim of clever marketing so the reason why I'm gonna watch Crazy Rich is because despite seeing the trailer so many times over the last couple of months, I've always gotten a good laugh out of it. It's also great to see all the glitz of Singapore and all those beautiful and character-rich Asians. I mean, most of us watch movies to feel good and escape, right? So those who are baffled as to why Pinoy movies like Buy Bust crash and burn in the box office and register hardly any blips in the global scene despite Duterte's "drug war" routinely making headlines in the New York Times simply don't get what the movies are all about.
Winning societies celebrate wealth, success, and beauty. Wealth, success and beauty are entertaining to behold. So even those who raise a stink about other ethnic groups not being "well represented" in Crazy Rich should just suck it up. If you want a movie that stars your lot, make your own and ensure that it goes on to become a global hit. The only way to gain respect in this world is to be successful. Whining about failure (or non-recognition) only makes you look even more like losers. And that goes specially so for Filipino entertainers who can't seem to stop whining about not being given "enough representation" in the global arena.
The great thing about Hollywood is that they make being rich look good. Rich folk in Hollywood movies are cool. They make the audience aspire to be like them. To be fair, many people go about being like them the wrong way, opting for the easy way to do that by living beyond their means or fashioning themselves into superficial attention-whoring twats. But I'm pretty sure there is a good number who get to the bottom of what it really means to be rich — by consistently living below your means and plowing your surplus cash into savings and investments.
Then again, Crazy Rich Asians is a Hollywood movie. You can tell that it fits the formula plot and emotional hooks we've all come to associate with the rom-com (romantic comedy) genre. It just so happens it is set in Asia and has a cast of Asian characters. While many see Crazy Rich as a landmark "Asian" movie churned out by Hollywood and promoted (and maybe will hit) globally, it bears reminding that a truly Asian movie or, in this specific case, southeast Asian movie is one written and produced by a southeast Asian. That's still something that worth waiting for and celebrating even more than this one. Nonetheless, Crazy Rich fits the bill for now and I look forward to be entertained.
Frustrated artist doing geek for a living.