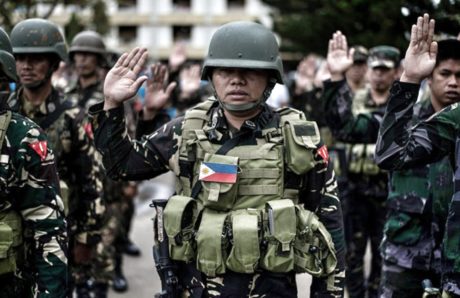 I noticed something about Filipino "national heroes". None of the ones that the nation's "thought leaders" wax poetic about most frequently are soldiers. As I wrote a while back, most of them died with their back turned towards their assailants. They captured no territory nor held a stronghold to the death. They are hailed as "martyrs", but are martyrs actual heroes in the real sense of the word?
The "national language" of Filipinos, Tagalog, uses the word bayani to refer to both "heroes" and "martyrs". Thus, people like Jose Rizal and Benigno "Ninoy" Aquino are, to Filipinos, both "martyrs" and "heroes" — because both are regarded in the vernacular as mga bayani. But the English language is very precise about the difference between a martyr and a hero — which is why there are two distinct words to refer to these two concepts in its lexicon. A hero is defined as "a person who is admired for their courage, outstanding achievements, or noble qualities." A martyr, on the other hand, is defined as "a person who is killed because of their religious or other beliefs."
It seems Filipinos are a bit confused about the two notions and they seem to owe that confusion to (1) the imprecision of their "national language" and (2) their deeply-religious collective character.
Indeed, the imprecise way Filipinos evaluate concepts is evident in the flaccid nature of their national "debate". The country's foremost "thought leaders" habitually go off on shrill "activist" campaigns on the back of ill-defined and sloppily-framed premises. The messiness with which Filipino thinkers chart the discourse continues to contribute to the wishy-washiness of Filipinos' concept of what defines their nationhood. This is why "heroes" and "martyrs" matter a lot to the Philippines' cadre of politically-passionate "thought leaders" — because grounding of advocacies, movements, and political platforms on the theatrics of melodrama is easier. It is definitely easier than doing the hard intellectual heavy-lifting of framing issues properly and intelligently.
Thus, Filipinos' most revered historical characters are mere martyrs — people who died. Absent from the Philippines' nationalist rhetoric, however, is a strong martial tradition. Year in and year out, top Filipino influencers "debate" what a "national hero" is, whether the Filipino is "still worth dying for", and, most laughable of all, whether or not there still are any "real heroes" today. All the while they overlook real Filipino heroes — their fighting men and women who, as a matter of routine, are either on the battlefield or in a constant state of readiness to run towards the enemy with the intent to kill them.
Indeed, the latter question — the question of whether or not there still are any real hereos today — is absolutely the most insulting to the Filipino soldier. The Filipino soldier, after all, is resolved to fight unconditionally and act on orders of his or her superiors all of whom owe absolute allegiance to the state. They are real heroes not just in action but in thought and in their entire way of life. To ask whether heroes still exist disrespects the Filipino soldier at a profound level.
This is not to say Filipino soldiers are, at all, concerned about what characters a bunch of iPad-tapping snowflakes populate their quaint poltical narratives with. Recognised or unrecognised, they do what they see as their duty to do.
Nonetheless, it is still worth noting how this lack of attention to real fighters mirrors the sort of society the Philippines is. Seen under that harsh light, it is easy to understand why Filipinos have allowed their nation's ability to defend its sovereign interests with force has fallen to the dismal and deeply-embarrassing levels we see today. It is because their "thought leaders" would rather celebrate martyrdom (simply dying of a bullet in the back) than real heroism. Dying while fighting is, perhaps, the minimum standard of real heroism. But at the apex of the pile are heroes who fight and win. What is disturbing about the Philippines' historical narrative is a lack of standout historical characters that fall within that spectrum that defines real heroism.
Justifying being a mediocre nation, after all, is easy. Just re-purpose martyrs into "heroes" and spin a seductive narrative around them that appeals to a people who, for much of their history, had been hard-pressed to identify true national achievements of consequence.
What exactly did Ninoy Aquino do?
He died.
Okayyy…
benign0 is the Webmaster of GetRealPhilippines.com.