I draw the line at certain dirty political tactics and one of the nastiest ones is creating an artificial crisis so that a politician can take credit for "saving" people from it.
One such case of which recently crawled across my Facebook newsfeed and it was a post where Camarines Sur (Camsur) Governor Migz Villafuerte was accused of not only HOARDING NFA rice but PADDING the price at which it was bought by 25 percent!
The caption of the Facebook post reads:
"RICE HOARDING NI GOV MIGZ VILLAFUERTE, DAHILAN BAKIT MAY SHORTAGE SA CAMARINES SUR
"Hindi mapapalagpas ng DDS News ang impormasyon na natanggap namin dahil lumalabas sa mga nakalap naming mga dokumento na si Governor Migz Villafuerte ang dahilan bakit umaabot na ngayon sa pagkamahal-mahal ng presyo ng kada kilo ng bigas sa Camarines Sur.
"Kung makikita niyo ang mga larawan na nakalagay sa isang request para kay NFA Administrator Jason Aquino, humihingi ang gobernador ng 5,000 na sako ng bigas para sa di-umano'y "food for work" program ng probinsya.
"Bukod dito, makikita din na noong June 26, inaprubahan ng konseho ang pagbili ng 50,000 sako ng bigas para sa Social Welfare program.
"Inilagay din namin sa post na ito na P8 million na halaga ng NFA rice ang naipamigay na.
"Maayos sana ang layunin nito kaso kulang ngayon sa merkado ng Camarines Sur ang supply ng bigas at ginagamit pampulitika ito kaya tanong ng karamihan. "Nasaan na ang supply ng bigas?"
"Rice hoarding na din ba ang raket ng batang gobernador at may mga kasabwa't pang mga opisyal ng NFA para sa darating na eleksyon?
"Bukas, sisilipin natin ang mga picture kung saan napupuntang mga bayan ang mga bigas na nasawala.
"Maaring economic sabotage ang pwedeng ikaso sa gobernador dahil sa rice hoarding sa probinsya ng Camarines Sur."
But what really turned my stomach was the sight of CamSur governor Migz Villafuerte handing out the hoarded, overpriced rice to his suffering constituents — who would, thereafter, probably be prodded to be grateful to him.
The caption from the embedded post above reads:
"RICE SHORTAGE SA CAMARINES SUR, SANHI NG RICE HOARDING
"Ito na ang Part 2 ng aming expose sa nangyayaring gulo ngayon sa Camarines Sur at kung bakit may rice shortage doon.
"Kahapon inilabas namin ang Part 1 kung saan may mga dokumentong magpapatunay na nagbigay ang National Food Authority (NFA) ng 5,000 na sako ng bigas at pinayagan pa ng Provincial Board Members si Governor Migz Villafuerte na mag-angkat ng karagdagang 50,000 na sako ng bigas.
"Ngayon naman, may nakuha kaming mga larawan kung saan hinahakot ng mga local government units na kakampi ng gobernador ang mga bigas para ma control ang supply.
"Sa mga larawan na kuha ng isa nating Ka DDS, makikita ang mga truck na may logo ng Milaor na nakapaghakot na ng bigas ng NFA para dalhin sa kanilang munisipalidad.
"Pagpapahirap sa Camarines Sur ang ginagawa ng pamamahala ni Migz Villafuerte dahil sa pang-iipit sa NFA rice supply. Alam ba ninyo na dapat P34 kada kilo lang ang NFA rice pero dahil sa rice hoarding ng kapitolyo, bumulusok ang presyo sa P45 kada kilo?
"Sa madaling salita, wala ng murang bigas sa Camarines Sur at ginagamit na ngayong paing ang mga ito para sa pulitika. Malayo-layo pa ang eleksyon at nasa lean season ang rice production sa probinsya pero kitang kita na ang garapalan nq pagpapahirap sa mga tao.
"Wala naman kalamidad pero bakit nasa truck na ng mga local government units ang mga sakong inorder noon? Paano kung mabulok yan kapag may tunay na sakuna? Baon na sa utang ang Camarines Sur, saan sila kukuha ng pondo kapag kailangan na ng mga tao ang makakain?
"Itinaas na ang presyo ng NFA Rice sa Camarines Sur dahil kulang na ang supply. Wag naman sana umabot pa sa state of calamity na nararanasan ngayon ng Zamboanga City."
The thing is, I would have liked to give the young governor of CamSur the benefit of doubt, but my friends in CamSur are adamant in branding him as their province's biggest affliction apart from the non-performing Vice President Robredo — who has not lifted a finger help them out.
In fact, I had reached out to friends who are also friends of the Villafuertes before I wrote my previous posts on them so that I could get their side of the issue. I waited a couple of days for a response but never got any and so I posted the articles in the hopes that they'd respond to the allegations of my sources.
Apart from allegations that CamSur Governor Migz manufactured a rice crisis for political gain, there is also the issue of why NFA chief Jason Aquino hasn't looked into the rice situation in Camarines Sur.
Perhaps the guys is just too busy as of the moment.
Aquino received quite a lot of flak recently over the Zamboanga rice crisis, not the least of which came from Blue Ribbon Committee Chairman Richard Gordon who threatened to haul him off to a hearing as soon as the crisis was over.

Gordon said that three factors caused the Zambo rice crisis, the first of which was the leadership of NFA.
In all this, I found it strange that one person in a group that fashions itself as critical supporters of the Duterte Administration has nothing but good to say about both the Villafuertes and NFA Chief Aquino. By calling themselves "critical supporters" of President Duterte, they claim they attack officials and allies of the administration who are not performing well or at all.
I've been closely watching this group for some time now and noted the efficiency with which they've viciously criticized a selected number of cabinet officials through their columns, radio programs, and Facebook pages. A number of times, their attacks on officials were so glaringly unethical that I wondered why the Kapisnan ng mga Brodkaster ng Pilipinas (KBP) hadn't issued them a warning at least.
Among them, suspended lawyer Trixie Cruz Angeles seems to have been the only one among them who has consistently talked about the NFA's good work and lauded Congressman Luis Villafuerte for promising to file an impeachment complaint .
Of the cabinet officials that his group has attacked, I can only remember those against Foreign Secretary Alan Peter Cayetano and PCOO Secretary Martin Andanar.
One of them called Cayetano a human snake and another is fond of branding Andanar as inutile, despite facts to the contrary.
But as for Trixie, whom I knew from my days at a small PR Agency called M2O and who was once part of the famed Dona Victorina Council, seems to be the nicest looking among them.
Aaaah! Those were the good old days when we'd have meetings at that office with Trixie's BFF, Rain Barnido (who, last I heard, was still at large for something to do with disappearing money) and Argee Guevarra (whom I heard she had a falling out with).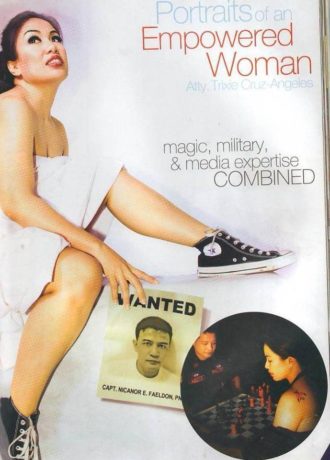 Being an adviser to former fellow FHM feature girl Asec. Mocha Uson (as a social media strategist, am I right?), I doubt that it would be ethical for Trixie to criticize officials of the President's cabinet HERSELF.
But of course, others in her group don't have the same restrictions and she cannot be faulted for the "unilateral" actions of her group.
One has to be amazed at how skillful her fellow group members are at finding government documents without the benefit of the Freedom of Information Office.
Amazing?
Well, magic tricks are amazing to people who don't know what happens behind the scenes and I've seen a lot of magic tricks in my lifetime.