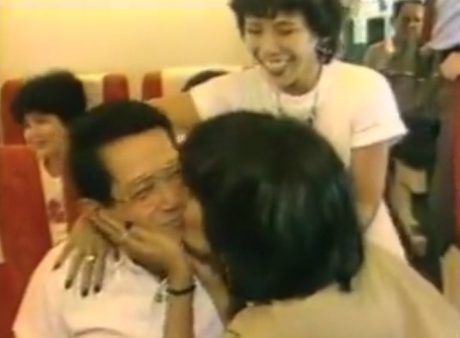 Tit for tat. There was context behind the kiss between Philippine President Rodrigo Duterte and Bea Kim in South Korea, and there was context behind the kiss between Ninoy Aquino and the ladies in the plane he was about to disembark before he was shot dead in 1983. Thing is, both polar ends of Philippine political chatter took those incidents out of context for their political ends. That makes everything fair now, doesn't it?
This is, after all, is the Philippine political discourse where sound bytes rule and the big picture gets buried. Ninoy Aquino was, as Filipino historians would have it, on his way to meet his glorious destiny. It's been decided and it's on record in the school books shoved down the throats of three generations of Filipino kids. In the case of Duterte's kiss, the jury is still out, but unlike criminal trials, the media have access to the jurors.
If we actually watch the video, a split second peck that followed a few minutes of playful banter between the president and Kim told a multi-layered story of Filipino culture. But what went really viral is not this moving picture story but a still photo of The Kiss frozen in time. Thanks to bad and expensive Internet in the Philippines, most Filipinos will have that frozen kiss burnt into their pointed heads by now and may never be bothered to watch the video. A still of a kiss tells a different story to that of a video showing a split-second peck.
Aquino, being a family-appointed "national hero" enjoys a vast portfolio of similar stills, but ones that capture him in glorious moments — that statue of him in Makati coming down from the plane to meet his maker, that one of him sprawled on the tarmac that the Yellowtards had turned into a logo, and many more. In Philippine society, those images may as well be hung up right next to crucifixes. The name, the face, and the icons are untouchable.
Suffice to say, it helps that Aquino has a celebrity daughter with a vast following thanks to her mega-stardom. Queen of All Philippine Media Kris Aquino packs a powerful media punch. Her fans, however, are predominantly entertainment fans and not political in nature. But that does not really matter when the game is all about social media mileage. That said, Aquino is an easy sell. He is a fashion statement amongst the fashionable chi-chi crowd of private Catholic school-educated disentes. Duterte is the crass street thug who took Malacanang away from Filipinos' traditional lords. And that makes him the bad guy.
But Filipinos love the bad guy and the underdog. We see this in Philippine cinema. Guy from da home on da riles woos the fair-skinned collegiala from the gated village. Conyo boyfriend who drives daddy's car is plotting bad things for the guy. Mom and Dad are fuming as they pace the marble-floored sala of their Forbes Park mansion evaluating their next move. We know that overused plot.
The Opposition, however, don't seem to get it. Therein that cliché plot lies the narrative they need to beat. In a democracy, it's not about what is "right" to whatever camp that wins. What is popular is what wins. For as long as the Opposition continue to pontificate from their ivory towers about notions alien to the Filipino mind — like feminism, "human rights", and personal choice — they will continue to slide into irrelevance. And that is the bigger picture here.
Ninoy once came across as a "victim". Now he is an untouchable god. That is why he loses today.
benign0 is the Webmaster of GetRealPhilippines.com.