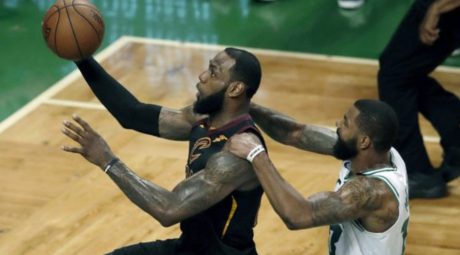 NBA superstar Lebron James of the fourth-seeded Cleveland Cavaliers clinched his eight straight NBA Finals appearance after the four-time MVP led the Cavaliers to an 87-79 victory over Boston in Game 7 of the Eastern Conference finals last week at TD Garden. He proved once again his mettle after he pretty much single-handedly willed his team to another NBA Finals. What is remarkable is that, at the age of 33 years old, James played the full 48 minutes, scoring 35 points while grabbing 15 rebounds and dishing out nine assists. In Thursday's loss to the Golden State Warriors in Game 1 of the NBA finals, James once again incredibly played all 48 minutes, scoring 51 points while displaying his unparalleled athleticism and brilliance. If there's one elite athlete that I could pick right now that exemplifies the importance of hardware (nature) and software (nurture), it would be Lebron. So why is he capable of playing at the highest level despite his age of 33? Okay, I do not dismiss here his HIIT exercise that was incorporated into his incredibly rigorous training regimen but it is also apparent that the secret of his deadliest weapon is located at the nucleus of his cell. Okay, folks, this is not your standard sports analysis. With me, you get science analysis.
Why the "SRY" genotype is the first "athleticism gene"
SUPPORT INDEPENDENT SOCIAL COMMENTARY!
Subscribe to our Substack community GRP Insider to receive by email our in-depth free weekly newsletter. Opt into a paid subscription and you'll get premium insider briefs and insights from us daily.
Subscribe to our Substack newsletter, GRP Insider!
Learn more
In April 2003, an international consortium of molecular geneticists and other scientists announced the completion of the Human Genome Project. Following thirteen years of "blood, toil, tears, and sweat" (and approximately 200,000 years of anatomically modern Homo Sapien), the project had mapped the human genome; all 23,000 or so regions of DNA that contain genes had been identified. Suddenly, researchers knew where to begin looking for the deepest roots of human traits, from eye color to neurodegenerative and other genetic diseases, and hand-eye coordination. In the years following the mapping of the genome, sports scientists also joined the fray and began looking for that proverbial needle in a haystack to pick specific genes that would influence athleticism. One of these findings is the so-called ACTN3 gene. The ACTN3 genotype is now associated with elite-level athletes because it was found out that the presence of the genotype called alpha-actinin-3 helps muscles contract powerfully at high speeds, which may explain why the combination of ACTN3 variants that produced it has been found in Olympic sprinters. This gene more likely attributed not only to Lebron James's longevity and durability despite his age but also to his incredible athleticism.
This painstaking research by scientists brought to bear the effort of dedicated scientists since the discovery of the first "athleticism gene" prior to the mapping out of the human genome spearheaded by the Human Genome Project. This gene resides at the nucleus of each cell during conception and it's aptly called the "SRY" gene. Let me explain further. The biggest impact made by any genetic factor on sports performance is biological sex as evidenced by the gap in the performances between male and female athletes that exist in all sports disciplines. To illustrate the impact of genetics to athletic performance, bestselling author and sportswriter David Epstein asks this question: "If only accumulated hour of practice matter, then why do we separate men and women in athletic competition?" Of course, the obvious answer is in the gap in the performances between male and female athletes that exist in all sports disciplines. Highly trained women easily out-throw untrained men, but highly trained men vastly out-throw highly trained women. Male Olympic throwers heave the javelin about 30 percent farther than female Olympians, even though the women's javelin is lighter. In running, from the 100-meters to 10,000-meters, the rule of thumb places the elite performance gap at 11 percent. The top ten men in any distance—from a sprint to an ultramarathon—are about 11 percent faster than the top women. The women's 100-meters world record would have been too slow by a quarter-second to qualify for entry into the men's field at the 2012 Olympics. This gap exists in the first place because of sexual selection (those accumulated DNA changes that spread or die out as a result of the competition for and the choosing of mates) is the source of most human sex differences and is vital to the understanding of human athleticism.
Epstein also points out the key following physical differences between the sexes: Men are generally heavier and taller and have longer arms and legs relative to their height, as well as bigger hearts and lungs, thus able to absorb and process more oxygen. Men are twice as likely to be left-handed—an athletic asset in a number of sports. (High physical combat societies have more numbers of lefties—this arose due to natural selection as lefties have an advantage in combat.) Men have less fat, denser bones, and a heavier skeleton that can support more muscle, more oxygen-carrying red blood cells, and narrower hips which make running more efficient and decrease the chances of ACL tears (epidemic in female athletes) while running and jumping. One of the most pronounced physical differences between the sexes is in muscle mass. Men pack more muscle fibers into any given space in the body and have 80 percent more muscle mass in their upper body than women, and 50 percent more in the legs. As far as upper body strength, this translates to a three-standard-deviation difference in strength. That is, again, of a thousand men off the street, 989 would have stronger upper body than the average women.
The differences in size and strength between men and women begin in the womb. Every human being is female for the first few weeks in conception. Why? Because primordial gonads are undifferentiated until the sixth week of uterine life. In the genetic male, the testes begin to develop during the seventh week. Much of sexual differentiation comes down to a single gene on the Y chromosome (the SRY gene, for sex-determining region of the "Y" chromosome) which triggers testis development in the urogenital ridge cells. In the absence of a "Y" chromosome, the testes do not develop. The DNA differences between men and women are extremely small, limited to the single chromosome that is X in women and Y in men. In contrast, the female fetus, not having testes (because of the absence of SRY gene), does not secrete testosterone. While still in the womb, boys start to develop the longer forearm that will make for a forceful whip when throwing. Men and women have almost entirely the same genes. But those small genetic for difference—like the SRY gene—induce a cascade of biological consequences that lead to huge disparities on the fields of play. And not just in obvious, fixed characteristics like height and limb length. Men's muscles grow more rapidly when they lift weights than do women's in response to endurance exercise. Thus, there are small DNA differences on the Y chromosome that ultimately affect trainability.
Another important factor is height. It's well established that height is more attributable to genetics than environment. Repeatedly, studies of families and twins find the heritability of height to be about 80 percent. That means that 80 percent of the difference in height between people in the group that is being studied is attributable to genetics, and around 20 percent to the environment. In non-industrial societies, heritability is lower as people are prevented from reaching their genetic height potential by nutritional deficiencies. There are large number of genes which contribute to height differences. Until the turn of the 21st century, little is known about the actual genes that influence height because the genetics of even outwardly simple traits tend to be complicated. But in a 2007 study of 4921 people, Harvard geneticist Joel Hirschhorn and his colleagues discovered for the first time a gene with a strong effect on height. One version of that gene is called HMGA2.
Those kinds of things are very visible and the most noticeable one is in the NBA. A little more than 1 in 10 men in the NBA are over 7 feet tall, but that's incredibly rare in the general population. If an American man between the ages of 20 and 40, who is at least 7 feet tall, there's a 17% chance he's a current NBA player. Based on data from the NBA and NBA predraft combines (using only true, shoes-off measurement of players), the Census Bureau, and the Centers for Disease Control's National for Health Statistics, there is such a premium on extra height in the NBA that the probability of an American man between the ages of an American man between the ages of twenty and forty being a current NBA player rises nearly a full order of magnitude with every two-inch increase in height starting at six-feet. For a man between six feet and 6'2", the chance of his currently being in the NBA is five in a million. At 6'2" to 6'4", that increases to twenty in a million. For a man between 6'10" and seven feet tall, it rises to thirty-two thousand in a million, or 3.2 percent.
Finally, some elite athletes are clearly naturally gifted. Some are physically endowed with longer and stronger extremities. Epstein gave an example of two high jumpers—Stephan Holm, who practiced and practiced his way (Holm thinks he has taken more high jumps than any other human being) to an Olympic gold in '04, and Donald Thomas, a jumper from the Bahamas who leapt his way to a surprise victory in the Osaka Athletics World Championships in '07—in "A Tale of Two High Jumpers." In 2007, after only eight months of training and despite finding high jump "kind of boring", Thomas was crowned world champion. If he'd possessed even a rudimentary grasp of technique, he would have shattered the world record.
Here's his secret:
The 10,000 in the 10,000-hour rule, named by Malcolm Gladwell in his book "Outliers," refers to the average numbers of hours of deliberate practice required to attain mastery of a subject or sport. For a 2007 study done for chess masters, it was found that 11,000 hours were required on average to become an ELO master. However, the variance was high – one players only needed 3,000 hours whereas another required 23,000 hrs. The explanation suggested for such a high variance was that individual differences in talent have a huge effect—a kind of butterfly effect of expertise. Ten thousand hours? No, the key was Thomas's remarkable Achilles tendon that scientists identified as one of the key reasons for his dramatic success. The longer and stiffer the tendon, the more elastic energy it can store, and when stretched rocket its owner into air. This is called the stretch-shortening cycle – basically the stretching and subsequent snapping back of the spring-like tendon. The more power stored in the spring, the more power you generate when it is stretched. Tendon length is a function of the distance between calf muscle and heel bone, which is connected by the Achilles tendon. Tendon stiffness can be increased by training, but there is also growing evidence that stiffness is partly influenced by an individual's version of genes involved in making collagen, a protein in the body that helps build ligaments and bones. A longer and stiffer Achilles tendon is only one of the factors which explains how Holm and Thomas arrived at the pinnacle of their sport in such diverse fashion…
[Certain topics of this article on genetics and sports physiology were excerpted from one of my graduate school essays… References of this article include David Epstein's "Sports Gene" and Vander's "Human Physiology".]