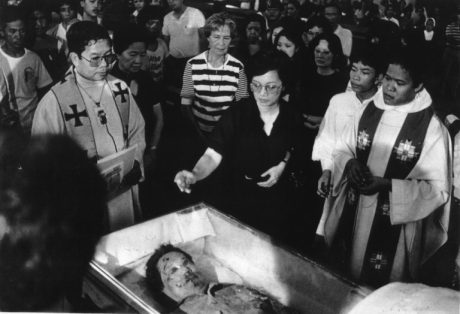 Up until about a decade ago, asserting anything to the contrary was not only unheard of, not only frowned upon, but is simply not done in good company. It would get one ostracized, treated like a pariah, or worst, made out to be an ignorant idiot.
In recent years, however, this assertion has become debatable. Along with it, other assertions such as "the Aquinos are owed for Philippine democracy" are being challenged too.
While traditional sources of information still dominated, there was simply little to no way of accessing other points of view/other perspectives on history. With the advent of social media, it is generally asserted that information has essentially become more "democratized"
And now we come to the current state of Philippine "democracy".
The current crop of opposition figures claims that democracy is currently dying, and that the Philippines is heading towards a dictatorship. One of the opposition's talking points is that a "healthy democracy" needs a dissenting voice.
It's not hard to agree with that. But there's a catch.
Yellowtards, arguably the loudest entity in the Opposition, cannot talk about "democracy needing dissent", while in the same breath dismissing any question and any doubt cast about their own infallibility and dogma. The trouble has always been that when Yellowtards do or say something, they still expect everyone else to take things uncritically. What they claim as the "death of democracy", is in fact, their non-allies casting doubt and raising questions where applicable.
In other words, they can't take as good as they give. Opposition, may we remind people, is not an entitlement. The credibility – regardless of which side of the political fence you are on – has to be earned through both consistency, and veracity.
In any system, not just democracy, you win some, and you lose some. When you receive the most number of positive affirmations, you're not necessarily the most correct. When you're the losing party, you are not always necessarily cheated. When you make assertions, you will face questions and doubt. And when they come, you need to be able to back your claims up with verifiable facts and figures, and not just resort to the victim card, and to credentials/pedigrees that are slowly becoming irrelevant
It is a step in the right direction that some formerly untouchable sacred cows are now being…well, desecrated. It is part of the growing pains of developing a more engaged citizenry. And it is also a step in the direction of forming a picture of history that considers more perspectives than just one that is comfortable. Like GRP webmaster benign0 says, the currency of any debate needs to be intelligent points, and not emotionally-laden ones.
Contrary to popular belief, enlightenment doesn't really start with asking the right questions. It starts with realizing that questions need to be asked in the first place.
А вы, друзья, как ни садитесь, все в музыканты не годитесь. – But you, my friends, however you sit, not all as musicians fit.