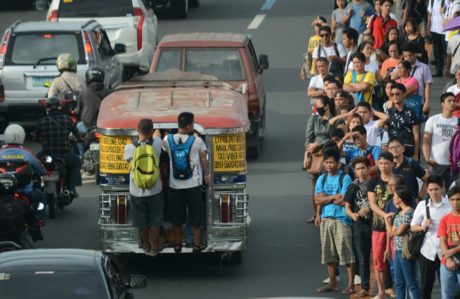 Discipline has been on a downhill trend since the evil dictator left, we all know that for a fact. Much to the approval of older people like me, Rody is elected as someone who might be able to bring back self discipline and consequently, respect to our country. All well and good. Well….nope.
You see I just stumbled across this very cringe-worthy video (credits to the Gadget Addict) of a couple riding a motorbike being apprehended for not (or improperly) wearing helmets. And they have the gall to reason that they cannot wear the helmet because they used it to transport their take-out food. How about that for your next-level Pinoy logic? At least if they get in an accident, the food will be well-protected. Also worth noting is the outright disrespect to the apprehending officers. Brave Pinoy men and women…bravo!!.
Another topic on the Facebook group somewhere north of Luzon discusses about how jeepney and taxi drivers and operators are not in favor of the LTFRB requiring them to install dashcams and GPSs as part of the government's transportation modernization. They claim it is an added burden to them and as such, should not be made mandatory.
And then there is the lady who threw tantrums on the street when her car got clamped for illegal parking. Another is the English-speaking guy at the DFA who refused to acknowledge his mistake resulting in the towing of his car. Another idiot in a big SUV chose to do a u-turn on a road which obviously does not allow him to. These are just few examples of the glaring display of Da Pinoy, da best. There is an infinite amount of instances that can be found around the Internet of Da Pinoy in his natural habitat, being undisciplined idiots.
To generalize, these Pinoys are just a bunch of self entitled spoiled brats. I give credit to the mishandled government that came right after the late former President Ferdinand E. Marcos, failing to point out that even their so called "freedom" does come with responsibilities. We have Rody now, who, aside from getting this country back on its own two feet, has the task of putting back discipline in Da Pinoy's vocabulary. With the backward understanding of pinoy freedom so deeply ingrained in today's society, we can only hope and do our own small part whichever way we can. It's the only way forward.
[Photo courtesy ABS-CBN News.]
Hard hat, coveralls and safety shoes….. that's my life.