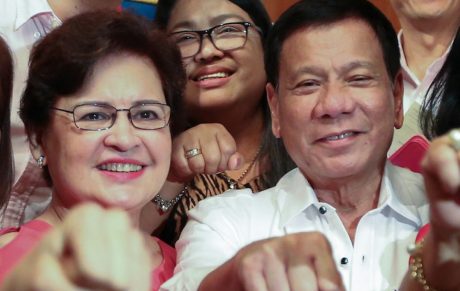 The Zimmerman-Duterte Effect sounds like the name for some phenomenon that leaps out of the pages of a Theoretical Physics textbook, but somehow it may indeed be scientifically sound – despite a radical collision with those too butt-hurt to admit that genetics has no place in a discussion on the area of the Pinoy's inherent cultural dysfunction.
The Transformational Effect of Intercultural Rubbing
Many still recall the first lab experiment they conducted in a College Physics course on electricity and magnetism. Students were asked to rub tissue paper on a sheet of plastic laminate or run a comb repeatedly through one's hair and observe the magical effects on small pieces of tissue paper. Then to top it all up, the instructor would demonstrate some flashy display of static electricity in all its glory with that alien looking Van de Graaff generator!
The Zimmerman-Duterte Effect is simply the resulting positive cultural transfer that takes place when one from a culturally superior race repeatedly rubs and mingles with a native Pinoy, either through marriage or by some form of partnership or foster-parenthood/discipleship.
Indeed it is quite astounding to find Duterte, who has never lived in the first world, possessing the qualities and mindset of a progressive leader and citizen of a first-world country in the West. With yet another home run in removing the teeth of the communist insurgency with the passing of the new law called Tax Reform for Acceleration and Inclusion Act (TRAIN), there is hardly any reason left for the NPAs to still keep terrorizing the country to get their pro-poor demands.
We have free College tuition, free land for farmers (Agrarian reform implementation in full swing), double the salary for men in uniform, full-scale decentralization through mega-infra projects outside crammed MM, and now freedom from income taxes for low-income wage earners under TRAIN!
The nice thing about the right kind of mixed marriage is that the cultural transfer takes effect not just from the culturally superior spouse down to the offspring, but the rubbing off of that first-world mentality to the native Pinoy partner as well (in this case Duterte).
Us vs. Us
Two commenters here in GRP have expressed clashing paradigms and solutions on how Pinoy cultural dysfunction operates and should be dealt with, respectively.
The Pallacertus viewpoint: Allow Pinoys to evolve naturally (let them be) while respecting their rights and freedoms – with the enlightened ones gently admonishing the misguided masses without patronizing condescension.
The Marius viewpoint: Pinoys are inherently and hopelessly nefarious (as if it runs in the genes) and the primary way to fix widespread dysfunction in the country is to either poke fun at their stupidity (with the possibility of one or two coming to their senses) or to replace them outright with anything/anyone coming from the first world.
There are middle grounds to these two extremes. But first we need to set a few first-principles in place.
Genetically and culturally superior breeds exist
Whatever viewpoint is taken, we need to face the fact that people are not born equal. The earlier we grasp this, the better it will be for the sociocultural evolution of Filipinos.
In the avian kingdom, there are superior species like the eagle, in terms of speed, power and choice of living conditions; then there are inferior ones like the Maya bird, which is content on flying low and digging through dirt to find a bug.
The same is true in the world of Homo sapiens. There are those genetically predisposed to live in freezing conditions and survive tough winters; there are those who are culturally inclined to excel in the field of business.
Crossbreeding works; if it doesn't – prove it
We all know the negative effects of inbreeding or closing one's borders from the outside world. The hope of effectively fixing Pinoy dysfunction is in gently bringing in the "foreign element". So in deciding on a lifetime partner, don't just accidentally "fall in love" with the next random native bum you happen to bump into. Finding a mate needs to fit into the overall strategy and align with the goal in mind – to press on towards improvement and enhancement, both genetically and culturally, as a people.
Have you ever wondered why you never see baby pigeons? You will always see them fully grown. Now try to think of this before springing out with any "anti-bigotry anti-neo-Nazi" attack: why don't you see any half-German or half-Japanese Pinoy children wandering the streets of Manila knocking on car windows and begging for their next meal?!?!
Is the Zimmerman-Duterte Effect just some voodoo eugenic social science being peddled around by an anti-poor Pinoy-pride-piercing author of GRP with slight pro-dictatorial leanings? You be the judge.
Zealous revolutionary advocate of bringing back common sense for the common good in a land of dysfunctional and delusional zombies.