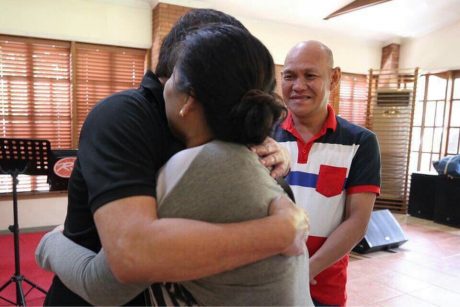 The problem with how president Rodrigo Duterte's critics have approached opposition to the anti-drug campaign is that they assert a few things that they have yet to prove a definitive causal link to:
a) that the killings are state-sanctioned, and;
b) that Duterte himself has encouraged impunity.
So when the death of the young Kian delos Santos – allegedly at the hands of policemen – happened, it had the potential to be the case that would considerably shift public opinion against the war on drugs. It would have also "sold" to the public that the alleged extrajudicial killings (EJKs) indeed have Duterte's blessing. And furthermore, it was going to be the nail in the coffin that would force Duterte to step down.
None of that will happen anymore, for now.
By meeting the parents himself – reports say Saldy and Lorenza delos Santos were the ones who requested the meeting – Duterte, to borrow a term, pulled the rug from underneath his critics. The best they can do right now is judge the parents as "not knowing better", or worse, "being paid off".
"Everything went smoothly and President Duterte explained to the parents of Kian why he could not go to the wake of Kian. He wanted to wait for the result of the NBI [National Bureau of Investigation] investigation," Aguirre told GMA News Online.
Suffice to say, with a single maneuver, Duterte has ripped off the mask of hypocrisy, self-righteousness, political opportunism, and double standards of what's right from his critics.
Unfortunately, what the anti-Duterte camp refuses to see, is that presuming to know better than Kian's parents – they who ACTUALLY met the president – on how they should regard Duterte only makes them look like fools. If they want to know how the parents really feel about their meeting with Duterte, well they should just go and ask them themselves.
Another thing that the anti-Duterte camp has not seemingly realized, is that for all the gullibility of Filipinos for emotional hooks, their bullshit and insincerity meter has become well-honed. It's had a lot of practice particularly during the term of Duterte's predecessor, Benigno Simeon "BS" Aquino III. As a colleague of mine has opined, no amount of PR blitzing can beat genuine concern for issues one is passionate about.
In addition, Manila Standard columnist Jojo Robles has said in an FB post, the outcome of the meeting can only be interpreted as a vote of confidence for the president – that he will bring the perpetrators to justice.
Therefore, there is one more thing to add to the list of things that Duterte's critics need to prove:
c) that Kian's parents were "bought off".
The funny thing about this whole #JusticeForKian thing? It would be served a lot faster if only all those bandwagon riders and opportunists weren't grandstanding. But, as Filipinos have aptly demonstrated at times in their sorry history – it isn't justice if they don't get credit for it.
And no, it's not the CCTV footage itself that kept this case from being buried – it's that someone decided to use it. Believe me, if the sitting president were someone the powers-that-be wanted to protect, Kian's case would have been just another statistic.
А вы, друзья, как ни садитесь, все в музыканты не годитесь. – But you, my friends, however you sit, not all as musicians fit.