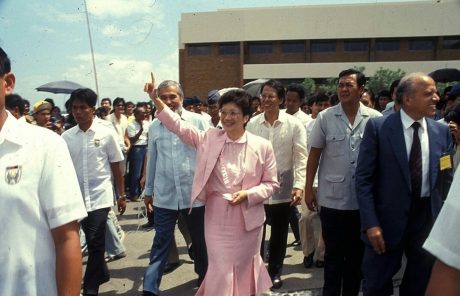 The 1987 Yellowtard Constitution needs tweaking. No, it needs a major overhaul. Wrong again – it needs a total and complete replacement.
So what's wrong with the Yellowtard Constitution?
Let's just take this provision for example:
ARTICLE VII (Executive Department) SECTION 2. No person may be elected President unless he is a natural-born citizen of the Philippines, a registered voter, able to read and write, at least forty years of age on the day of the election, and a resident of the Philippines for at least ten years immediately preceding such election.
Then compare that to the qualifications to get a typical janitorial job in the country:
Candidate must possess at least a High School Diploma, Vocational Diploma / Short Course Certificate, any field with at least 1 year or 6 months experience.
How come you need some minimal educational achievement and experience to mop floors, but none to run the country? Now what if South African-born  Elon Musk (Paypal, Tesla, SpaceX, Solar City, Hyperloop, Boring Co.) decides to become a Filipino citizen; does that mean he is disqualified to run for president of the Philippines? What the crap!
The Yellowtard Constitution is not a pro-people document. It is anti-people because it allows stupid members of the hoi polloi (including drug addicts, vote-bought squatters, and illiterate tambays) to install unqualified yet famous personalities with no experience or credentials at the highest post of the land. And we all know that poor leadership is disastrous for any country, bringing only more hardship and suffering on the people.
The Philippines is playing catch-up with its tiger neighbors, and does not have the luxury of time to go about dilly-dallying in fixing this document that only serves as a major impediment to all-out progress.
Let's look at other provisions:
ARTICLE XIII (Urban Land Reform and Housing) SECTION 10. Urban or rural poor dwellers shall not be evicted nor their dwellings demolished, except in accordance with law and in a just and humane manner. No resettlement of urban or rural dwellers shall be undertaken without adequate consultation with them and the communities where they are to be relocated.
Now how can my proposal to rapidly clean up Metro Manila of squatters and eye-sores (Landless in my own land) even get its light of day under such a law-breaker-protecting law? This is outright pro-squatter and anti-law-abiding-citizenry.
ARTICLE XIV Education SECTION 4 (2). Educational institutions, other than those established by religious groups and mission boards, shall be owned solely by citizens of the Philippines or corporations or associations at least sixty per centum of the capital of which is owned by such citizens. The Congress may, however, require increased Filipino equity participation in all educational institutions.
You mean foreigners who are in the best position to inculcate in perpetually dysfunctional Pinoys a first-world Zaxxun mindset cannot fully own and run a secular school? The same 60/40 ownership rule applies to public services. This means, a Japanese corporation (with no Pinoys partners to mess up a project) cannot fully fund, build and operate a bullet train system on their own in the country; how can this be anything but anti-Filipino people, who suffer each day riding cramped decrepit LRT coaches and outdated jeepneys? This makes it extra difficult for foreign capital to come pouring unimpeded into the economy, but instead ensures the local band of oligarchs who bankrolled Cory's ascent to power have all the wine and red meat to enjoy for themselves.
This pathetic document which Benign0 in a recent article refers to as the 1987 Yellowtard Constitution is probably just better off printed on toilet paper for us to wipe yellow fecal matter on. Long-time GRP commenter Jerry Lynch below the same article summed it up quite accurately:  I think that Constitution was written on a Friday night over a few cases of Tanduay. It is terrible in both concept and execution because it does many things to stifle the economy and even the mandates are not complete with implementing language.
Revolutionary Government trumps Constituent Assembly
Do you guys really think Congress acting as Constituent Assembly (CON-ASS, a.k.a. constipated asshole) can be trusted to give us the best constitution for the country when they have so much of their interests to protect? Other than the quality of the output, we need to consider how much time, effort and money it will take for these criminals in barong clothing to come up with a 50-page document. Can we really wait for another year for clowns and monkeys to go fooling around debating on how to even make the first step? It will probably take months for them to squabble over just one line of the proposed amended constitution. Desperate job-hungry Filipinos stuck in deplorable traffic and living conditions don't have the time to wait for these grand-standing bozos.
The people voted in Duterte with the hope he will deliver on what he dangled before the electorate in last year's elections: a revolutionary government with a new constitution. It seems it will take a bit more time; but maybe his minions behind the curtains are still inking out the details of hopefully a brand new meritocracy-based non-protectionist constitution. Here are a few links to bring everyone up to speed on related developments:
Duterte eyes revolutionary government if elected president
Duterte urged to declare revolutionary government
Palace: Duterte not inclined to push for revolutionary government
In the latest news, Duterte said "My advice to a President who wants to change [is] do not go for martial law. That will just be an issue. Go for a revolutionary government so everything will be all right". He added that if Cory was able to set up a revolutionary government before, why can't others after her do the same? – which makes sound logical sense.
But considering how Duterte is wont to do some "testing the waters" and "back pedaling" as part of his arsenal of political maneuvers and tactics, I am not too worried about his latest statement about it not happening under his watch. My best guess is that he will do it, just like how he declared martial law recently.
Why Duterte is not bound to protect the 1987 Yellowtard Constitution
Now watch and listen closely to the oath taking video (1:19).
Notice that Duterte did not swear an oath as president of the Philippines to preserve and defend "ITS constitution", but rather to protect "THE constitution". This makes a whole world of difference as it introduces a technical ambiguity to the statement. It could refer to the current constitution; or it could also be referring to the constitution of whatever future revolutionary government he had in mind while taking his oath.
I was not the only one who noticed this back then; a quick search shows that others have been quite picky about it as well.
To those who can connect the dots, this absolves Duterte of any commitment to protect the overly flawed Cory constitution. My best guess is this: Duterte is likely simply waiting for that opportune moment to come in the open with a pronouncement of a new government and constitution, just like how a lion patiently waits, then suddenly lunges at his unsuspecting prey. Abangan… Let's see how this chapter unfolds.
President Rodrigo Roa Duterte, You have the backing of 80% of the Filipino people and the AFP/PNP. What are you waiting for?
Zealous revolutionary advocate of bringing back common sense for the common good in a land of dysfunctional and delusional zombies.