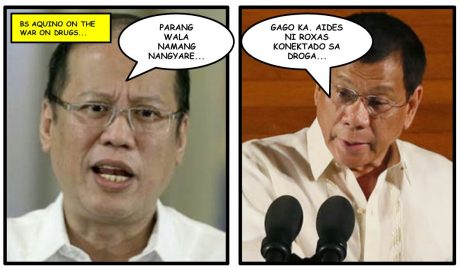 Despite the heavy rains that resulted in suspension of classes at all levels and disruption in businesses, Filipinos have something to celebrate this week. Former Philippine President BS Aquino finally got what he deserves. President Rodrigo Duterte finally did what a lot of people have been wanting to do for years – to swear at him and call him "gago" or a fool.
Don't get me wrong, I don't condone swearing and foul language. I was raised not to swear and still cringe when I hear others do it, which is why Duterte calling BS Aquino "gago" still came across as stingy to me. I was like "Ooh..that must have hurt!".
I still prefer that Duterte use a more diplomatic approach to dealing with his critics, but BS Aquino had it coming. He had the gall to criticise Duterte on his war on drugs. It was akin to BS Aquino spitting at Duterte. One just doesn't do that unless he is a fool. The war on drugs is Duterte's crown jewel. BS Aquino is a fool for not realising that.
What the hell was BS Aquino thinking? The problem with the former President is that he is clueless without his handlers telling him what to say or do. His saintly image was a creation of his public relations team. He is nothing without them.
BS Aquino did not address the drug problem in the country for six years, but he had the audacity to say that his government's efforts during his term gave better results and that Duterte's bloody war on drugs resulted in nothing or in his own words "as if nothing happened."
BS Aquino pretended the drug problem was not reaching epidemic proportions when he was at the helm. Or worse, he was probably not aware of how big the problem was because he was not briefed about it. As Duterte claimed, former Department of Interior and Local Government Secretary Mar Roxas's or the Liberal Party's own aides themselves were allegedly involved in the drug trade. At one point during the campaign in 2016, Roxas even boasted about knowing where to get illegal drugs. It was proof that he knew of the existence of drug dealers, but didn't do much about it. Former Department of Justice Secretary Leila De Lima also turned a blind eye to the drug trade happening inside the Philippine national penitentiary in Muntinlupa. Some alleged she was also in cahoots with the drug lords, which is why she is now charged and detained in Camp Crame.
According to BS Aquino, the survey conducted by the Dangerous Drugs Board (DDB) showed that there were 1.8 million drug users in 2016, but that figure hasn't changed today despite the war on drugs. However, that figure is incorrect as per Duterte. The incumbent had repeatedly said there were at least 4 million drug users in the country when he started his crusade.
BS Aquino has always been good at downplaying the problems plaguing the nation. Even when he was just a few months into his term, he made it look like things had improved dramatically. He kept mentioning "there is no more 'wang-wang' on the roads" to back up his claims. Of course the people wanted to hear good news and believed him. Unfortunately, what he kept saying did not match reality. Drive-by shootings were on the rise. Scams to steal people's money were becoming part of the national landscape and were being done through "legal" means using pork barrel funds.
Yes, BS Aquino's government made it acceptable to steal public funds using terms such as "Priority Development Assistance Fund" and "Disbursement Acceleration Program", which were the brain children of his former Budget Secretary Florencio Abad and approved by him.
Suffice to say, BS Aquino made a fool of himself by trying to make a fool of the public. Those who believed in him and later realised he was a sham are now angry at him. They believe he deserves all the wrath coming from Duterte.
Of course BS Aquino's supporters were quick to come to his defence and said that Duterte's actions prove he is uncouth. Well, yeah. That's not news to the President's supporters or anyone, really. They already knew he was uncouth. They didn't vote for him because he was mild and gentle. They voted for him because he could swear at the people who scammed the public for years and hopefully bring them to justice. The latter could spell the difference between an uncouth and a so-called "saintly" President.
In life, things are not always what they seem.