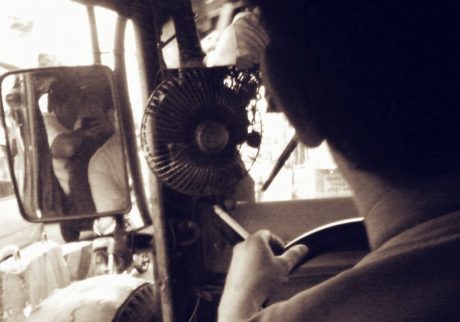 Do jeepneys have a future in Philippine public transport? The answer most people would like to hear to the above question is quite disturbing.
Jeepneys have a future because these provide employment to hundreds of thousands of Filipinos. They will be deprived of a livelihood if jeepneys are phased out.
What is wrong with this answer? Simple. It does not answer the question. Rather, it misses the point of the question by a mile by sidestepping the issue of whether jeepneys have a place in a society that aspires to modernise. Worse, such an answer suggests that jeepney drivers are entitled to employment and that a change in circumstances that results in the disappearance of their livelihood is everyone's problem.
These jeepney drivers and the bleeding-heart "activists" who encourage that kind of crybaby attitude should get real jobs, because driving a jeepney is essentially a parasitical profession. The entire jeepney industry takes advantage of a failure of government to do essential nationkeeping jobs. Jeepneys are like the cockroaches that move into a house managed by a poor housekeeper or homemaker. When a more competent housekeeper takes over, the first thing on the agenda is to exterminate vermin that infested said house under the previous watch.
These jeepneys, these insults to the public transport sector, are relics of post World War II Manila. The chaos jeepneys represent reflect the state of chaos Manila was in just after it was flattened by American and Japanese shelling. These contraptions came in to fill a void left after the once-proud public transport infrastructure built by the Americans in Manila went up in smoke. They've been there since. Fast forward from Philippine Independence Day to the second decade of the 21st Century and you will find Manila still looking like a post-Liberation city of 1946 thanks to the cockroach-like jeepneys that infest it.
Today, this parasitical industry is allowed to persist because, as "activists" say, they, "at least", provide livelihood to able-bodied Filipino men who would otherwise be spending their days drinking beer at the corner store. These "activists" think they are doing these "hapless" Filipino men a favour by defending their parasitical sources of livelihood. The fact is, they are actually insulting Filipino manhood.
Indeed, the disturbing assumption that props up "activist" rhetoric that defends the jeepney industry is that Filipino jeepney drivers will simply lay down and starve to death if jeepneys are wiped off the face of Philippine cities. These "activists" have all but convinced these men that driving the jeepney is all they are worth to the Philippine economy and that if that "job" disappears, they are as good as dead. The extent to which the idea that jeepney drivers are victims has hijacked the whole "debate" around the future of Philippine public transport is such that the Philippine Government itself is paralysed by inaction when it comes to implementing the obvious solution to the jeepney problem.
Even more laughable are the appeals to emotion of these "activists". They beseech the Philippine public not only to put up with but to support the occasional strikes launched by these "public transport workers" in consideration of their "plight". You just gotta laugh. Consideration, they say? When was the last time anyone has seen a jeepney driver showing the same consideration for the other motorists with whom they share the road with?
Enough is enough. Jeepneys and the men who drive them have no place in a country that aspires to be a modern and truly proud nation. Public transport is too important a factor in national development to be left to the devices of a bunch of parasites and the "thought leaders" and politicians who coddle them.
benign0 is the Webmaster of GetRealPhilippines.com.