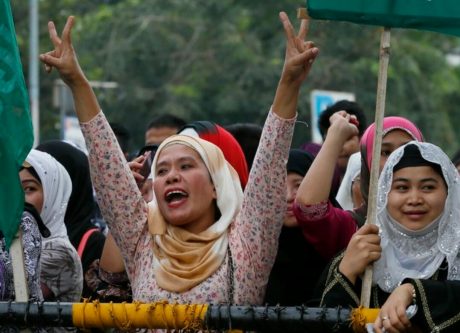 Chi-chi Manilenos have made waxing liberal poetic about being in "solidarity" with their "Muslim brothers" in Mindanao the current fashion trend. Social media timelines are filled with flowery euphemisms and platitudes on the subject fit for Hallmark greeting cards all punctuated by hashtags such as the multi-day trending hit #PrayForMarawi.
All nice and peachy, of course, for those who spend heady afternoons sipping lattes in the local Starbucks in Imperial Manila while tapping out political tweets on their iPads. But here's one to think about: Has anyone considered how the other side — the inhabitants of the Manilan Empire's outer rim — sees things?
Here's a clue: Remember the Bangsamoro.
Marawi City, the most recent focus of all these social media "prayers" is a city in Lanao del Sur which, we might need to remind ourselves, is a part of the Autonomous Region of Muslim Mindanao (ARMM). The key idea that defines the primary aspiration embodied in that political entity is evident in its very name — it is an autonomous region. It is just shy of secession. Indeed, the people of that region (let's call them ARMMalites) fought fiercely for independence. The ARMM they got for that trouble was sort of a pale compromise of a deal made while ARMMalites stared up the business ends of the superior gunnery of Imperial Manila's "Armed Forces of the Philippines".
How has the ARMM fared as an "autonomous" region? Poorly. ARMMalites are among (if not the) most impoverished of Filipinos. The region, despite given power to levy taxes and develop its own sources of revenue still relies heavily on the national government to fund its internal workings.
Yet, even today, Muslim leaders continue to regard their centuries-long resistance to domination by both colonial powers and the officialdom of Imperial Manila with pride. Therefore it is not much of a stretch of the imagination to assume that, to the average ARMMalite, any show of "solidarity" coming from Manilenos can only be regarded as patronising token gestures.
Perhaps, then, social media "influencers" in Luzon should be a bit more circumspect in the well-meaning but ultimately self-serving feel-good social media diarrhea they spew in between sips off their macchiatos. Even the whole Martial Law Cryababy act that Manilenos seem to want Mindanaoans to embrace is but a mere modern-day attempt to force Mindanao political discourse into the paralysing mold of Manila's. The EDSA "revolution" itself was a Manila thing — not something Mindanaoans readily related with and certainly not specially now when Yellowtardism has been all but discredited.
[Photo courtesy Daily Mail UK.]
benign0 is the Webmaster of GetRealPhilippines.com.