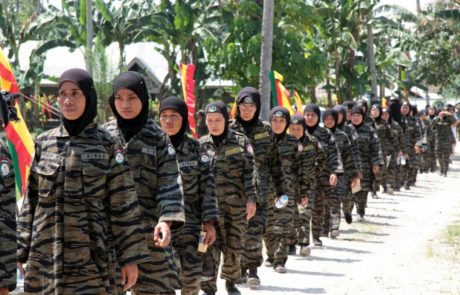 Philippine President Rodrigo Duterte finally found a reason to declare Martial Law in Mindanao, the Philippines' second biggest island and host to the country's most troubled flashpoints. This follows an eruption of violence in the Mindanao city of Marawi, Lanao del Sur in which pro-Islamic State insurgents based there known as the Maute clashed with Philippine Army troops plunging the whole city into lockdown. Duterte, himself a native of Mindanao, vowed to effect "harsh" military rule over the island which has long been a haven and base of operations for a number of Islamic terrorist groups.
Marawi City is one, of if not the most, predominantly Muslim city in the Philippines and has, fairly or unfairly, suffered a reputation as a no-go-zone for Filipino Christians for some time. Across various online forums, assessments of how safe one could feel in Marawi City are varied. Mindanao State University (MSU) — one of the Philippines' top universities — is located in the outskirts of Marawi. It is often cited as proof that Christians can be counted as inhabitants of Marawi and, indeed, the majority of MSU students and faculty are Christian. However a commentor in the Living in Cebu Forum site noted that most MSU students "go to Iligan [City] for their big city needs", presumably a preference to the option of venturing into downtown Marawi. Indeed, another went further to describe Marawi as "a scary place"…
…it's like being in Yemen. Took two hours to find a taxi in Iligan City as all of them were scared. The guy that finally agreed, took the taxi sign off his roof. Must have passed 20 checkpoints. I've been through Tondo and other [so-called] ghettos, and none creeped [me] out like Marawi.
Safety, it seems, is conditional and relative in Marawi City. A Yahoo! Answers thread yielded some interesting anecdotes from Netizens responding to the question "Marawi City: Is it safe to go around? I am a christian…?" One remarked that Marawi is safe "if you are from that place or have friends to watch over your back", but adds…
If [you are] just a tourist visiting, [it's] another issue. We cant generalize people but some muslims have unpredictable nature even if you look at them in a bad way or a single remark about their culture/religion can spark a quarrel , worst in war.

So [it is] not safe.
Another said that it is a place where vehicles stolen in Cagayan de Oro City are sent to, never to be recovered again — perhaps a reference to stories about military and police personnel pursuing criminals themselves being disinclined to pursue them into Marawi itself.
As such, it is not surprising that Marawi and cities like it are prime candidates for Islamic terrorists to establish footholds in. Because they are regarded as "Muslim territory" the perception that people in these regions are more tolerant or even accommodation of Islamic extremists is there.
It comes back to the question of how well Filipino Muslims, as has been asked of Muslim minorities living in predominantly Christian or secular societies around the world, can police their own ranks and manage on their own issues that contribute to the radicalisation of members of their community. Lanao del Sur and surrounding provinces are part of the Autonomous Region of Muslim Mindanao and, as such, enjoy some degree of freedom to self-govern. This granting of latitude to govern as an autonomous entity was on the basis of religious identity as the name given to this collective of provinces implies.
The people of Marawi and the greater community of Filipino Muslims should confront the reality of Islamic extremism and how, by all accounts, much of it flourishes in predominantly Muslim-populated regions in the Philippines. This reality cannot be escaped by simply "praying for peace" or counting on social media "influencers" to liberally issue meaningless calls to "stand together in solidarity" with their "Muslim brothers".
benign0 is the Webmaster of GetRealPhilippines.com.