Silent No More is one of those Facebook pages that crosses my timeline now and then, largely because some of my friends belong to the yellow political spectrum or have business with some of its high priests.
Among Silent No More's recent posts, one that made me cringe a bit was one that shamed Elenita Fernando by calling her the mistress of House Speaker Bebot Alvarez.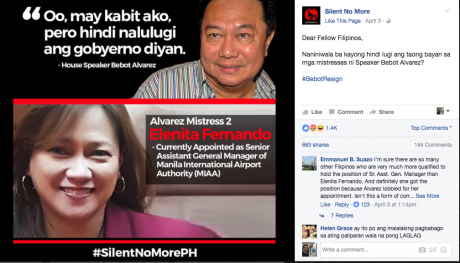 Of course, we've all been taught to expect all our public officials to abide by high moral standards — especially when it comes to keeping the sanctity of their marriage.
In fact, religious traditions as well as our laws governing the behavior of public officials impose these moral standards.
But here's the thing, Silent No More bringing up the alleged extra marital affair between House Speaker Alvarez and Ms. Fernando  is not an issue of morality as much as it is crass moralism.
Moralism, if you look it up, refers to the practice of moralizing, especially showing a tendency to make judgments about others' morality.
Let's not forget that the Liberal Party, at the height of the 2016 campaign, had a run of pretty lewd dance numbers during its political gatherings.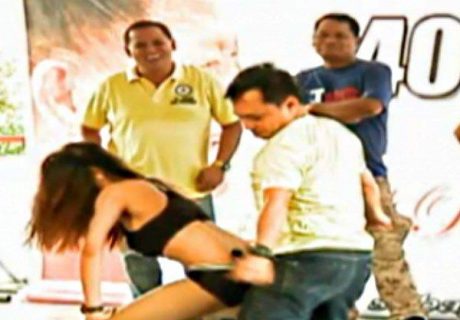 And I can probably cite a handful of stories of how one leading Liberal Party member in congress was quite the lecher, offering a member of his staff money for sexual favors. Quite understandable really, he has to pay for sex because I doubt any woman would fall for his looks.
President Rodrigo Roa Duterte, in defending Speaker Alvarez, said that if all public officials — yes, even the Yellows — were measured by this standard of morality, there'd hardly be anyone left in office.
"We're all hypocrites pati si Speaker, lahat kami dito wala nang ranggo kapag ganun. Sino bang walang kaligayahan?" he told reporters.

"Tanungin natin ilan ang lawmakers na may 2,3, 4 na babae, tanungin mo sila. Tanungin mo ang lawmakers, ilan ang lalaki sa buhay nila?" he said.
In the case of Alvarez, all the moralizing is meant to oust him as House Speaker with the objective of weakening Duterte's influence in the House of Representatives or install someone who might be friendlier to the interests of the so-called political opposition.
Let's not kid ourselves folks, most of the times our politicians play the morality card because it will benefit them either by making themselves appear to be the "good public servant" or to make the masses hate their opponents.
Thing is, with House Speaker Alvarez out of the picture and with someone less able to push the administration's legislative agenda, President Duterte might find it more difficult to fulfill a number of his campaign promises. This creates the opportunity for his detractors to then make claims the President is either insincere or ineffective in pushing for the reforms he promised during the campaign.