A report published by Pulse Asia on the 5th of April showed that Philippine President Rodrigo Duterte's "performance ratings" declined by five percentage points and his "trust ratings" by seven percentage points. As expected, the Yellow camp and Duterte's critics were ecstatic.
The eminent former "journalist" and Human Rights Watch research person Caloy Conde was quick to draw the "obvious" conclusion from these survey results which he issued in a tweet where he asserts "As I keep telling people, there's no other way for Duterte's trust ratings to go but down."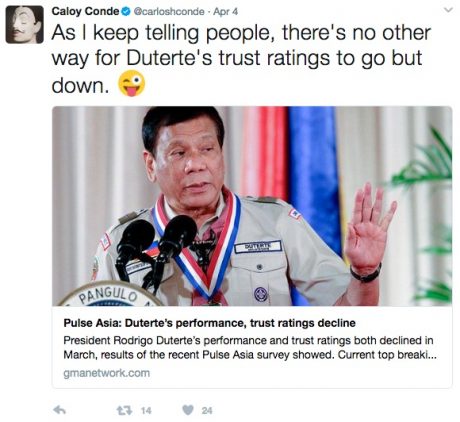 We have to give credit to singer and die-hard Yellowtard Leah Navarro. Perhaps not as bright a bulb as Conde and yet, amazingly, she independently arrived at the same Vulcan-like conclusion crowing even louder than Conde on Twitter…
Thank you, there is good news to enjoy today. Duterte trust ratings fall by 7 percentage points. That's "yuuuuuge!"
Funny enough a survey issued by SWS today reported an even larger drop in satisfaction stats for "vice president" Leni Robredo.
Robredo's net satisfaction rating among the public declined for a second consecutive quarter, dropping by 11 percentage points to a "moderate" +26 in the first three months of the year compared to a "good" +37 in December 2016.

Robredo's December rating was also lower by 12 percentage points from her "very good" +49 in September 2016, when SWS first conducted a survey on her performance as vice president. She assumed office on June 30, 2016.
This presents the sort of dilemma only Yellowtards seem to habitually fall into. If they were quick to pop champagne over Duterte's "yuuuge" fall in trust ratings, would they be as quick to interpret in the same way Robredo's even "yuuuug-er" fall in ratings as reported by SWS (credit for this quip goes to the Daily Duterte people)?
Using the logic of these brilliant representatives of the Philippines' brains trust, we can now safely conclude that Duterte is falling and that Robredo is falling even faster.
Bam Aquino for his part did not lose time making excuses about his failure as Robredo's top PR mouthpiece in Congress reportedly blaming this plunge in her stats as the result of "black propaganda". It seems, using Aquino's logic in this instance, the mysterious agents behind this "black propaganda" were a lot more effective than the awesome colonial might of the world's corporate media giants who had, for many months now, been spreading fake news about Duterte's "murderous" war on drugs. As one prominent twitter handle goes, what a waste of ad money.
Logic is a bitch when you are habitually inconsistent, ain't it?
benign0 is the Webmaster of GetRealPhilippines.com.