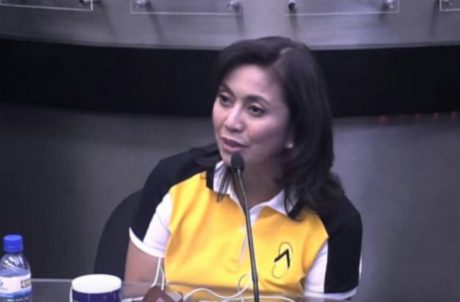 We all have that moment when we ask ourselves "What the hell was I thinking?!" after we realise we made a huge mistake and then wish we could kick ourselves on our backsides for doing something we regret. Yes, it happens to the best of us. We are not perfect, after all. In a lot of cases, some of us are lucky enough to avoid getting into deep shit and quickly find a way out of the sinkhole we allowed ourselves into before the situation caused too much damage to our personal lives. Unfortunately, some are not so lucky. While to err is human, some are too human and don't have enough foresight to see beyond the moment to stop and ponder the consequences of their actions before pushing ahead. One such unlucky person is current Vice President Leni Robredo.
Robredo may not realise how deep she is in that sinkhole she managed to get herself into, but a lot of people probably want to kick her on her backside right now. I'm talking figuratively, of course. These people are the same ones who used to support her, but are now regretting their decision to vote for her for VP in the last Presidential Elections. There is even talk that Robredo's own daughters are getting stressed and want her to resign from her post immediately. They probably want her to cut her losses. We can't blame them. They didn't want her to run in the first place.
Too bad for Robredo's children and the Filipino people, their mom did not heed their pleas and was too weak to say no to her Liberal Party mates. She couldn't resist the attention they gave her, specially when the media allied with the then ruling party produced programs romanticising the life and character of her late husband, former Department of Interior and Local Government Undersecretary Jesse Robredo. One could say it was Robredo's vanity and self-importance that led her to agreeing to be Mar Roxas's running mate. It is also her delusions of grandeur that had led her into thinking she can take on President Rodrigo Duterte without damaging their relationship. She is too full of herself but does not realise this even after losing her cabinet post.
Surely Robredo must be regretting running for the VP post – a thankless job – especially after the Supreme Court, acting as Presidential Electoral Tribunal (PET), required her to pay 15 million pesos for her counter protest in response to former Senator and losing VP candidate Bongbong Marcos. The latter already met half of the payment the SC required him to cough up, which is a total of 66 million pesos. Marcos claims that his friends and supporters helped him come up with the funds. It remains to be seen if Robredo has enough friends with money willing enough to help her fight what seems to be a losing battle.
It is really bizarre how the Supreme Court requires complainants to pay huge amounts of money even when the violation was allegedly committed by Smartmatic with the approval of Commission of Elections (COMELEC). They were remiss in their duties to safeguard the ballots, but failed. Now the Filipino people have to suffer without them being answerable for their actions. But I digress.
When one is not very smart, one can be easily manipulated into doing something she or he is not willing or even qualified to do. This was the case with former President BS Aquino who was also forced to run for the Presidency by his Liberal Party mates after his mother died. They conned him into thinking they were going to be there for him all the way during his Presidency. They knew he was going to be a good puppet to push around. Some of them even made him think that he could win the Nobel Peace Prize if he succeeds in pushing for the passing of the Bangsamoro Basic Law, which essentially involved giving a big chunk of Mindanao to a rebel group, the Moro Islamic Liberation Front. But where are his Liberal Party mates now that cases are being filed against him? They are not going to join him in court or prison cells for sure. Just like Robredo, it was vanity that led BS Aquino into thinking he was qualified to for a high post in government even when he was not.
What happened to BS Aquino then is happening to Robredo now. Those who forced them to run have disappeared. Indeed, Liberal Party top honchos have this bad habit of throwing their own members under the bus when they are painted into a corner. It remains to be seen if Roxas or any of Robredo's Liberal Party supporters will help her come up with the funds to pay for her counter protest against Marcos. Perhaps her foreign contributors can help her. In 2013, her rival Nelly Villafuerte alleged that Robredo solicited and received campaign donations from "at least seven American nationals and three American entities" which helped her win as Representative of the 3rd District of Camarines Sur. The American Loida Lewis was one of those who gave her campaign contributions, which her rivals cite was against the law, specifically Section 96 of the Omnibus Election Code.
Rappler, a blogssite that has lately been showing their rabid support for Robredo even reported the alleged violation in an article in 2013:
In her complaint, Villafuerte also listed at least 3 foreign entities which contributed to Robredo's campaign: The Unlimited Agency Inc, which was registered as corporation on March 17, 1994 with registration no. 57729554 in the state of Illinois, USA; The Bicol USA of the Midwest, which was registered as a copration in the State of Illinois, USA on Feb 11, 2011, with registration no. 67779959; and Fundrazr, an online website used to raise funds from anonymous donors abroad.

Fundrazr, is reportedly the flagship product of a company called Connection Point Systems, a privately-owned and funded Canadian company.

Given the facts cited, Villafuerte stressed in her complaint that "there is probable cause to indict defendant Ma. Leonor G. Robredo aka Leni Robredo for the election offense prescribed in Sec. 96 of the OEC in relation to Sec. 262, Sec. 264 and Sec. 68 (d) of the OEC."
It remains a mystery why Rappler editors have turned a blind eye to Robredo's alleged violation in 2013 and quite possibly in the 2016 elections. Lewis the American is still very much supportive of Robredo and it wouldn't be surprising if she also gave monetary contributions in the last election. Rappler is rabidly pushing for the removal of Duterte instead, it seems.
What the hell was Robredo thinking running for VP anyway? She tries her best to undermine President Duterte so she can replace him because her supporters think she can do a better job than him. But how can she get Filipinos out of trouble when she can't even get herself out of trouble?
In life, things are not always what they seem.