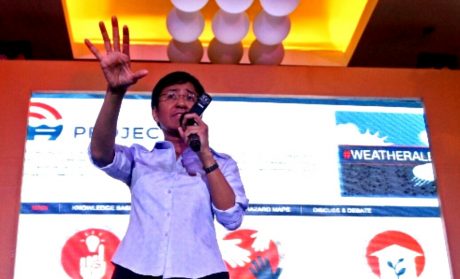 Roles have been reversed. Mainstream "journalists" are now the loud and noisy shills who cry bloody "persecution" and peddle unfounded conspiracies. It is hardly surprising that people nowadays now rely on alternative sources of information. Old school journalists are just too self-important to have decent discussions with.
How does the news media industry old guard respond to this shift in their readership's behaviour? Not with any form of that decent discussion their readers demand nowadays. By throwing girly tantrums. Maria Ressa leads the charge to discredit the new competition by claiming that "Democracy as we know it is dead."
"What you're seeing is exponential growth of propaganda networks that hijack what used to be called democracy."

The research Ressa and her team produced revealed coordinated social networks deployed to first boost support for Rodrigo Duterte in his 2016 presidential run.

Then, once he'd been elected, they turned their full force on the traditional media.
Ressa, a.k.a. God's Gift to Filipino Journalism, is the founder of Rappler.com — a Web-only news media site that styles itself as a "social news network". Since its founding, Ressa has promoted Rappler as the embodiment of the future of journalism and a platform for "uncompromised journalism that inspires smart conversations and ignites a thirst for change."
Interesting then the way Ressa now responds to the actual change happening today as Filipinos fully embrace social media as a means to consume information and express their views. Rather than show a resolve to compete, Ressa has, instead, resorted to old-styled demagoguery and the use of cliché sloganeering. Whilst bloggers and social media publishers throw themselves into the playing field, Ressa pathetically waxes outrage over the chaos from her ivory tower. Indeed, the way Rappler is dealing with "citizen journalism" and social media chatter today is nothing like the "social news network" it fancies itself to be.
For their parts, the old industry stalwarts are not coming across as good company for wannabe hipster upstarts like Rappler. The Philippine Daily Inquirer (PDI) and ABS-CBN News find themselves increasingly embattled as their exposure to the ebbs and flows of patronage politics in the Philippines compromises their ability to report news objectively.
According to Manila Times columnist Bobi Tiglao, the Inquirer owners were Marcos cronies. Tiglao writes that the Rufino family who are now the biggest single owners of the Inquirer benefitted from favourable terms surrounding use of prime property extended to them by former First Lady Imelda Marcos.
Did the Rufinos' control of the PDI, one of the two largest newspapers in the country which made them a force to be feared, help in keeping their crony deal secret? Such is the awesome power of the Press.
And to think that PDI chair Marixi Rufino-Prieto at the newspaper's 30th anniversary celebration said in her speech: "For 30 years, we mustered the courage to expose the ills of society, courage to be the voice of the powerless, courage to stand our ground, no matter how unpopular it is."

It is unclear, and never reported by the PDI, how the Rufinos got to be the paper's biggest owner, although this occurred during the fight for the paper's shares between founder Eugenia Apostol and former Senator Juan Ponce Enrile in the early 1990s.
Giant ABS-CBN News also finds itself in a bind with the renewal of its license to operate broadcasting services at the mercy of politicians' personal whims. Indeed, ABS-CBN itself has long recognised its precarious position as an entity whose survival depends on earning politicians' favourable attention.
ABS-CBN's 25-year franchise expires on March 30, 2020.

A member of the House legislative franchise committee, who declined to be named for lack of authority to speak for the panel, said ABS-CBN had sought the renewal six years before the expiration of its franchise because it didn't want to risk having to go through the process under an unfriendly administration.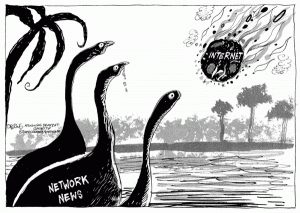 Democracy? Dead? Perhaps democracy — as people like Maria Ressa know it — is. But, really, democracy in its real sense isn't. Politicians behave the way the system encourages them to behave. When media companies deal with "friendly" administrations, they return the favour by being mum about that friendliness. When the the administration is an "unfriendly" one, the shrill cries of bloody "persecution" erupt. The more important point — that a system where the "friendliness" of its bureaucrats matter to supposedly "objective" news reporters is, in fact, inherently flawed — is missed by a Mile Long (pun intended).
Democracy is not "dead". It is thriving. Successive governments having had to battle critics and "fake news" is, itself, evidence that the Philippines is more democratic than most democracies. Big corporate media organisations like Rappler, the Inquirer, and ABS-CBN just need to learn to compete in the social media jungle. To do that, they will have to evolve from the lumbering dinosaurs with umbilical cords feeding off oligarchs that they are today, to the fast, nimble, and independent entities that today's technology-enabled consumers of information demand.
benign0 is the Webmaster of GetRealPhilippines.com.