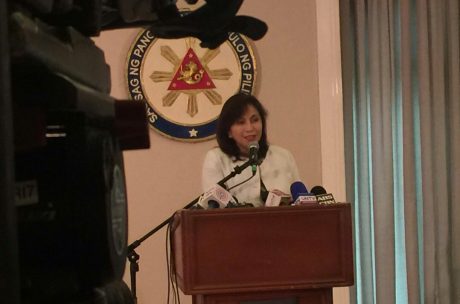 As expected, Vice President Leni Robredo, in her recent press conference remains stuck in issuing motherhood statements about President Rodrigo Duterte's war on drugs. So much for the symbol of "woman power" she was put up to by her social media fans. Unfortunately for Robredo, that ill-thought-out branding no longer flies — not with the likes of Environment Secretary Gina Lopez making even bigger headlines staring down big mining companies.
Hardly surpising, then, that Filipinos are no longer buying Robredo's public-service-by-television. The only insight one might glean from her recent press conference is that she may already be suffering from a bad case of delusion of vice presidency. One simple question would have left Robredo stumped:
What have you achieved?
Lopez, on the other hand, would not only have an answer to that question, she'd also have the numbers to back her answer.
Lopez said Thursday she was suspending and closing operations of several mines following an industry-wide crackdown on violators of safety standards.

Of the 41 mines audited, only 13 passed while 21 are for closure, six for suspension, and one was deferred.
Robredo's only asset at the moment is the Yellow media. Unfortunately she does not seem to employ a smart enough staff of handlers to build a credible brand for her on the airwaves (and timelines). That's even more unfortunate for the Philippines' Opposition — which exists more in potential rather than in tangible substance. Robredo has always been seen as the leader of that Opposition — which is probably why she delivers the occasional press conference and sticks to her tired old campaign script.
In this regard, she is becoming more of a liability to the Philippines' nascent feminist movement — a relic of the perverse Filipino form of liberalism that she embodies; one heavy on victim mentality and feather-light on exhibiting any ability to slug it out in what essentially remains a man's world.
benign0 is the Webmaster of GetRealPhilippines.com.