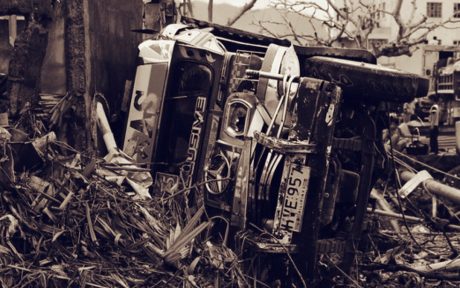 Filipinos once had the opportunity to be weaned off these clunky poor excuses for public transport. But that was several decades ago. That opportunity has passed. Today, Filipinos need to quit jeepneys cold turkey.
It's time.
Jeepneys are an abomination. They encapsulate everything that is wrong with the Filipino — unsafe, mediocre, rehashed from old American technology, inefficient, and chaotic. This "cultural icon" also goes against every bit of modern aesthetic sensibility with its garish decoration and assault-on-the-senses overall looks.
Those who defend the jeepneys yet again appeal to "compassion" by playing the usual victimhood card of those who depend on it for a living. The irony sailing above the pointed heads of these emotional blackmailers is that this is the very reason jeepneys — and the overall squatter mentality that infests the collective psyche of the Filipino — persists. The tyranny of the impoverished — all of them voters (wink, wink) — is what is holding back the Philippines. Poor people are the last bunch one would depend upon to determine a nation's strategic direction. After all, they cannot see beyond their next meal or next boundary payment. So to allow the "plight" of these jeepney drivers to infuence the strategic direction of public transport management is foolish to say the least.
The other argument, physically upgrading the vehicles itself — making them more "environmentally friendly", modernising their appearance, and developing modern manufacturing techniques for them — utterly misses the point by a mile. Both the vehicles and the system need to be junked. Systems that make use of better-structured routing frameworks, bigger capacity vehicles, and ones that are more centrally-controlled and scheduled are what characterise modern public transport systems. Merely tinkering on the fringes of jeepneys and the chaotic system they form will not deliver the big-step change Metro Manila needs to move forward.
There is a way forward — the hard way. There will be losers and winners in any initiative to change things on a broad scale and at fundamental levels. The winners will go on to contribute to the aspired greatness of the Philippines. The losers will likely present a persistent burden to that effort.
Which of the two would you like to be a part of?
Filipinos need to make a choice — continue to be held back by an unhealthy, even destructive, relationship with the self-described "victims" of their society (and the self-appointed "champions" of these "victims"), or turn away, look forward, and spread their wings. It's time Filipinos' cut that festering cultural umbilical chord that keeps them attached to that old relic of American colonial rule.
benign0 is the Webmaster of GetRealPhilippines.com.