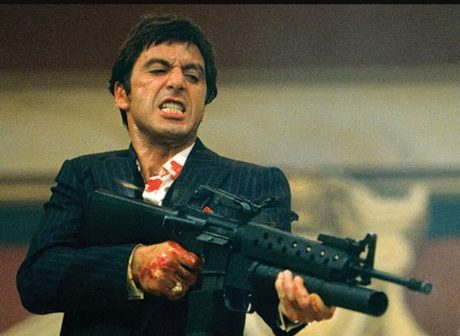 Is there a war between the Roman Catholic Church and Duterte supporters? For that matter, is there a war between the Church and the Philippines' trendy Church of Atheism? Perhaps. In fact the war between any Philippine Government and the Church has been raging for some time — specifically in efforts to curb the galloping humanity-crushing population growth the Philippines has long been renowned for. As for so-called "atheists" and the Church, that's been a fashion statement for some time and will likely go on.
So, really, it's business as usual. There is nothing new about the Church's sudden interest in the bloody business of applying a bit of state-sanctioned violence to efforts to control the trafficking of illegal drugs. That the "war on drugs" is a bloody business is shocking to disente Filipinos is what is really shocking, in fact. This is, after all, Hollywood-crazy Philippines. Movies about drug gangsters and the cops that fight them have been amongst the most violent in the industry.
SUPPORT INDEPENDENT SOCIAL COMMENTARY!
Subscribe to our Substack community GRP Insider to receive by email our in-depth free weekly newsletter. Opt into a paid subscription and you'll get premium insider briefs and insights from us daily.
Subscribe to our Substack newsletter, GRP Insider!
Learn more
Buckets of blood, and gore by the shovelful, splattering all over the silver screen have, for years, delighted cinema audiences. From The French Connection to The God Father franchise, then Scarface, comes a cinematic tradition that has inspired not just up-and-coming film makers but real-life political heroes as well. Notions of how drug wars are waged easily jump from the screen onto the reality of the Philippines much the same way that the gunslinging on-screen personas of Lito Lapid, the Revillas of Cavite, and the late Fernando Poe Jr consistently converted votes on vast scales in Philippine elections held over the last several decades.
According to the Inquirer Editor, the Philippines' bishops have "found their voice" following a "pastoral letter" they issued denouncing the mounting casualties as Philippine President Rodrigo Duterte wages his was on drugs. Utter hypocrisy, of course. But this hypocrisy is but a mere symptom sitting on a foundation of ingrained hypocrisy manifested in the way some hipster Filipinos express "shock" over the bloodshed. These are, after all, the sorts of folk who are comfier quoting verse from a Coppola classic than sitting still through a Catholic mass without once sneaking a peak at their Facebook or Twitter timelines in between "peace-be-with-yous".
Let us, of course, be reminded that at its core, the Roman Catholic Church is a product of succesful campaigns to conquer and massacre the Enemy over the centuries. Of all institutions, it should be the most cluey about what it takes to get things done on a macro scale. Empires as vast as that of the Roman Catholic Church are not won and maintained by being polite to one's subjects. Indeed, Catholics are ruled by the Church under a blanket of fear, guilt, and the prospect of eternal damnation. Faith is exacted of the Church's flock not by saying "please" but by threats of infinite incineration coming from no less than the Almighty Himself.
The real war here is between ordinary folks and that One Percent of every society that the Roman Catholic Church itself is a part of. The only way this Real War can be won is for ordinary schmoes to get better at thinking, stop embracing sacred dogma as "bible truth", and desist from acting like an ignoramous star-struck lot.
benign0 is the Webmaster of GetRealPhilippines.com.