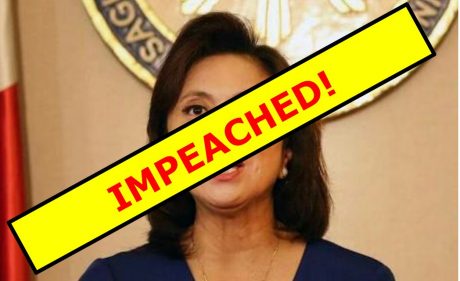 Assuming for argument's sake that Leni Robredo actually is the duly-elected vice president of the Philippines, there are possible grounds for lodging an impeachment complaint against her just six months into the new administration.
* * *
Article 1.0: Conspiring to disrupt public order by way of tacit tolerance of agents mounting efforts to incite sedition.
There is something really wrong with the notion of the presumptive Vice President of the Philippines being a party to groups and communities directly engaged in the planning and instigation of activities meant to destabilise and, eventually, overthrow the government of President Rodrigo Duterte. The standard excuse for such belligerence on the part of the presumptive VP is that Robredo is a member of the opposition party and that, in the Philippines, vice presidents are elected separately.
But then, there are principles that should trump partisan affiliations. Duterte, after all, is the current head of both state and government. Robredo is a member of that government first and a member of the Liberal Party a distant second. Taking that perspective, one can argue that Robredo's belligerence constitutes an outrage that must not be tolerated.
Article 2.0: Behaviour unbecoming of a top executive of the Philippine Government.
The least one would expect of an official who is a potential president is an ability to communicate effectively with a mass audience. Unfortunately, Leni Robredo has so far proven to be inept in both of the Philippines' two official languages — English and Tagalog. Evidence of this is in her inability to string together a sentence in either one.
Taglish may be cute — even effective — in the right hands. Robredo, however, only manages to combine her annoying brand of colegiala Taglish with an abject lack of underlying substance in the messages she conveys with it and deliver cringe on a national scale. Imagine a President Robredo commuicating in that manner with the Vladimir Putins of this world. Certainly not an ingredient that would go into cooking the Philippines' prouder moments.
Article 3.0: Acting and dispensing of duties in line with the interests and agendas of foreign agents.
Controversy has always surrounded the legitimacy of Robredo's claim to public office. There is the case against her still pending with regard to allegations that her campaign for a Congress seat in 2013 was funded by Filipino-Americans and coursed through her pal New York billionaire Loida Nicolas-Lewis.
That this matter has since remained unresolved makes her more recent campaign for the vice presidency just as suspect. Indeed, it is consistent with the tender loving care Robredo continues to attract from her moneyed fans in the Filipino-American community. The vast sums involved in propping up her candidacy and that of her sidekick Mar Roxas boggle the mind. She was reportedly one of the biggest spenders on ads in the 2016 elections. The "creative" sources of that funding was something she tried to explain in her characteristically awkward style of Taglish…
"Marami. Napakarami. Hindi lang sa pamilya, pero napakarami. Siguro, naririnig n'yo naman, napakaraming fundraising ngayon para sa akin," Robredo replied.

"Very creative nga 'yung aking mga volunteer. Kung anu-ano 'yung naiisipan. 'Yung fundraising dinner na for me, siguro mahigit lima at malaki talaga 'yung nakukuha sa mga fundraising dinners," she added.

Robredo went on to enumerate other fundraising activities led by her supporters for her.

"Meron kaming Bike for Leni. Merong ice cream flavor na ipinangalan sa akin at 'yung proceeds, para sa kampanya. Maraming nagpapa-imprenta ng sariling campaign collaterals for me. Merong mga Lugawan for Leni. Kahit anong maisipan, talagang sobrang daming tumutulong," Robredo explained.
The hundreds of millions of pesos required to sustain hers and Roxas's desperate campaign could not, however, have come from lugaw stands and quaint volunteer stunts.
* * *
There many other grounds for impeachment applicable to the sorry "vice presidency" of Leni Robredo. Perhaps treat this as a living document that we could update (or issue new editions around) as 2017 unfolds.
benign0 is the Webmaster of GetRealPhilippines.com.