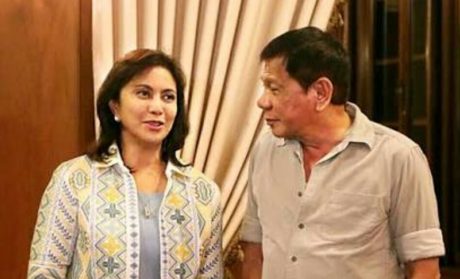 Current Vice President Leni Robredo has been constantly under fire from the public ever since she was declared the "winner" of the second highest position in Philippine government in the 2016 Presidential Elections. She has never earned the respect of the voters who believe that her "win" was the result of electoral fraud and that it was former Senator Bongbong Marcos who won the tight race. Now she has truly lost the respect of President Rodrigo Duterte who was kind enough to give her a chance by giving her a position in his Cabinet despite her openly criticising him during the campaign period prior to the elections. Robredo's relentless disparagement of Duterte's war on drugs has, not surprisingly, finally earned his ire.  
What's surprising is Robredo acting surprised that Duterte doesn't respect her. She comes across as obnoxious whenever she plays that overused victim card — as if she had done nothing wrong to be excluded from official functions of the Office of the President, including being uninvited to Duterte's first Vin d'Honneur. One can be forgiven for saying that Robredo is cut from the same cloth as Duterte's predecessor, former President BS Aquino since the latter had no idea at all why the public turned against him towards the end of his term.
At her age, Robredo should know respect is earned, not demanded. She should apply introspection and ask herself why she doesn't get respect.
Some say that Robredo is either dense or simply slow for not realising that the people are so annoyed with her, particularly when she goes out in public visiting typhoon ravaged areas in expensive shoes. She now contradicts herself after using public relations gimmickry to portray herself as a "humble" and simple girl-next-door type of person. No wonder more and more people are seeing through the sham. The photo of her waiting for a bus near Magallanes made some people scratch their heads since there is no known bus stop at that particular spot.
Robredo and her handlers should now know that the public isn't as dumb as they think. Unfortunately for Robredo, the public is disappointed that she is evidently not as smart as they thought she was. If she had any common sense, she would have known that playing the role of the Opposition would not earn her browny points with Duterte, a man who, at present, has the power to make her life miserable.
The problem with Robredo is she doesn't know when to quit talking. She doesn't know when to quit while ahead. What does she hope to gain by taking jabs at Duterte while she is supposedly part of his government? She's just trying to distance herself too much from his policies while expecting him to "respect" her. Her expectation from someone who she thinks has no manners is too high. That's just stupid.
What's even dumber is the thought that there are people who think that Robredo could be an effective leader of 105 million Filipinos. She can't even handle Duterte! She obviously doesn't have the skill to handle different types of people. She can only handle people who praise her and who tell her what a wonderful job she is doing posing for glamour magazines.
Robredo is leading the charge in dismissing her detractors as mere "trolls" even when her own rabid supporters behave like packs of wolves, attacking anyone who criticises her. It's as if she is a saint or a member of a royal family that the members of the public need to show deference to. Truth be told, her critics need to go on full gear in exposing Robredo's irrational behaviour. We cannot allow the public to be misled into thinking that she is competent enough to handle the difficult job of the President just in case something happens to Duterte.
No, Robredo cannot handle an executive position. She may look good at ceremonial duties like cutting ribbons and shaking hands with dignitaries, but she has no vision for the country. She wouldn't know how to handle the drug lords – some of whom are also Liberal Party allies. Worse, she will be just like the late former President Cory Aquino, who turned a blind eye to her allies running amok while she received all the accolades and praises from the international community for being the symbol of the so-called "peaceful revolution". We all know that kind of bullshit doesn't create jobs and bring the necessary change the country needs.
Robredo's popularity quickly went down the drain after only six months in her post. She knew what to do to reverse the damage to her reputation, but she didn't have the guts to do it. She knew all she had to do was cut off her ties with her Liberal Party mates who were dragging her down with them. She could have put an end to talks about organising rallies against Duterte. Robredo could have discouraged that Filipino-American woman Loida Lewis from promoting the idea that she would be a better President than Duterte, but she didn't. Robredo just let the ouster discussions in chat groups go on and on until they were exposed. Members of the chat group also included her staunch supporters. Her lack of action against such talk of a power grab says a lot about her. Duterte is right not to trust her.
In life, things are not always what they seem.